The Nightly Turbo: Negreanu on Epic, Chino Rheem Drama, and More

Elaine Chaivarlis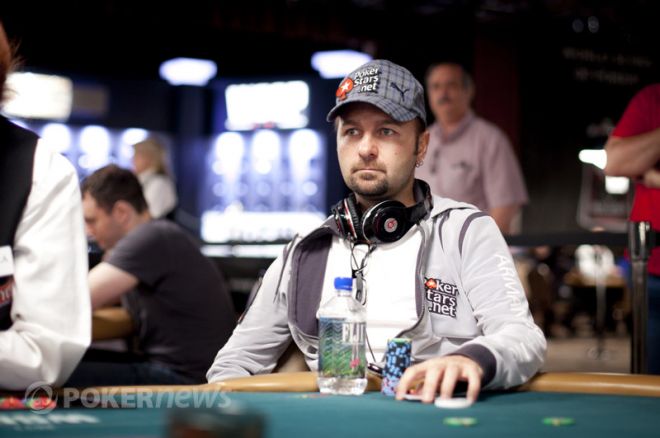 There's so much to talk about today, that we should probably just get right into it. Daniel Negreanu laid out his thoughts on why he didn't play in the Epic Poker League in his recent blog. We've also got some drama surrounding Chino Rheem, and more.
In Case You Missed It
In the latest PokerNews Podcast, we caught up with 2011 World Series of Poker Main Event last woman standing, Erika Moutinho. We discussed her run in the Main Event, how she got into poker, and of course, her recent engagement.
On Day 2 of the Epic Poker League Main Event, the field was whittled down to the final 18 players. When players returned on Thursday, they were all in the money and Sam Trickett was at the top of the chip leaderboard.
The PokerStars European Poker Tour Barcelona is coming up and we're sure there are plenty of you out there that are planning your trip to the Spanish city. The PokerNews Jet Set guide on Barcelona is full of things to do, places to eat, and how to get around.
The 2011 class of the Women in Poker Hall of Fame will be inducted in September. Here's a closer look at the three inductees: Kristy Gazes, Margie Heintz, and Phillis Caro.
The Global Poker Index rankings for the week ending Aug. 8 have been published. Bertrand "ElkY" Grospellier is hanging on to the top spot, but depending on results from the Epic Poker League, next week could look quite different.
Negreanu's Epic Blog
On Thursday afternoon, Daniel Negreanu published a blog discussing his reasons for not participating in the Epic Poker League. His main reason for not playing, he wrote, is the same reason he didn't partake in the World Team Poker event: because he doesn't think it will be a success.
"I'm always careful about what I attach my name and likeness to, and after doing my due diligence on the 'business plan' I don't think this league can succeed. Of course I could be wrong... but I'm not," he wrote.
He also notes that he believes the League is positioning itself to create an online poker site should legislation pass in the U.S.
"So, as I said previously, any and everyone involved behind the scenes knows full well that the league is depending on creating a brand in the hopes of entering the U.S. market with an online poker site. That's the business plan. The best thing that happened to the EPL to date was Black Friday. If Black Friday didn't happen, the first event wouldn't have gotten off the ground."
He touches on the difficulty of attracting sponsorship dollars for the television broadcast and says it will be difficult for the League to get the audience invested in the stories behind the players.
"There are only so many 'I dropped out of college because I was making more money 24-tabling online' stories you can do. There are certainly some really great, interesting young players in the game that the public will be drawn to, but that's the exception not the rule. While the TwoPlusTwo crowd may love a featured table with online pros they adore, the mainstream public wants to see Sammy Farha bluff Phil Hellmuth and watch him go on a tirade!"
Agree or disagree, you can read Negreanu's entire blog on FullContactPoker.com.
Chino Rheem Dramabomb
A few days ago, Will Molson started a thread on TwoPlusTwo that outlines a situation he's in with Chino Rheem. According to Molson, he transferred Rheem and Michael Mizrachi $20,000 to buy into the EPT London High Roller last year. There was a mix-up with the transfer on PokerStars and the two ended up getting $40,000 each. While Mizrachi paid back the money shortly after the event, Molson has yet to see his money from Rheem.
It seems that Molson isn't the only player Rheem owes money to. Tom "durrrr" Dwan replied in the thread that he is also owed money. Joseph Cheong, 2010 World Series of Poker Main Event third-place finisher, also is owed money.
Cheong wrote, "I also don't want anyone else getting scammed so I'll say this: he has also scammed me for $40k and I know others in the same spot. The poker world is full of borrowing and lending money, so when a well-known player comes to you with believable collateral, it's hard not to lend money. For me, the collateral he offered was that he had a piece of the Grinder at the WSOP Main Event last summer. The Grinder confirmed this for me. But clearly it was offered to multiple people and I never saw a dime back."
It seems that this issue was brought to the attention of the Epic Poker League standards of conduct committee, and Mike "Timex" McDonald, who is on the committee replied to the thread on behalf of the League.
"We compiled a list of all players who we believed had previously conducted themselves in a way that if continued would lead to their elimination from the league and personally reminded each individual that they will not be allowed to participate in the league if their future behavior is the same as their past behavior.
I don't want to talk about any specifics, but I will say that people who are poor representatives of the game of poker will not last very long in this league and the EPL will publicly 'out' people who are kicked out of the league rather than simply tell them not to show up and keep it hush-hush."
TwoPlusTwo.com has the whole thread for your reading pleasure.
WPT Enhancements
The day before the World Poker Tour Grand Prix de Paris kicks off (Sept. 4), the WPT will hold a press conference to announce changes, innovations, and enhancements to Season X, as well as upgrades to the WPT Season IX episodes that will begin airing in Europe later this year.
While we're excited to find out what's in store, we're sure you're going to be really excited about what we're going to tell you - especially if you're making the trip to Paris for the event. The Royal Flush Girls will be joining the burlesque dancers at Crazy Horse Paris for a special performance of Desirs.
For more on the WPT Grand Priz de Paris, go to WorldPokerTour.com.
Caesars Narrows Losses
Caesars Entertainment's has its 10 Las Vegas Strip-area casinos to thank for reducing its quarterly losses. The company lost $155.5 million in the quarter that ended June 30, far less than the $274 million compared to the same quarter last year. According to the Las Vegas Review Journal, "Caesars officials said customers were spending more on their casino visits, but their trips were less frequent."
What about Caesars and Internet poker legislation? Well, the LVRJ reports that Caesars Chairman and CEO Gary Loveman told analysts in a conference call that "the debate in Washington, D.C. has seemingly 'turned an important corner on Internet poker.'" Loveman went on to say that members of Congress see Internet poker legislation as "inevitable. It will happen. It's just a matter of when and to which piece of legislation it will be attached."

Read more about Caesars Entertainment's quarterly losses at LVRJ.com.
For up-to-the-minute news, follow us on Twitter and like us on Facebook.