The Nightly Turbo: World Poker Tour to Malta, Epic Poker League, and More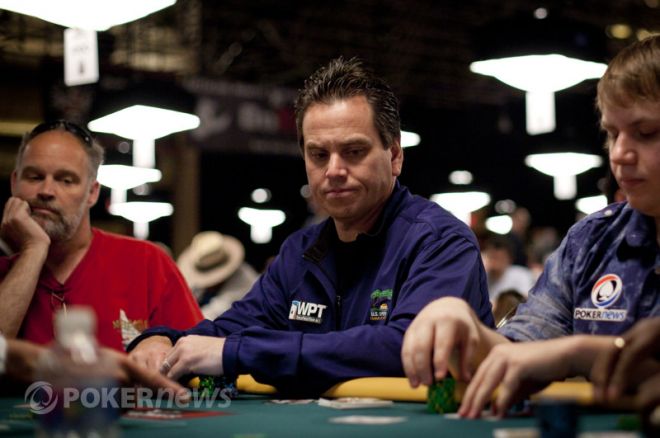 The Epic Poker League kicked off its first Main Event on Tuesday. PokerNews is there bringing you updates from all the action, but that's not the only EPL news we have to talk about. The Pro/Am crowned a winner on Monday and we've got the results. We're also going to tell you about the World Poker Tour heading to Malta and who will be the tournament director for that stop (as if it's not obvious by the above photo). Keep reading. There's plenty more where that came from.
In Case You Missed It
Last week, NBC began airing new episodes of Poker After Dark. We told you about this, but just in case your DVR failed to do its job, we've recapped the action from the $100,000 Cash Game week.
Last week, Yankees slugger Alex Rodriguez was all the rage but not because of his success on the field (remember, he's recovering from knee surgery).His poker drama got us thinking about athletes and poker in general and why Sports and Poker Don't Mix.
WPT Headed to Malta
We all know what happened to the Italian Man Who Went to Malta. Soon we'll know what will happen when the World Poker Tour heads to Malta. According to a press release, the tenth WPT season will be making a stop in Malta. The €3,000 + €30 Main Event will take place at the Casino at Portomaso from Sept. 20 to 24.
"Portomaso in Malta is normally the home of super yachts, but for four days in late September it will be home to WPT Malta. This Mediterranean hotspot already has poker in its veins so we hope that by introducing a World Poker Tour stop we will satisfy the desires of locals and the international contingent looking for some late summer sun," said Adam Pliska, president of the World Poker Tour.
Matt Savage is confirmed as the tournament director for this event.
If you want to find out more about this event, or pre-register, head on over to WorldPokerTour.com.
An Epic Weekend
The Epic Poker League kicked off Friday with its Pro/Am event. The $1,500 buy-in event attracted 190 players. The final nine each received seats in the inaugural $20,000 EPL Main Event that kicked off on Tuesday, but the official final table of six played for cash, TV time, and bragging rights.
Steve O'Dwyer, 29, finished in the top spot Monday night, taking home $23,810 on top of his $20,000 seat to the EPL Main Event. He beat professional poker player Brandon Meyers heads-up.
Poker pro Andy Bloch was the only EPL card holder to win his Main Event seat in the Pro/Am. Bloch finished third, which was good for an added $7,540.
EPL Final Table Results
| Place | Player | Prize |
| --- | --- | --- |
| 1 | Steve O'Dwyer | $23,810 (plus $20,000 EPL Main Event seat) |
| 2 | Brandon Meyers | $11,900 (plus $20,000 EPL Main Event seat) |
| 3 | Andy Bloch | $7,540 (plus $20,000 EPL Main Event seat) |
| 4 | Clifford Waite | $5,160 (plus $20,000 EPL Main Event seat) |
| 5 | Jeremiah DeGreef | $3,570 (plus $20,000 EPL Main Event seat) |
| 6 | Micah Raskin | $2,780 (plus $20,000 EPL Main Event seat) |
Epic Poker League also held its charity tournament over the weekend. The event, hosted by Brad Garrett, attracted 91 players and raised over $50,000 for tornado victims in Joplin, Missouri.
Check out the Epic Poker League Blogs for more on these events, and follow the PokerNews Live Reporting Team as they bring you the action from the EPL Main Event.
FairPlayUSA Adds to Advisory Board
FairPlayUSA announced on Tuesday that it had added to its advisory board. Mike Sexton joined FairPlayUSA and now sits on the advisory board along with Greg Raymer, Internet safety expert Parry Aftab, and former Homeland Security Secretary Tom Ridge.
"Americans should be able to play poker online in the privacy of their homes knowing that the games are safe and fair," said Sexton. "FairPlayUSA is committed to ensuring a strict regulatory framework for online poker, and I am pleased to be part of its advisory board."
If you're not familiar with FairPlayUSA, it is a grassroots coalition that has set out to educate the public and policymakers about online poker.
"We're honored that Mike has agreed to join our Board of Advisors and help carry our message of the importance of bringing integrity and safety to online poker," said Marisa McNee, executive director of FairPlayUSA. "As FairPlayUSA grows as an organization, our message of strict regulation, child and consumer protection, and support of law enforcement will continue to resonate with key policymakers."
Read the press release for more.
WSOP on ESPN
The $50,000 Poker Player's Championship is the latest episode of ESPN's coverage of the 2011 World Series of Poker. We don't want to spoil it for you, so we won't tell you who won. What we will show you is a preview video from ESPN. Be warned, it's got a whole lot of Phil in it.
How Did You Recover?
PokerStars knows how to throw a party, and while we're aware that the PokerStars.net LAPT Punta del Este is over, a good party video is always fun to watch. Lynn Gilmartin caught up with some of the players to find out what they did to recover from the World Series of Poker.
Be sure and follow us on Twitter and like us on Facebook.