The Nightly Turbo: Partouche Poker Tour, German State Legalizes Online Poker, and More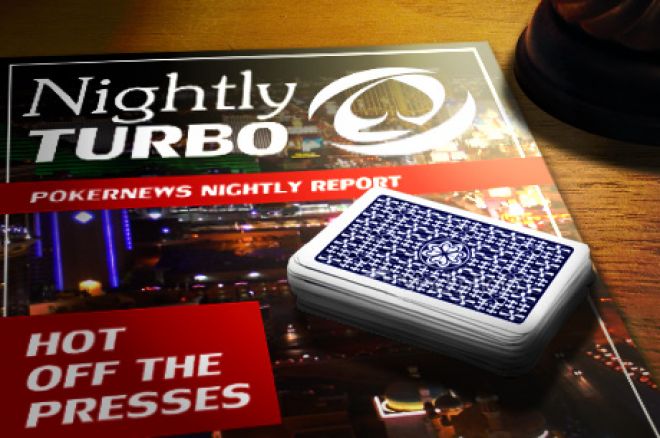 We're at it again, just like we are every day of the week (well Monday through Friday, not counting holidays). We look for the news so you don't have to. In this edition of the Nightly Turbo, we're bringing you an update from the Partouche Poker Tour. Not only that, but we'll tell you which German state has legalized online poker, and more.
In Case You Missed It
Thinking about relocating so that you can continue to play online poker? Having a problem figuring out where you want to go? In our latest edition of Packing Up to Play, we give you the scoop pubs, fish and chips, the Queen — or London, England.
If you want to better your pot-limit Omaha game, we suggest getting tips from the pros. Oh look! In the newest Strategy with Kristy podcast, Lex Veldhuis discusses pot-limit Omaha. It must be your lucky day.
The 2011 PokerStars World Championship of Online Poker is trucking right along and has officially reached the halfway point. On Day 11, three bracelets were handed out, but to find out to who, you're going to have to read our daily WCOOP recap.
The Global Poker Index released its rankings for the week ending Sept. 12. It's not the same old song and dance this week! There's a new GPI No. 1.
In the Money
Every day we sift through the Partouche Poker Tour blog, it's like a French lesson for us — except it's not really. We just look for words that look like English words and cross our fingers.
On Day 3 of the Partouche Poker Tour, 100 players took their seats in the hopes of making the money (only 63 would), and positioning themselves for a run at the final table. By the end of the day, 47 players remained.
Freddy Deeb and Arnaud Mattern were eliminated in 62nd and 60th place respectively, and each earned €12,000.
Remaining in the field and heading on to Day 4 are Joe Cassidy, Juha Helppi, and Tristan Clemencon. Sam Trickett also made it to Day 4, bagging 535,500 in chips. That puts him in the 10th spot on the chip leaderboard. Ludovic Lacay bagged up the second biggest stack in the room, with 771,700, and sits just behind Juan Maceiras who is leading the Day 4 charge with 800,000.
PartouchePokerTour.com has more updates from the event.
German State Legalizes Online Poker
Germany has 16 states, or Länder. One of them, Schleswig-Holstein, recently passed legislation that will legalize and regulate online poker.
The new legislation allows for betting exchange, sports books, poker and all casino games except roulette, blackjack, and baccarat, according to eGaming Review. The law will go into effect Jan. 1, 2012, and licenses will be valid beginning March 1. The state will also impose a 20 percent tax on gross profits.
After the news, Befair released a statement saying, "Schleswig-Holstein's new online gambling treaty is a welcome piece of legislation geared towards creating a genuinely open, transparent and responsible online gambling market in Germany. We are pleased that it has today passed through the state parliament and we look forward to applying for a license to operate there."
"We are now hopeful that the other 15 German states will make the required amendments to their proposed State Treaty, in order to bring it into line with EU law and with the law passed in S-H today," it continued. "Betfair is committed to participating in the online gambling market in Germany, ready and willing to pay taxes there and offer German consumers competitive, innovative and safe products."
Read more at EGRMagazine.com.
Gut Für Bwin.Party
Speaking of Schleswig-Holstein's new online poker legislation, it wasn't just good for poker players in the Länder, it was good for bwin.party's stock. According to the Wall Street Journal, after the announcement that Schleswig-Holstein approved online gambling legislation, bwin.party's stock rose 12 percent.
Ivor Jones, an analyst at Numis, believes the "Schleswig Holstein move greatly reduces the regulatory risk to bwin.party, which generates 22 percent of its revenues in Germany."
In a note to clients, Numis said, "At best this represents the opening up of Germany to online gaming, in due course, on reasonable commercial terms. At worst it will greatly delay the introduction of a more restrictive regime."
If you want to read more, you can do so at Online.WSJ.com.
Former FBI Director Joins FairPlayUSA
FairPlayUSA announced Thursday that former FBI director Louis Freeh had joined its advisory board.
"Current federal laws fail to provide U.S. law enforcement vital tools to address illegal internet gambling, enabling a 'wild-west' atmosphere," Freeh said. "I am joining FairPlayUSA to improve this environment by clarifying these laws, better empowering law enforcement agencies to crack down on violators and using licensing and regulation to ensure safe and legal online poker."
Freeh joins professional poker players Mike Sexton and Greg Raymer, Internet safety expert Parry Aftab, and former Homeland Security Secretary Tom Ridge on the advisory board.
FairPlayUSA is a grassroots coalition that has set out to educate the public and policymakers about online poker.
"States and tribes have rights that must be protected by authorizing them to decide for themselves whether to accept or prohibit online poker and make use of sophisticated technologies already in use in other industries to enforce those decisions," said Tom Ridge.
Read the press release for more.
Follow us on Twitter for up-to-the-minute news.