2011 World Series of Poker Europe Main Event Day 4: A Foxy Final Table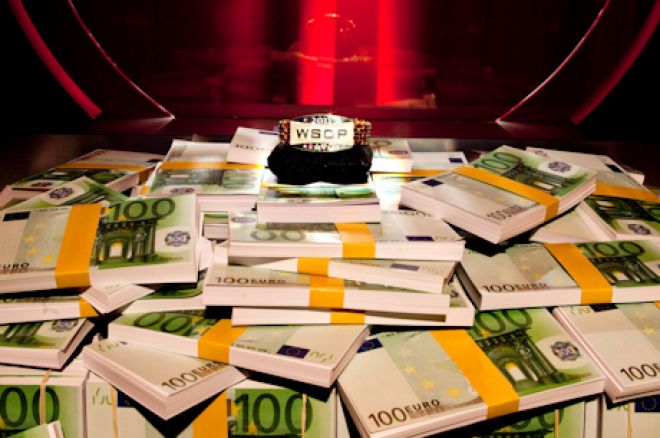 Only 16 players were supposed to return for Day 4 of the 2011 World Series of Poker Europe Main Event, but it's hard to shrink 593 to 16 in three days. So 25 returned to the Hotel Barriere on Wednesday to play down to the final table. This event has a history of producing fantastic penultimate days, and plenty of notables are still in contention for this bracelet including Erik Seidel, Patrik Antonius, John Eames, John Duthie, and PokerNews' own Tony G. When the field was whittled to eight, however, they were all on the rail, and Elio Fox held the biggest stack — 3.99 million.
The day began at a crawl as the serious moment arrived for the surviving players, now two days away from a potential €1.4 million and a gold bracelet.
On one of the first hands of the day, Arnaud Mattern doubled, luckily, when his jack-nine overcame ace-nine, though he had to sweat all the way to the river when he spiked the lucky
. In the following levels, Mattern saw an inordinate number of both unlikely cards and short-stacked double-ups, and even though he came into the day as the shortest stack, he ended up playing on deep into the night.
Philippe Ktorza was the first one out on Day 4, and then Tony G failed to win a race and exited in 24th place exit shortly thereafter. Ricardo Tavares and James Schafer fell next, and then something strange happened: Erik Seidel was eliminated, too. He hasn't had to endure many big eliminations this year, but after another deep run, he fell in 21st place, taking his stand with the marginal
. Alex Dovzhenko woke up with
, and Seidel could not catch up. Eames was eliminated in 20th place after nursing his middling-to-short stack for days, and he was followed out the door by Jeremy Kottler and Duthie.
It was around that time that Dario Sammartino was experiencing a parabolic rise and fall, skyrocketing to the top and then plummeting just as quickly. The scruffy, steely-eyed Italian overtook the field at one point, but as it turned out, he was just holding on to a bunch of chips for Max Silver.
Silver crumbled Sammartino's stack in the series of just a few hands. The final blow came in one of the most dramatic of the day, the first hand back from a break. With only four players seated and both blinds sitting out, Sammartino opened under the gun with ace-king, and Silver bombed in a million big blinds with pocket deuces. Sammartino, already dented instantly called off his last 55 BBs. Silver has been running awfully well these days, and the deuces held strong on the
board. Just like that, Sammartino was out, Silver had a monster chip lead, and the field was reduced to 16.
That cued another redraw and the relocation of the event to the two-table television studio. Majestic Room No. 3 is a place any poker player would want to play, a setup that could be lifted from a James Bond movie from the looks of it.
Things began brutally slow, and it was a long while before any real action broke out. Once again, it was clear that the gravity of the moment had sunken in, evidenced by the deafening silence that engulfed the final 16 players for a couple of hours. After a long procession of little double and triple-ups, and not a lot of chip movement otherwise, the first player was eliminated. Brian Roberts ended the hopes of Michael Drummond. It seemed to loosen the room up a bit, and then Amir Lehavot lost a huge flip on the river to end his day. Steven Moreau and Andy Moseley fell next, but this series of eliminations was really only the side story at that point.
The real story was coming together at the main table as Jake Cody began his charge. He was dangerously short on chips — the shortest stack in the room — with 16 players left. When there were 13, he was the chip leader. He needed a triple up with
just to get back into contention, giving him enough chips for a meaningful double through his countryman Chris Moorman. Cody's ace-queen was too strong against ace-jack, and he pulled himself up and into the top third of the counts. A short while later, he outplayed Max Silver in a fairly substantial pot, and the two swapped spots to put Cody atop the board! He held that spot for the final break of the evening.
What had started off slowly, ended up in a jet-powered haze of madness and a flurry of astounding hands during Level 24. Twelve players returned from that break, but Thibaud Guenegou got his short stack in bad against Elio Fox's pocket eights to exit quickly. And just a moment later, a monster pot at the outer table propelled Fox into the chip lead.
It was a three-way all-in, and the cards had to be held for the cameras to swivel around and get in place. Arnaud Mattern didn't want to make his opponents agonize and then slowroll them, so he quietly said, "I have them," while the cards were still face-down. He did indeed have the two aces, Fox had pocket tens, and short stack Dovzhenko held ace-king for a 3-million-chip pot! On perhaps the most fortuitous flop of his career, Fox spiked a crusher of a ten to earn the double knockout, and the field was reduced to nine.
It was time to combine to one table, but there was still a hand in progress at the main table. And someone else was about to get lucky.
Chris Moorman four-bet his entire stack (940,000) in reaction to a three-bet from Patrik Antonius, and Antonius called. Rather close in chips, Moorman showed
and Antonius
. The flop was
, and the
on the turn made a split pot likely. Antonius looked visibly annoyed, so you can imagine how he looked when the
hit the river to hand Moorman a lifeline.
That crippled Antonius down to 80,000 chips, and Shawn Buchanan put him out of his misery as the monster pot was playing out at the other table. Without so much as a pause to combine to one table, the day was over, and the final table was set.
Thursday is the last day of the World Series of Poker Europe, and a new champion will be crowned. The players returned to their seats at 1345 CET (0445 PDT), and when play began, the chip counts looked like this:
Final Table Chip Counts

| Place | Player | Chips |
| --- | --- | --- |
| 1 | Elio Fox | 3,990,000 |
| 2 | Jake Cody | 2,685,000 |
| 3 | Dermot Blain | 2,405,000 |
| 4 | Chris Moorman | 2,230,000 |
| 5 | Brian Roberts | 2,000,000 |
| 6 | Max Silver | 1,825,000 |
| 7 | Moritz Kranich | 1,660,000 |
| 8 | Shawn Buchanan | 1,015,000 |
The action has already begun, so follow the Live Reporting Team at Pokernews for the play-by-play. It's going to be a great final table with €1,400,000 up for grabs for first place, so you won't want to miss a thing!