Big Game in Macau Draws Ivey, Laliberte, Chan, Dwan, & Robl
For a little over a year, the poker world has been captivated by a secretive high-stakes cash game in Macau involving wealthy Chinese businessmen and some of poker's top professionals. The on-again, off-again no-limit Texas hold'em cash game held at StarWorld's Poker King Club boasts some healthy blinds at HKD$10,000/HKD$20,000 ($1,300/$2,600).
Over the weekend, Macau was a hotbed of poker action, not only with the aforementioned cash game in full effect, but also with the PokerStars.net Asian Pacific Poker Tour Main Event, which was eventually won by Team Online Pro Randy "nanonoko" Lew. With both tournament and cash-game action to be had, it was no surprise to see a bevy of pros make their way to Macau, including Phil Ivey, who had disappeared from the poker landscape since Black Friday.
On Wednesday, Nov. 23, rumors had it that Ivey was in Macau not only to play in the monster cash game, but to also play the APPT Macau Main Event. The latter rumors was highly scrutinized, but Ivey silenced the skeptics when he showed up in Level 2 of Day 1A. This marked the first major tournament Ivey had played since the World Poker Tour Bay 101 Shooting Star Championship last March. Needless to say, the abandonment of a seven-month long self-exile created waves in the poker world.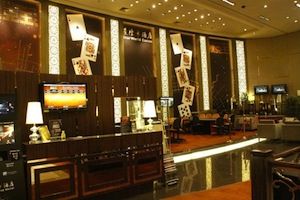 Even though Ivey didn't make it past Day 2 in the tournament, his exit opened the door for his return to the big game along with notables Guy Laliberte, Peter "GARFIELD25″ Chan, Tom "durrrr" Dwan, Johnny Chan, Sam Trickett, James Bord, Andrew "good2cu" Robl, and Poker King Club regular, Winfred Yu, among others.
Ivey's appearance was making headlines, but Robl managed to capture the poker world's attention with a single tweet last Thursday:
Been gambling big in Maccau. Won 2 million USD straight and was very thankful. Now lost 2 million straight. Thankful for other things :).

— Andrew Robl (@Andrew_Robl)
Those in the U.S. were busy celebrating Thanksgiving while Robl was half a world away experiencing life-changing swings. The particulars of Robl's massive rise and fall are unknown, though many speculate he mislabeled the win as USD instead of HKD ($2 million HKD = approximately $190,000 USD). PokerNews reached out to Robl for comment, but received no response as of this publication.
Given the large stakes, and the fact that no cameras are allowed in casinos in Macau, details of the game have been guarded. Aside from Robl's tweet, a few particulars have slipped through and are largely discussed on the popular poker forum TwoPlusTwo.
It was on TwoPlusTwo that Frank "webjoker" Op de Woerd, who was at the StarWorld Casino, posted the following:
"Guy Laliberté was there with a hot girl on his side and I saw Johnny Chan sitting. They were just setting up the table but one of the guys from the casino brought in a wooden box with more plaques of HKD$500,000 and HKD$100,000 than I've ever seen before in one place."
He went on to say that Patrik Antonius wasn't allowed in the game: "I left after that but heard from my friend who was playing a HKD$1,000 sit-n-go that Antonius tried to get in but wasn't allowed. He told me that he was watching a hand where a good American player (he recognized him but didn't knew his name) got all-in on the flop for a HKD$3 million pot with ace-king versus jack-ten on three-eight-nine. Two bricks later he scooped the pot and the Chinese businessman reloaded by getting some plaques from his side-table where he had a total of HKD$7,000,000 laying around. Also heard, from a very reputable guy, that foreigners have to pay back 20 percent of their winnings in some cases to the casino."
The reasons for Antonius' exclusion are not known, though many have speculated in the forums. The most plausible theory is that Antonius is considered too much of a nit, the type of player Macau regulars like to avoid, which would confirm what Rui "PepperoniF" Cao said back in June regarding the high-stakes games in Macau. In his blog on Limpers, Cao previously claimed the following:
"You're probably wondering who the players are in the game, most regs are Chinese, some are wealthy Chinese. There are also some known players like Durrrr and Ivey . . . Patrik Antonius was virtually banished from the party because he played a little too tight and that he had gained too much [in] props."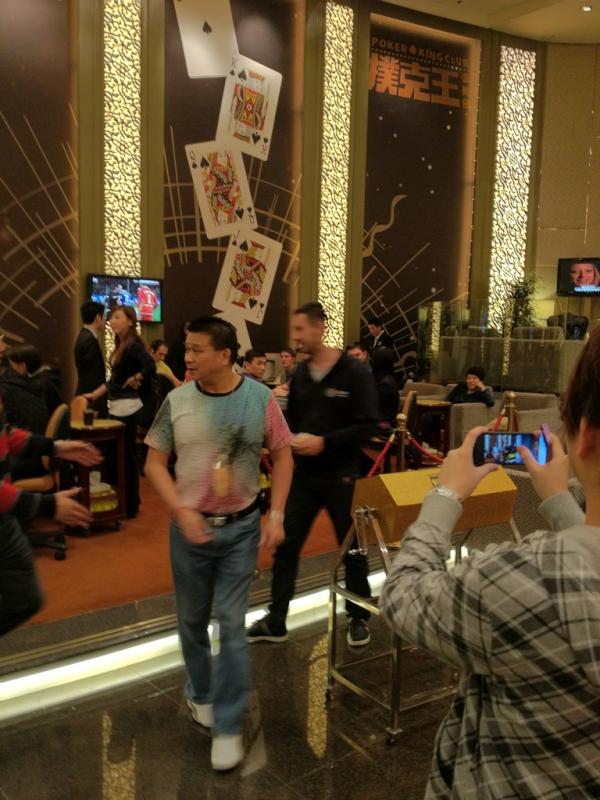 Some bystanders risk breaking the rules to snap a quick picture. Bryan Wang, who goes by @camparimojito on Twitter, tweeted the photo on the left of Johnny Chan at the Poker King Club.
Speaking of Chan, on Nov. 27, Poker Portal Asia reported that the two-time World Series of Poker Main Event champ was the big winner in the game. Fresh off his 60th-place finish in the APPT Main Event, for which he earned HKD $46,700, the "Orient Express" successfully shifted his momentum from the tournament realm to the mother of all ring games.
Chan's success, as well as a few other rumors, were confirmed by "MacauPro," a regular poster on TwoPlusTwo familiar with the Macau game:
"Confirmed that PA [Patrik Antonius] was not allowed into the game, James Bord (who was playing) tried to get him in but Guy Laliberte insisted "no way." PA played 5k/10k [$640/$1,280 U.S.] PLO instead with [Andrew "good2cu"] Robl and a few others. So far, Johnny Chan is the big winner in the games, up over 11 million Hong Kong Dollars [or about $1.4 million U.S.)."
Rumors have also circulated that Dwan, who purportedly won $6.5 million in a heads-up game in Macau this time last year, is down HKD$20 million, or about $2.6 million, in the past couple of weeks. According to Peter "GARFIELD25" Chan, a participant in the Macau big game, Dwan had amassed some substantial losses. In the chat box of a game on PokerStars, Chan told Phil "MrSweets28" Galfond the following: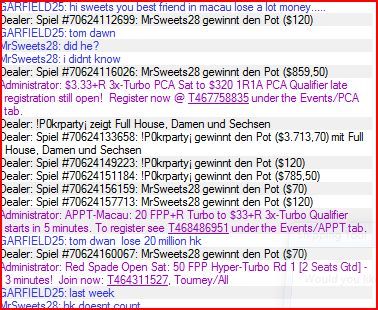 Unfortunately, Dwan may not have a chance to recoup his losses. According to Poker Portal Asia, a reliable source claims that Dwan had to leave Macau and return to the U.S. after losing his passport. If that proves true, there's little doubt he'll return just as soon as he gets a new one.
Even without "durrrr," the big game in Macau shows no sign of slowing down. As always, PokerNews will bring you any and all updates as they become available.
Get all the latest PokerNews updates on your social media outlets. Follow us on Twitter and like us on Facebook today!