My First: Mark "P0ker H0" Kroon Becomes an Online Pro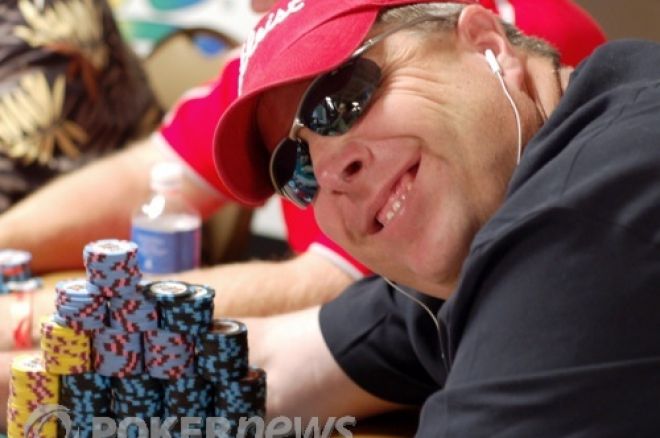 Everyone in poker started somewhere — the first time they saw poker on television, the first time they played online, the first time they won a tournament, the first time they lost a $5,000 pot. In our new series, My First, we catch up with various poker pros and personalities to get the story on a significant "poker" first in their lives. In this inaugural edition, we ask Mark Kroon about the first time he realized he wanted to be an online poker pro.
Kroon may not be the most recognizable name in the poker world, but many online players knows his moniker, "P0ker H0." He is considered to be an elder statesman in the online realm because he was an online pro before it was recognized as a profession. He was there at the beginning, and continued to play right up to Black Friday, which has threatened his livelihood. The majority of Kroon's success has come online, but he has padded his bankroll with $219,965 in live tournament earnings.
Not only is Kroon an online legend, but he is a staple of the poker community in his native Wisconsin. In fact, Kroon owns Player's Bar in Madison, the same bar where Phil Hellmuth cut his chops during his college days at the University of Wisconsin. Likewise, the bar has seen numerous players pass through the doors on their way to becoming pros, including online superstar Phil Galfond, who also attended UW-Madison.
When did you first realize you wanted to be an online poker pro?
When I first started playing online, I did it because Phil [Hellmuth] was a pro for Ultimate Bet. They ran these trips to go to Aruba, and the very first year I started playing, I won 12 trips to Aruba! Back then they were $15,000 trips, so as I was playing all these satellites, I got to know all the people who were coming to Aruba even though I had never met them, I got to chat with them online and it was like "I'll buy you a beer when we get to Aruba."
The next thing you know, I'd told everyone I would buy them a beer. So the first day I get to Aruba, there's like 50 people looking for me because they wanted me to buy them a beer. When I come into the poker room and everyone starts yelling "H0," Annie Duke turns her head and looks at me, like she was wondering what was going on. I told her I had won 12 seats, and she was like "Oh, that's really cool. We're thinking of doing this online thing, I'd like to talk to you about it sometime."
I didn't really think about it, and went to the World Series of Poker the following year. I'm standing there and Annie Duke walks up to me and says, "H0, I forgot all about it. I want you to start doing some stuff for UB, would you wear a UB shirt?" Back then they didn't even have patches, you had to get a shirt. She asked if I'd wear a UB shirt during the Series and I said, "Sure, I'd be happy to."
I didn't get signed or anything. It went really well because I went deep in some tournaments and got a little TV coverage. One day I was sitting at home and Annie called my house, and she goes, "H0, I can't go to Foxwoods. Would you go to Foxwoods, we'll buy you into the $10,000 event, and you host the party for all the qualifiers?"
It was out of the blue and I said, "Yes, I will. I would love to do that." So I went there as a host. When I showed up, there was literally a case of clothes for me — hats, shirts, all this stuff. The very next day my name and picture were on the site, and it was like "bam." I was really nervous and scared, but the cool thing about it is that everyone assumes I became a pro for UB because I knew Phil, and it's not. It's because Annie did it. That, to me, was so life-changing — to all of a sudden be getting paid to play.
This was in 2004, when online first came out, too. It was just sick. The coolest part about it was the very next year in Aruba walking in as one of the pros. That is when I took 11th in Aruba. When we were down to the final two tables, it was me, Chris Moneymaker, Chris Ferguson, who's on the run, John Juanda, Layne Flack, and Eric Brenes, the guy who eventually wins it. That was my first time coming there as a pro, and there I was sitting down playing with all these big pros. I'm telling you, it was just like a dream being able to do it.
I don't think anyone has been as fortunate as me in the world of poker. I might not have won a lot of money, but I've had the greatest experiences, and I owe it all to Annie Duke. If I don't answer that phone call, maybe I don't get any deal and my life doesn't change.
How did you come up with your screen name, "P0ker H0?"
When I first started playing online poker, I used to play this game online where you could drive NASCAR, and you'd do it against other people. This one guy was called "Crashing Ho" and he'd wreck everybody every time he raced. I thought his name was kind of clever, so when you first sign in [to an online poker site] you're kind of locked into that name, and it was just unbelievable because everybody started to recognize it. UB started to sell "H0" shirts. I think my name gave me a lot more prestige to do things online that a lot of people couldn't do, as far as getting away with pushing people around.
Get all the latest PokerNews updates on your social media outlets. Follow us on Twitter and like us on Facebook today!