Off the Felt with Phil "USCphildo" Collins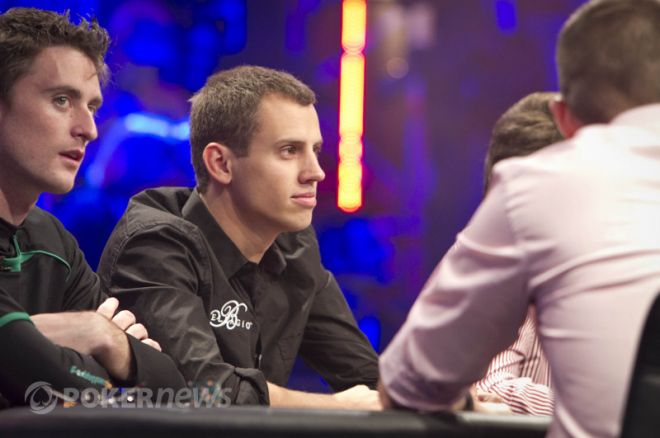 Off the Felt is interviewing your favorite people in the poker industry to find out more about their lives — you've got it — off the felt. We recently sat down with Phil Collins to talk a little poker, prop bets, and cornhole.
How did you start playing poker?
I started playing my freshman year in college. We went down to Hilton Head on a spring break trip, and we were hanging out and there were six or seven guys, and we decided to start playing Texas hold'em. Not very many of us had played before. We played for pennies, nickels and dimes. We played a lot when we got back, and I was the one who really enjoyed it and kept playing.
What's next on your poker calendar?
I'm going to be playing the Bellagio Five Diamond. I might play a couple of the preliminary events and then after that I'll head to PCA in January.
Where is your favorite tournament stop that you've played at?
I look forward to the World Series every year the most of any tournament. I went over to Europe for a couple of months to play some stops and Barcelona is a pretty cool stop. It's a really cool city and the casino is right on the water, connected to the hotel. It's a really nice casino with a bunch of hotels and restaurants around. I enjoyed that stop a lot.
Where is your favorite place to play in Vegas?
Bellagio is probably my favorite place to play. The WPT's that I have played there have always been great events where we sit in the Fontana Lounge. It's a beautiful room to play poker.
Congrats on your amazing run in the WSOP Main Event. Did you do anything fun to celebrate?
I didn't really know what to do because I busted and I was planning on being in and then all of a sudden I have 50 of my friends there ready to do something fun. About 30 of us went to The All-American Grille in the Rio right after I busted and then we ended up going out a couple of nights on the strip since I had so many friends and family in town.
Did you make any big purchases from your big score?
I bought my wife, Katie, and myself each a car. Katie got a new Mercedes and I bought a Range Rover.
What was more fun in P.E. class growing up? Climbing the ropes or the rainbow parachute?
I guess the rainbow parachute. Well, I want to say climbing the ropes because the rainbow parachute was really annoying when you had to sit there and be one of the people on the end holding the parachute and I always felt like that took forever and you never got to enjoy enough time under the parachute.
Who do you think will win a Super Bowl first? Tim Tebow or Tony Romo?
Tony Romo. Tim Tebow never will.
Do you have any hidden talents we should know about?
I am very very good at cornhole. I consider myself to be elite. The toughest competition here is Dan O'Brien. He was the best, but I practiced a lot and I think I've overtaken him for the No. 1 ranked player.
Have you been involved in any ridiculous prop bets?
I've witnessed a few. You know the gallon challenge? I convinced Allen Bari to let me do a half-gallon in a half hour. He gave me 35 minutes, actually, and I crushed him in that.
USC played basketball in Vegas this weekend, were you able to go to the games?
Yes. I went to the first game the first day. Carolina wasn't doing too hot and during half time I ventured out to the casino with my good buddy Brent Hanks and we sat on some video poker machines. He drilled a Keno machine for a good amount and I drilled a dollar slot machine for $4,000 when I hit a royal flush.
I have to ask, what is your favorite Phil Collins song?
I really like the remix with Bone Thugs and Harmony, Take Me Home. It is more of a Bone Thugs song but since it has him in it it's my favorite.
What are some of your hobbies away from the table?
I watch a lot of sports and movies. I like to golf and play basketball. I'm also trying to pick up snowboarding.
You were able to play a lot of tournaments overseas. What tournament stop had the best food?
This is tough. I guess I'll say Paris because it's a really big city and it has so many different influences you can get almost anything you want. I now know why Paris is so popular.
How did you get the name Phildo?
My good friend freshman year of college his name was Gerardo and he was from Venezuela. I called my friend Johndo and I asked my friend from Venezuela how would you say Phil in Venezuelan. Would it be Phildo? That stuck for the rest of college so anytime I would make my screen names I would use USCphildo.
If you weren't playing poker what would you be doing?
I'd be a lawyer. I was accepted to law school and that was what I was planning on doing professionally before I passed and decided to play poker.
Follow PokerNews on Twitter for up-to-the-minute news.