My First: Phil Hellmuth Revisits His First World Series of Poker Cash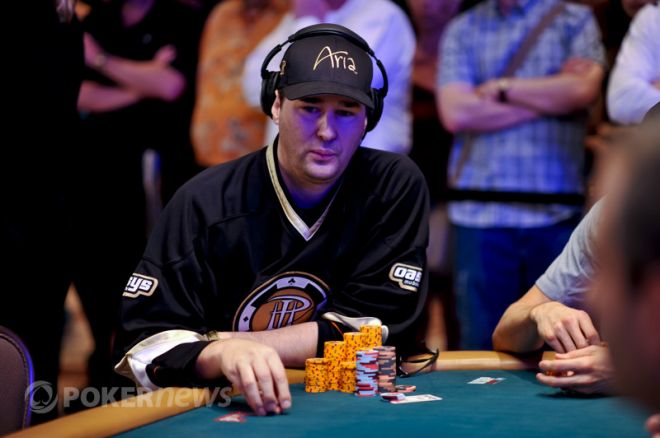 Everyone in poker started somewhere — that's the premise of our series, My First. We catch up with various poker pros and personalities to get the story on a significant "poker" first in their lives. In the latest installment of My First, we catch up with the "Poker Brat," Phil Hellmuth Jr., and talk about the first time he ever cashed in the World Series of Poker.
For those who may not know, Hellmuth holds the record for most "in-the-money" finishes with 85, which is 13 more than runner-up Men "The Master" Nguyen. Obviously, 11 of those cashes were victories, one for each of his gold bracelets, while plenty more were fourth-place finishes or better. All told, Hellmuth has amassed $7,842,189 in WSOP earning, averaging $92,261 per cash.
Hellmuth's exploits began 23 years ago when he notched his first cash in the 1988 WSOP Event #6 $1,500 Limit 7 Card Stud Hi/Lo, taking fifth for $15,40. PokerNews recently caught up with Hellmuth to discuss his first cash, as well as his first Main Event cash, which came later that year.
"I didn't really know much about the World Series of Poker. I was a young professional player, but the World Series wasn't on ESPN. It was hyped as the most beloved event, but I didn't know many people on tour. I kept hearing people talk about this World Series of Poker so I went and played. That might have been the first tournament I ever played at the WSOP, I don't know, I wish I had better records of that."
"Anyway, it was a seven-card stud event, hi/lo, and I had been playing a lot of split games in Madison, Wisconsin. I do remember well what happened. I had close to the chip lead with around six players left. I got involved in a hand where I started with a nine right away, then I hit a seven and an eight. So my board was
and I had
in the hole, that's the story. The last card I looked at was four-across, meaning it was a nine or ten. I was against a guy who looked like he had a low draw. He had hit an ace on sixth street and I fired. He check-raised all-in, we were playing 5,000/10,000, I remember clearly."
"I remember thinking I shouldn't bet this, but no, you have to bet your two pair. So I bet and he check-raised me my last 6,000 with aces up. I called and I was eliminated. I was really frustrated that I lost that pot, plus a couple right before it, and all of a sudden I finished in fifth place."
"I remember that hand I remember a guy named Lance, I think he want on to win that tournament, or maybe it was Joe Petro who went on to win that tournament.* Petro and I actually made a save, so what happened was he asked me if I wanted to save 10 percent. I said yes and I remember he had to give me like $5,000 or something. I've always loved Joe Petro. Lance, I remember just thinking how lucky he was that hand, I was kind of steamed up for a couple of days afterwards. I still remember the hand, he had aces and fives."
Hellmuth also had another poker first in 1988. It was the first time he cashed in the WSOP Main Event. He placed 33rd in the 1988 Main Event after being eliminated by Johnny Chan, the man who successfully defended his title, only to lose it to Hellmuth the following year.
"None other than Johnny Chan busted me. I wasn't really familiar with any of the World Series of Poker history, and I didn't know he was the defending champion. He came to my table with five tables left, about 45 players, and I was jamming it up, I mean I was playing some strong poker. I remember I had about 90,000 in chips, which was a lot of chips, I was in really good shape."
"Chan came to my table and I tried to bluff him. I still remember that hand well. He had
and the board read
, he couldn't beat a flush. I had
and he called me. He was short on chips but that pot almost doubled him up, and then I remember he had
when I had
and the flop came
. I put the rest of my chips in, so he ended up getting all of my chips in the end. From then on I knew who he was. Of course the next year we played heads-up."
"Interesting thing about that 33rd place finish, when I was eliminated, one of my friends, Big Al, who was one of the best poker players from Wisconsin, got in my face and started screaming at me a little bit. He said it was a once-in-a-lifetime opportunity, you'll never have this chance again, blah, blah, blah, and I looked at him and said, 'Al, I'll be there every year.' I remember that, as well."
*Editor's note: Lance Hilt won the event for $123,600 and Petro placed second for $67,980.
Get all the latest PokerNews updates on your social media outlets. Follow us on Twitter and like us on Facebook today!