Off the Felt with Dennis Phillips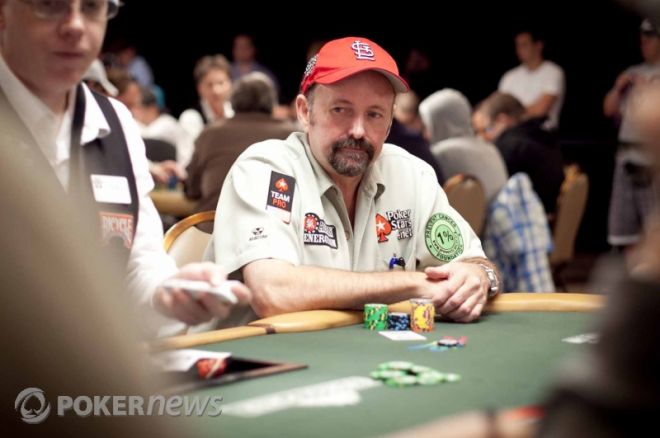 Off the Felt is interviewing your favorite people in the poker industry to find out more about their lives — you've got it — off the felt. We recently sat down with Dennis Phillips to talk a little poker, sky diving, and watching water drops down a window panel.
How did you start playing poker?
I started playing poker back in college. I ran a little game out of my room and pretty much paid my tuition through my earnings. That was back in the 70s and I've played ever since.
What does your poker schedule look like for the next few months?
I'll be in Vegas for most of the rest of February. In March I'll be traveling 25 of the 30 days. I'll be going to Oklahoma, St. Louis, and up into Iowa, Indiana, and Chicago. I'll be going a whole variety of places. I may be going down to Latin America in May and then in June I'll be back in Vegas for the entire World Series of Poker.
What is your favorite tournament stop?
Wow. There are a ton of places that are just so much fun. The historic stop that was in London, we played there at the Vic. Monte Carlo is awesome to go there. Puerto de Este in Uruguay is fabulous. I had never even heard of the town before and I was able to go down there through PokerStars to play poker in the Southern part of South America and it was just amazing.
Favorite place to play poker in Vegas?
Well I love the Rio because the Main Event, but other than that I play a lot at the Venetian, Caesers, and the Bellagio.
What are some of your hobbies away from the table?
I do a wide variety of things. I just got done skiing at Brian Head over the weekend. I've been sky diving; I've been bungee jumping. I love going back to the Midwest to the farm, go hiking at the Red Rock. I love the outdoors.
Sounds like you've done a lot of adventurous stuff. What is the most adventurous thing you've done?
Well, the sky diving is really a lot of fun. I've done a little over 80 jumps; it's just a blast. I've been to a Super Bowl, I've been to the brick yard, I've been backstage with the Blue Man group. It's been a pretty awesome couple years no doubt about it
Have you been involved in any ridiculous prop bets?
Of course. What poker player hasn't? One time I played with my attorney and another pro in a $35 tournament one night and just for the heck of it but a $1,000 bounty on each one of us. I've also bet one time on water drops going down a pane of glass — $100 a drop.
Which St. Louis team do you think will be the next to bring home a championship?
I'm rooting hard for the Blues right now. They are great; they have the best home record of any NHL team. To be more realistic about it, next year's Cardinals team. If I had to pick one team, it would be the Cardinals, but really rooting for the Blues.
How do you feel about Pujols going to the Angels?
Again, I know Albert and Dee Dee fairly well and I think for them it turned out to be the right decision for a variety of reasons. I'm disappointed in it, but I see the reasons why. I'll probably go down to Arizona to see him at spring training.
You host a radio show from Harrah's in St. Louis called "The Final Table." What got you started in the radio business?
A friend of mine, Paul Harris, wanted to do it so we got together and now I enjoy it, it's fun. We've done 160 shows. I've had everyone you can imagine involved in poker on the show. It's great I can just be myself, relax, and ask them anything I want.
If you weren't playing poker what would you be doing?
I probably would still be involved in the truck dealership in the commercial end of it. I really enjoy that. Selling heavy duty trucks and things that's probably what I would be doing
Follow PokerNews on Twitter for up-to-the-minute news.