The Nightly Turbo: Mississippi and Iowa Eye Online Poker, Jerry Yang Movie, and More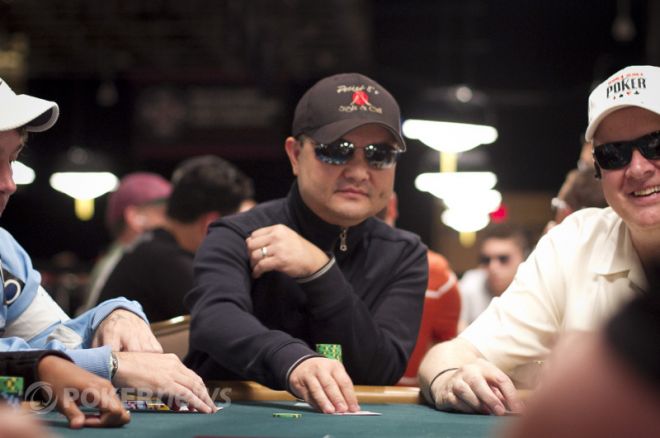 Every day, it seems more states in the U.S. are looking into online gaming. This week, Mississippi and Iowa have taken steps toward an intrastate online gambling platform. In this edition of the Nightly Turbo, we'll bring you the latest on the legislation front, plus the possibility of a motion picture about Jerry Yang's life, and more.
In Case You Missed It
Need a new book to read at the tables? Check out our review of Poker With A Purpose
Jason Mercier held on to the top spot in the Global Poker Index this week. Mickey Doft takes a complete look at the biggest movers and shakers on the GPI.
Pierre Neuville leads the final 24 players at the PokerStars.com EPT Copenhagen Main EVent. Take a look at Neuville's rise up the ranks in our EPT recap.
Mississippi Joins Race for Online Gaming
According to LegalPokerSites.com, Mississippi Rep. Bobby Moak has filed Mississippi House Bill 1373, which seeks to legalize and regulate online gambling, including poker, within state lines.
The bill details the foundation of regulation for online gaming by establishing policy and procedures for applicants, licensees, Internet service providers, employees and players. Among the highlights included in the bill are age verification, deposit methods, security, and player inactivity.
Mississippi is now the fifth state to consider an intrastate poker bill, joining Hawaii, New Jersey, Nevada, and Iowa. Read more on the story at PokerNews.com.
Iowa Passes Online Poker Bill
Iowa took another step toward online gaming Wednesday when the Senate State Government Committee passed Iowa Senate Study Bill 3164, which seeks to legalize online poker in the state.
Members of the Senate State Government Committee voted 11-4 in favor of the bill. The Iowa Racing and Gaming Commission has now been given the green light to establish a structure whereby operators would partner with state-licensed casinos to provide access to online sites.
"I don't see this as an expansion of gambling," Sen. Rick Bertrand (R-Sioux City) said of the bill's passage. "I see this as an expansion of freedom."
PokerNews.com has more.
The Jerry Yang Story
During an appearance with Short Stacked Radio on Wednesday night, 2007 World Series of Poker winner Jerry Yang told host Mark Hoke that there is a possibility Yang's book will be turned into a movie.
"Between you and me ... my father and I will be meeting with a motion picture company in about three weeks or so to discuss the opportunity to have the book made into a motion picture," Yang said. "I'm very excited and I'm praying, I'm really praying right now. Hopefully that will happen. We have a scheduled meeting already. My father and I will fly out and meet with this particular company. This is my third meeting with them by the way, so hopefully we'll be able to put something together that is agreeable with both sides."
The book, All In, follows Yang's origins from Southeast Asia to winning $8.2 million on poker's biggest stage. It also focuses heavily on the life of Yang's father, who helped their people escape an oppressive regime.
If you want to listen to the entire interview, check out Episode 95 of Short Stacked Radio around the two-hour mark.
You can also read our review of Yang's Book here at PokerNews.com.
Stars Join Together for WPT Foundation
Daniel Negreanu, Maria Ho, Antonio Esfandiari, Vanessa Selbst, and other high-profile pros have team up with the World Poker Tour to create the WPT Foundation, an organization focused on "utilizing WPT's unmatched platform to influence positive change in the world."
WPT Foundation will hold a series of charity poker tournaments called WPT Playing for a Better World. The events will bring together poker pros and A-list celebrities like Will Ferrell, Woody Harrelson, Eva Longoria, Maria Bello, and Gerard Butler, to help raise money for WPT Foundation's global charity partners.
The inaugural event will take place at SLS Hotel Beverly Hills on March 11, 2012. The festivities will begin with poker training lessons from the pros followed by a round-robin style poker event, a raffle and an auction. Tickets for the launch event of WPT Playing for a Better World are $500 each, with raffle tickets beginning at $100.
Read our article at PokerNews.com for more information.
DeepStacks Poker Tour Sizzle Real
Last weekend, The PokerNews Live Reporting Team brought you coverage from the inaugural DeepStacks Poker Tour event in Niagara Falls, New York.
The Western New York Poker Championship will be the first televised poker tournament in Western New York, and the television production team over at Blue Fusion has already put together a sizzle reel from the event.
As you'll see below, the footage looks pretty impressive.
Bally Technologies Acquires Chiligaming B2B Platform
French gaming operator Chiligaming continued to expand its presence in the U.S. by agreeing to a deal with Las Vegas based slot machine manufacturer Bally Technologies on Thursday.
Bally's acquisition of the gaming company will allow it to integrate Chiligaming's solution for online poker, bingo, casino, and sports betting and social media into its existing management system of slot machines and casinos. Bally Technologies will now look into the option of performing multi-channel promotions, bonusing, and player-tracking across Bally's mobile, online, and traditional platforms.
"This acquisition provides an open, cloud-based platform for Bally Technologies to offer an integrated traditional and online casino solution to operators worldwide," said John Connelly, vice president of business development at Bally Technologies. "Equally as important, Bally Technologies has also obtained an experienced team of industry veterans from within the online gaming industry, which will help our customers optimize their use of this platform."
Read more at PokerNews.com.
Borrowing — One of Poker's Systemic Diseases
One of the most important components in being a successful professional poker player is proper money management. Borrowing money has always been common in the poker community — and likely always will be — but often times it can create bad blood between players, ruin a player's reputation, and ultimately end a career.
On Thursday, Linda Geenen at PokerWorks.com posted a great article discussing the vicious cycle of loaning money in poker. In the article, titled Borrowing — One of Poker's Systemic Diseases, Geenen discusses the dire situation at Full Tilt Poker, Chino Rheem's financial obligations and his probation from the Epic Poker League, and a few other cases in which poker players have found themselves in trouble.
We highly recommend checking out Geenen's article at PokerWorks.com.
Where the EPT Gets its Bling
Danish jeweler Shamballa Jewels is the official bracelet sponsor of the EPT Season 8 Main Events, so Sarah Grant made her way to downtown Copenhagen for a look inside the Shamballa Jewels shop.
Get all the latest PokerNews updates on your social media outlets. Follow us on Twitter and like us on Facebook today!