The Nightly Turbo: Al Krux Facing Drug Felony, William Hill Mess Resolved, and More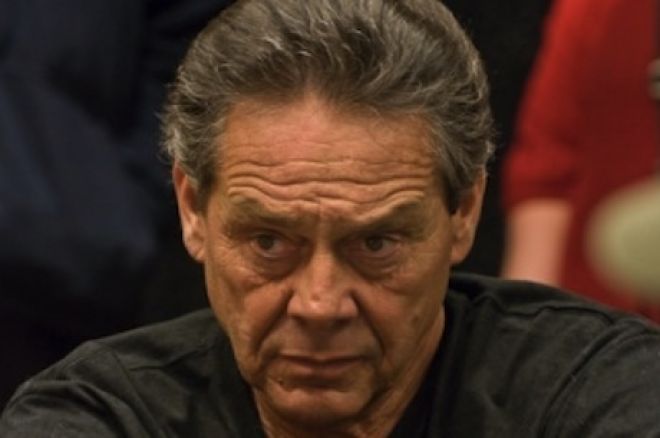 The World Series of Poker Main Event final table is a little more than a week away, but there's certainly no calm before the storm on the tournament circuit. The PokerStars.it European Poker Tour San Remo Main Event is in full swing, and the World Poker Tour stop at Foxwoods kicks off on Thursday. Meanwhile, a three-time WSOP Main Event final tablist is facing felony drug possession charges, and the dispute at William Hill has finally been resolved. Find out more in this edition of the Nightly Turbo.
In Case You Missed It
How did Tuesday's House Subcommittee hearing regarding online poker go? Matthew Kredell tells you why this hearing was a lot different from past Capitol Hill hearings on poker.
The days until the 2011 World Series of Poker November Nine are dwindling and we're always curious to find out how the members of the prestigious Final Table are spending their time. We recently talked to Phil Collins to find out how he's preparing for poker's biggest stage.
Did you miss Tuesday's coverage the World Series of Poker on ESPN? Check out our recap to find out who thrived on Day 8 of the Main Event!
Genting has big plans for the city of Miami. Inside Gaming brings you the latest news surrounding Genting Americas' project in South Florida, MGM's search for new markets in the U.S., and more.
The PokerNews Podcast was live from San Remo, Italy, this week. The crew was joined by Team PokerStars player Lex Veldhuis to discuss his deep run in the European Poker Tour Main Event in San Remo.
Are you planning a trip to Greece next month for the European Poker Tour stop in Loutraki? Check out our guide to the city in the latest edition of the PokerNews Jet Set.
Al Krux Arrested on Drug Charges
This would make for a good Where Are They Now piece. Professional poker player Al Krux and his son, Adam, have been arrested on felony marijuana charges, the Syracuse Post-Standard reported Wednesday. Krux, who has reached the final table of the World Series of Poker Main Event three times, has been charged with first-degree criminal possession of marijuana after police discovered 40 pounds of marijuana and 90 marijuana plants at his residence in DeWitt, N.Y.
Search warrants were implemented on two of Krux's residences on Tuesday after tips were given to DeWitt police about suspicious activity. Al Krux was then stopped in his vehicle and found with 25 pounds of marijuana, and Adam Krux was pulled over in a separate vehicle holding 15 pounds of marijuana, according to police reports. Both men were held at the Onondaga County Justice Center on $20,000 bail.
Krux, 68, has more than $1 million in live tournament earnings during his poker career. He made the WSOP Main Event final table three times, most recently in 2004 when he took sixth place for $800,000. He also won a WSOP bracelet in 1996 for $156,375. His most recent cash came at the 2010 WSOP when he finished 118th in a $1,000 no-limit hold'em event. It seems that he's been working on other projects since then.
More on this story can be found at the Syracuse Post-Standard.
William Hill Dispute Settled
Online gambling giant William Hill announced Tuesday that it has resolved the dispute at its support center in Tel Aviv by firing seven senior managers in the wake of a protest by nearly 200 staffers last week.
The walkouts were reportedly sparked by rumors that the company would be moving operations to the United Kingdom or Gibraltar. The strike in Israel prompted similar protests at William Hill offices in Bulgaria and the Philippines, which motivated the company's co-CEOs to travel to Tel Aviv to restore order before business operation were affected.
"The group can now confirm that normal operations have resumed and that William Hill Online remains committed to its operation in Tel Aviv," William Hill said in a statement Tuesday, as reported by The Guardian.
The Guardian reports that that some senior managers at William Hill Online may have plotted to set up a rival business, but it is believed that William Hill spent about £2 million on severance pay for the dismissed staff in exchange for non-compete clauses.
Get more on the story at The Guardian.
PokerStars Approaching 70 Billion Hands
PokerStars will be dealing out its 70-billionth hand in the next 10 days, and players will have a chance to cash in on some big money leading up to the milestone. More than $750,000 in cash will be awarded to those taking part in real-money cash games prior to hand No. 70 billion, and the Mega Milestone hand will award one player with a minimum of $70,000.
PokerStars is on the road to 100 billion hands and has been celebrating every 5 billion with a milestone hands promotion. In July, New Zealander "yllams" pocketed the top prize of $68,420 for hitting the 65-billionth hand while playing at a $0.10/$0.25 six-max cash table. PokerStars dished out more than $770,000 to more than 1,600 players during the days leading up to that milestone hand.
Get more information and even some tips on the 70-billionth hand promotion at PokerStars.com.
Jerry Yang at the World Poker Tour
Jacksonville Greyhound Racing and Poker has announced that 2007 WSOP Main Event Champion Jerry Yang will kick off the festivities for its second World Poker Tour series, running from Nov. 11 through Nov. 22 in North Florida. Yang will be on hand for a book signing on Nov. 10 and then participate in the first event on the schedule, a $340 buy-in tournament on Nov. 11.
Yang hasn't been a regular on the tournament circuit since his historic WSOP title but has made several appearances at charity events and smaller series around the country. Yang recently wrote a book titled All In, which tells the incredible journey of his life. He'll be signing autographed copies of the book and taking photos with fans from 4 to 7 p.m. at the Orange Park Kennel Club on Nov. 10.
"We're thrilled to have Jerry come to Jacksonville," commented Deb Giardina, Jacksonville's executive director of poker operations. "His reputation as one of the greatest ambassador's to poker mirrors our plan to elevate our rooms' reputations to the top of the industry."
The entire November World Poker Tour (WPT) schedule can be viewed at JaxPokerTour.com
TwoPlusTwo Wins $150,000 Judgment
On Tuesday, TwoPlusTwo Publishing owner Mason Malmuth announced via the TwoPlusTwo forums that he had won a $150,000 judgment against a former member trying to capitalize using the TwoPlusTwo brand. Anthony Scocozzo registered the domain name TwoPlusTwo.me and was using it to give away free copies of e-books copyrighted by TwoPlusTwo.
Below is the statement from Malmuth:
"Two Plus Two recently obtained a judgment from the United States District Court, District of Nevada, for $150,000.00 in statutory damages for the willful infringement of our trademark and copyrights. The judgment also includes reimbursement of our costs and attorney fees. The Defendant in the suit was Anthony Scocozzo (and/or one of his several aliases), a former member of the Two Plus Two forums, who registered a domain name containing our famous "TWO PLUS TWO" trademark and offered several of our copyrighted books for free download in the "e-book" format. We tried on numerous occasions to resolve the suit prior to litigation, but the Defendant refused to cooperate. Therefore, we had to file suit and enforce our intellectual property rights. Although we certainly don't enjoy litigation, we pursue lawsuits when we have to in order to protect ourselves from infringers. We are quite happy with the outcome and judgment in this case."
This wasn't the first time Malmuth has gone after copyright infringers. In 2009, Malmuth sued poker pro Dutch Boyd for registering the domain name twoplustwopoker.com and allegedly earning substantial revenue from the site while using TwoPlusTwo's trademark.
More on Tuesday's judgment can be found at TwoPlusTwo.
High Rollers in Life?
During a break from the European Poker Tour San Remo High Roller event, Kristy Arnett caught up with some of the players to find out if they live like a true high roller in the real world.
Are you following PokerNews on Twitter? Like us on Facebook while you're at it, and sign up for the newsletter. You know you want to.