Inside Gaming: Caesars Interactive Sells Stake, Palms Poker Room Remodel, and More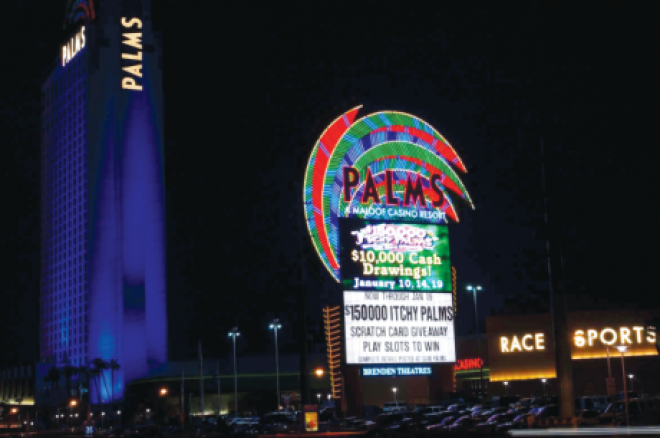 This week, Caesars announced that it sold a stake in Caesars Interactive to its partner in a few brick-and-mortar deals. The Palms unveiled plans for a new poker room that will be located in the casino's sports book and run by Cantor Gaming. And remember when President Obama told corporate America to stop wasting money on Las Vegas conferences? Guess the federal government's General Services Administration didn't get the memo. Continue reading to find out more.
Caesars Interactive, Which Runs WSOP, Sells Stake to Ohio Casino Partner
Caesars Entertainment Corp. told the Securities and Exchange Commission on Monday that it sold an undisclosed percentage of Caesars Interactive for $60.8 million to Rock Gaming, Caesars' partner in two Ohio casinos. Caesars Interactive, run by Mitch Garber, controls the World Series of Poker brand and events in addition to operating Caesars' online gaming sites in Europe.
Rock Gaming acquired 50 percent of the shares it purchased on Friday and will obtain the rest by the beginning of July. The company, controlled by Dan Gilbert, also has the option to purchase another 3,140 shares for $19.2 million by Nov. 15. Gilbert founded Quicken Loans and owns the National Basketball Association's Cleveland Cavaliers.
Caesars also partners with Rock Gaming on two casino developments in Ohio. Caesars owns 20 percent of the projects and will manage the Horseshoe Cleveland when it opens in May and the Horseshoe Cincinnati when it opens in 2013. Caesars and Rock Gaming have jointly filed an application for a gaming license to open a slots-only casino in Maryland.
For more details, go to the Casino City Times.
New Palms Poker Room to be Located in Sports Book and Run by Cantor Gaming
The Palms inked a long-term deal with Cantor Gaming to operate the casino's poker room, as well as its sports book. The new eight-table poker room will be located in the sports book, which is under construction and expected to open May 3. The Palms hosted Epic Poker's first season until Epic filed for bankruptcy in March.
"Our decision to relocate the poker room to the new race and sports book was a natural one given the synergies that exist between poker players and sports bettors," said Joseph Magliarditi, president of the Palms. The new poker room will have double the tables previously offered at the Palms, which is across the street from Caesars Entertainment's Rio, the site of the WSOP.
Cantor Gaming runs many of the sports books in Las Vegas but has not tackled a poker room before. Cantor's president and CEO, Lee Amaitis, said he isn't worried about the task and thinks the combination will be popular with players. "There is a natural overlap between sports bettors and poker players and by situating poker within the sports book we can offer customers maximum entertainment and convenience."
The construction project also includes a bar adjacent to the sports book and poker room that Magliarditi described as a "rich combination of wood and stone that is very warm and inviting to both men and women."
Hear more from Magliarditi in the Las Vegas Review-Journal.
Government Agency Head Resigns Over $800,000 Bill for Vegas Conference
President Barack Obama landed in hot water with Las Vegas when he told corporate America to stop blowing money on unnecessary Vegas conferences in 2009. Clearly, he should have been addressing the federal government instead. The head of the General Services Administration (GSA) resigned this week after an inquiry found that the GSA had spent $823,000 on a taxpayer-funded conference at the M Resort Spa and Casino in October 2010.
The GSA, which manages and rents properties and equipment for government agencies, routinely holds regional conferences for staff. The Inspector General's investigation found that the administrator of Region 9, the West Coast, told conference planners to make the 2010 "over the top." And boy, did they succeed. Planners required multiple scouting trips to Las Vegas to set up the conference and then spent nearly $700,000 on a conference for 299 government employees.
The Inspector General's report cited violations such as spending $44 per breakfast per attendee when the government limit for conference breakfasts is $12 per person. Planners also spent $6,325 on commemorative coins to congratulate the GSA's work on the stimulus spending plan. That would be pretty funny if it were a joke. Printed yearbooks for conference participants cost another $8,130.
Martha Johnson wrote in her resignation letter, "Reports of an internal conference in which taxpayer dollars were squandered led me to launch internal reviews, take disciplinary personnel action and institute tough new controls to ensure this incident is not repeated. I feel I must step aside as administrator so that the agency can move forward this time with a fresh leadership." Johnson fired two senior agency employees and disciplined several others before she resigned.
On the other hand, maybe it was just the government's attempt to apologize to Las Vegas over Obama's anti-conference comments.
Find out how much the GSA spent on appetizers in Bloomberg's report.
Follow PokerNews on Twitter for up-to-the-minute news.
*Photo courtesy of Casino-Magazine.ro