The Weekly Turbo: Negreanu on Becoming a Professional, Mizzi's Challenge, and More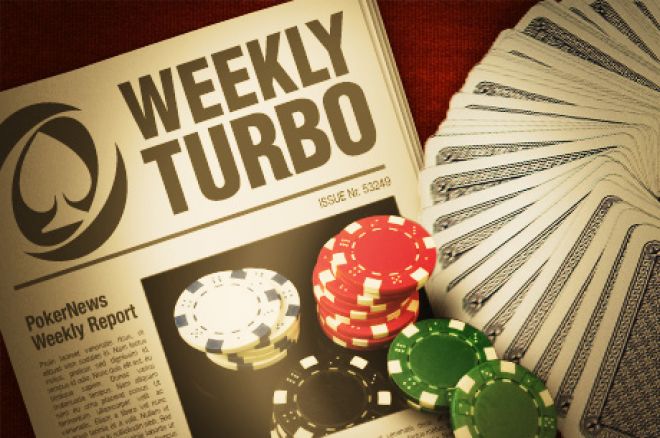 Did you miss any of this week's Nightly Turbos? If you did, you're in luck, the Weekly Turbo is here to get you caught up on the week's top poker news stories. Find out what Daniel Negreanu had to say in his latest interview on Canadian television, what Sorel Mizzi has proposed to the poker community, and more in this edition of the Weekly Turbo.
Poker Players
Negreanu Makes Appearance on CTV
Daniel Negreanu made an appearance on CTV Friday morning to discuss his recent trip to the PokerStars and Monte-Carlo® Casino European Poker Tour Grand Final, his start in live poker, and his epiphany that took him from being a recreational poker player to being a professional.
In the interview, Negreanu talks about his reading ability, soul reads, and even how a baby has the ability to pick up live tells.
You know we like making things easy for you, but we searched everywhere and couldn't find an embed code, so you'll have to check out the full interview on CTV.
Mizzi Issues Health Challenge to Poker Community
Sorel Mizzi is tackling an 84-day fitness program, which has inspired him to issue a challenge to the poker world. He is urging players to start a three-month fitness program of their choosing and document their experience along the way. He is offering every participant the chance to have one online tournament hand history reviewed for every three weeks they're in the program, with an extra special prize for the winner of his challenge.
As Mizzi explains:
"I will take the winner of this challenge under my wing and do everything I can to help them improve their poker game. It can be anyone. I will help a losing player become a winning player and a winning player increase their ROI and feel more comfortable at higher stakes. This will include reviewing hand histories, sending hand histories of past online tournaments I've played, discussing online/live tournament strategy in-depth and making myself available for questions. I'll do this for at least a year and probably longer on a less time consuming scale. I'm basically using this challenge to find a student that I can teach everything I know about poker to. There is also a future possibility of a staking arrangement. The idea of teaching someone everything I know about poker and helping them fix their leaks and improve their game drastically is very appealing to me."
Participants will be rated by four judges — Mizzi, Julie Powers, All American Dave and Christina Lindley — in three categories: transformation, blogging and stats. That means you'll need to take some "before" pictures, keep track of your diet, and document your journey.
To learn how you can participate in the health challenge, visit Mizzi's blog.
Glantz's Epic Blog
Matt Glantz posted a blog Tuesday discussing his involvement with the Epic Poker League, as well as his position on its Standards & Conduct Committee. Glantz discusses his entire involvement with the league from hearing about it for the first time, to playing his first event, to becoming a part of the S&C and eventually resigning from his position.
In his blog Glantz discusses businesses practices he saw take place in the Epic Poker League from his own point of view, including the Chino Rheem probation and the Michael DiVita incident.
He also talks about hearing rumors of the leagues financial troubles for the first time and what happened when the rumors became truths. "Rumors were true. Ugghhhh. Why does it seem like the bad stuff in this business never ends. I still have hope. It is Chapter 11 (reorganization) bankruptcy and at least not Chapter 7. Wow, this sucks."
For more, check out Matt Glantz's blog.
Bernard Lee Presents TV Version of Poker Radio Show to Celebrate Fifth Anniversary
Bernard Lee is celebrating the fifth anniversary of The Bernard Lee Poker Show radio show by introducing three televised episodes in the month of May.
Each episode will air Monday nights at 8:30 p.m. EDT on Comcast SportsNet New England and DirectTV starting May 7 (with repeats on Sunday afternoons at 1:30 p.m. EDT)and features the following guests:

May 7 – Chris Moneymaker, the 2003 WSOP Main Event champion.
May 14 – Dennis Phillips, 2008 WSOP November Niner.
May 21 – Phil Hellmuth, the 1989 WSOP Main Event champion.
In addition, Lee will launch the Bernard Lee Poker YouTube channel, where all shows, with additional outtakes, will be posted one week after their televised premieres.
The audio version of The Bernard Lee Poker Show will air from 6 to 7 p.m. EDT on Tuesdays in Massachusetts. The show is also broadcast, typically live, on 1120AM (Boston), 970AM (Worcester), 1390AM (Cape Cod) on the Money Matters Radio Network, and on www.roundersradio.com, the largest online poker talk radio station in the world.
"Bernard has been a great asset to the Money Matters Radio Network through the years. As New England's top professional poker player, we enjoy sharing his expertise and insight into the world of poker each and every week and congratulate him on a great milestone," said Dave Cullinane, the network's general manager.
For more information, be sure to visit www.bernardleepoker.com and don't forget to follow him on Twitter.
Poker Tournaments
Heartland Poker Tour Event Sets Minnesota Record
Late last week, the Heartland Poker Tour kicked off its latest Main Event at Canterbury Park in Shakopee (Minnesota), which is just south of the Twin Cities. The $1,650 tournament attracted 333 players and created a prize pool of $473,928 — the largest in state history.
With a top prize of $118,482 up for grabs, not to mention a televised final table, the event attracted some familiar names including former World Series of Poker November Niners Jason Senti and Darvin Moon; the highest-earning player in HPT history, Craig Casino; and HPT Daytona Beach winner Joey Chalbaud. Unfortunately, all but one of the aforementioned players failed to make the money in the top 33. The man who did was Casino, who finished in 26th place for $2,796. He was joined by a few other notables including Michael Schneider (30th - $2,796), Erik Burton (22nd - $3,270), Samuel Hanson (18th - $4,834), Chris Wallace (13th - $8,531), Daniel Dykhouse (10th - $14,218) and Gary Loeffler (7th - $15,403).
HPT Canterbury Park Final Table
| Seat | Player | Chips |
| --- | --- | --- |
| 1 | Dr. Gary Lamber | 885,000 |
| 2 | Naser "Naz" Alkhatib | 5,065,000 |
| 3 | Edward Janezich | 1,275,000 |
| 4 | Eric Worre | 685,000 |
| 5 | Daniel Conway | 840,000 |
| 6 | Paul Ratajczyk | 1,265,000 |
HPT Canterbury Park is set to conclude Monday, so be sure to check back on Tuesday for the final table results.
For more information, visit hptpoker.com.
Naz Al Scores Largest Poker Victory in Minnesota History
On Monday, Naz Al won the Heartland Poker Tour Canterbury Main Event and captured a $118,482 first-place prize, the largest ever awarded in Minnesota in a poker tournament. "There are things you learn in poker that you can take with you to real life," said the 29-year-old student from Mankato after his win.
Al defeated Dr. Gary "Lambo" Lambert in heads-up play, though the latter's performance gave him the lead in HPT's race for Player of the Year. "I'm going to do all the HPT tournaments I can," said Lambert, who took fourth at HPT's St. Louis stop, "My heart is with HPT . . . We'll definitely see you in Chicago for your next event."
Heartland Poker Tour Canterbury Final Table Results
| Buy-in | Entrants | Prize Pool |
| --- | --- | --- |
| $1,650 | 333 | $473,928 |
| Place | Player | Hometown | Prize |
| --- | --- | --- | --- |
| 1 | Naz Al | Mankota, MN | $118,482 |
| 2 | Dr. Gary Lambert | Quincy, IL | $67,061 |
| 3 | Eric Worre | Chanhassen, MN | $42,654 |
| 4 | Paul Ratajczyk | Terre Haute, IN | $36,729 |
| 5 | Edward Janezoch | Minneapolis, MN | $28,436 |
| 6 | Dan Conway | Grand Rapids, MI | $23,222 |
For more information on the event, visit HPTPoker.com.
Partouche Poker Tour Releases Season 5 Schedule
The Partouche Poker Tour has announced dates for its Season 5 final, which will run from Sept. 3 through 9, 2012, at the Palm Beach Casino in Cannes, France. The €8,500 Main Event will feature two starting flights, with Day 1a casualties given the option to reenter on Day 1b.
In addition, the series will feature two side pot-limit Omaha tournaments, a €25,000 High Roller and five side events more than 2011. Speaking of last year's event, you may recall that tournament drew 579 players and created a prize pool of 4,307,760 Euros. The final table included Roger Hairabedian, Ilan Boujenah and Alexandre Coussy, but was eventually won by Englishman Sam Trickett for €1.5 million
For a look at the entire Partouche Poker Tour Season 5 Final schedule, visit partouchepokertour.com.
A.P. Phahurat Wins the Chad Brown Poker Challenge
On Monday, the 2012 Chad Brown Challenge $2,000 Main Event concluded at the Choctaw Resort in Durant, Oklahoma. The 258-player event attracted some big names in Chad Brown, Dennis Phillips, Layne Flack, Gavin Smith and Robert Williamson, though none managed to make the final table.
Instead, it was a pair of World Series of Poker Circuit regulars — A.P. Phahurat and Seneca Easley who battled for the title. The two friends gave it their all, and when the dust settled, Phahurat emerged victorious to capture the $116,449 first-place prize.
2012 Chad Brown Poker Challenge Final Table Results
| Buy-in | Entrants | Prize Pool |
| --- | --- | --- |
| $1,900 + $100 | 258 | $475,494 |
| Place | Player | Hometown | Prize |
| --- | --- | --- | --- |
| 1 | AP Phahurat | Rogers, AR | $116,449 |
| 2 | Seneca Easley | Fort Worth, TX | $71,980 |
| 3 | Nghia Truong | Plano, TX | $52,005 |
| 4 | Andy Philachack | Garland, TX | $38,273 |
| 5 | Jared Jaffee | Brooklyn, NY | $28,672 |
| 6 | Bahman Jahanguiri | Plano, TX | $21,849 |
| 7 | Mark Dunavin | Grand Prairie, TX | $16,928 |
| 8 | Val Wood | Durant, OK | $13,328 |
| 9 | Jeffrey Watterworth | Temple, TX | $10,661 |
Crown's 2012 Melbourne Poker Championship Kicked Off
From May 3 through 14, 2012, the Crown Casino in Melbourne, Australia, will play host to the 2012 Melbourne Poker Championship. The series will feature 10 official events, including the $550 No-Limit Hold'em Joe Hachem Deepstacks Series and Event #8: Melbourne Poker Championship $1,100 Main Event.
The Melbourne Poker Championship began in 2002 with a modest field of 66 players in a $300 buy-in Main Event. Last year, the Main Event attracted 502 entrants and Scott Peel walked away with the $104,500 first-place prize.
This year's event is expected to have a prize pool of more than $500,000 and will include such hometown personalities as 2005 World Series of Poker Main Event champ Joe Hachem, 2012 Aussie Millions winner Oliver Speidel, and Australian sports star Shane Warne.
For the full tournament schedule and entry forms, check out www.crownpoker.com.au.
Hold'em with Hellmuth Celebrity Event Scheduled for August 18
For the past two years, Phil Hellmuth has hosted a charity event in his hometown of Madison, Wisconsin. This year, tournament organizers have announced that they are moving the Hold'em with Hellmuth Celebrity Poker Event to Sat., August 18, 2012 at 3 p.m. in the Exhibition Hall at the Alliant Energy Center.
"We think the switch to August will be great; hopefully allowing more people to come being that it's not the weekend before Christmas," event corrdinator Lindsay Huebner told PokerNews. "Being that it is a celebrity tournament, we are working on another great line up of people."
Last year, the event, which raised over $110,000 for charity, drew over 250 players including poker pros such as 2007 World Series of Poker Europe Champion, Annette Obrestad; 1998 WSOP fourth-place finisher, Dewey Weum; and online pros Anthony "D1rtyR1v3r" Nardi and Mark "P0ker H0" Kroon; however, it was Laura Schultz who ended up the victor.
This year, Hellmuth is already confirmed to be joined by Obrestad, Scott Ian, Casey FitzRandolph Dave and Rachel, the Madison couple from the latest season of the Amazing Race.
For future information on the tournament, be sure to check out agracehospicecare.org.
Poker Politics
California Tribes Oppose Online Poker Bill
Last Wednesday, the Tribal Alliance of Sovereign Indian Nations (TASIN) wrote a letter that stated it is "strongly opposed" to SB 1463, a piece of Senate Legislation that would legalize online poker. TASIN opposes the bill, which it says has a "fundamental disregard for the unique government-to-government relationship between the State and California's tribal governments."
The bill, which was authored by State Senator Rod Wright (D-Los Angeles) and Senate President Pro Tem Darrell Steinberg (D-Sacramento) and introduced in February, is estimated to generate around $200 million if passed.
TASIN also called the current version of the bill a "blanket waiver of tribal sovereign immunity" and states that it "is not acceptable" that the bill allows for games other than poker after two years. SB 1463 has yet to face a committee hearing.
For more information, visit The Press-Enterprise.
Antigua & Barbuda vs. USA
Last week, the World Trade Organization (WTO) held a meeting where Antigua & Barbuda and the United States hoped to reach an amicable resolution in a long-term online gambling dispute. Unfortunately, that meeting resulted in no progress and had each side blaming the other for the lack of progress.
The dispute harkens back to 2007 when the U.S. began modified the General Agreement on Trade in Services schedule, changes that Antigua & Barbuda objected to. Then, in 2008, the WTO backed Antigua's request to level some sanctions, but though no actions were taken.
According to the Antigua Observer, Antigua & Barbuda presented a letter to the WTO Dispute Settlement Body last week, one that alleges the U.S. is "continuing to criminally prosecute Antiguan-based remote gaming service providers for providing services to consumers in the United States and refusing to negotiate over the matter."
The letter states that the U.S. needs to "observe its international obligations in good faith and with due consideration for the rights of Antigua & Barbuda." In response, the U.S. has told the WTO that while it has accepted the results of the dispute settlement, Antigua & Barbuda are responsible for the stalemate.
For more on this story, visit the Antigua Observer.
Schleswig-Holstein Awards Three Online Gaming Licenses; Betfair Benefits
On Thursday, Schleswig-Holstein awarded three online gambling licenses. In September, the German state voted to allow sports betting and online poker as long as the sites were established in the European Union.
Betfair was awarded a license for sports betting, as was mybet, a subsidiary of Jaxx AG, and the state lottery. The licenses are valid until 2018.
"We view this as a significant positive for the company [Betfair], given that it further erodes the bear case on the stock that Betfair would be unable to get licensed outside of the UK," said analysts at BarCap.
For more information, pay a visit to Reuters.
Ohio and Minnesota Changing Poker Legislation
On Wednesday, an Ohio State Senate panel added provisions into a sweeping bill on casino regulations that would allow state counties in Ohio the ability to open up charity poker rooms, the Associated Press reported.
The government reform and oversight committee put the amendment into a bill that would reach the senate floor next week. If the bill passes, all 88 Ohio counties will be allowed to open charity poker rooms. Senate President Tom Niehaus said that the new charity poker rooms should not cut into the profits of the four new casinos is Ohio. There is currently only one charity poker room in Ohio.
Minnesota is also expanding its gambling industry as well as both houses of the Minnesota legislature passed an amendment Tuesday that would allow the maximum number of table games at the Canterbury Park as well as Running Aces Harness Park to be increased from 50 to 80, as well as a raise in betting limits from $60 to $100. For poker fans, the number of tournaments and tournament tables that the tracks will be able to run will now be unlimited.
The rules for many of the table games will change from "player-banked games," to being "house-banked games." Meaning that players will no longer compete against each other, but they will play against the house. This bit of the legislation is similar to the way Native American casinos and other casinos operate, but it remains to be seen how it will affect cash game players in Minnesota, as even though the measure takes effect immediately after it is signed, it will see a bit of lag before its implementation.
The Daily Racing Form has more on Minnesota's legislation, and you can find more regarding Ohio's charity poker rooms on WKYC.com.
Nancy Todd Poker Palace Coming to Arkansas?
Arkansas poker players will have more than one reason to hit the voting booths this November as The Nancy Todd Poker Palace announced that its submission for an amendment was approved by the Attorney General this week. If the amendment passes, Todd plans to create the largest poker palace in the world, in Pulaski County, Arkansas.
The amendment would also allow for four local-based land casino entertainment venues in Crittenden, Miller, and Franklin Counties. The casinos created will pay a 12.5 percent tax, which will be split to various programs in Arkansas including public schools and veterans affairs. Todd has been a big advocate for gaming outside Las Vegas and Atlantic City and has helped add gaming to many venues. In addition to this, Todd has a World Poker Tour Ladies Event Championship under her belt from May 2008.
To view the full break down check out the Siftings Herald here.
Get all the latest PokerNews updates on your social media outlets. Follow us on Twitter and like us on Facebook now!