The Nightly Turbo: Online Poker Opposition, Largest Prize Pool in Minnesota History & More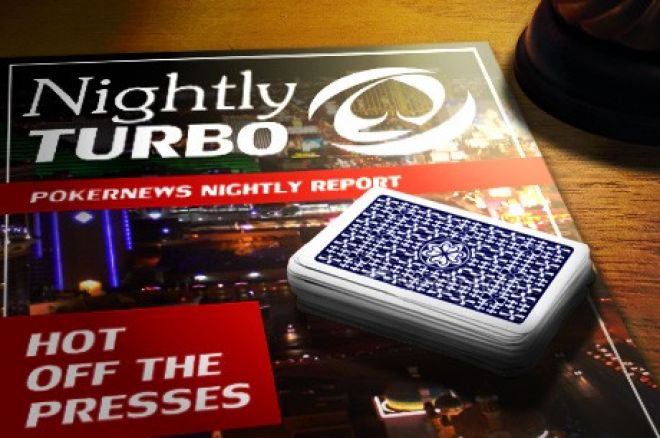 Monday is here and with it some news from over the weekend. In this edition of the Nightly Turbo, we take a look at some of these stories like the Tribal Alliance of Sovereign Indian Nations' opposition to an online poker bill, the largest prize pool in Minnesota state history and the disappearance of the Purple Lounge.
In Case You Missed It
This past weekend the poker world lost a legend and former World Series of Poker Main Event winner when "Amarillo Slim" Preston passed away at the age of 83. Learn more on the 1972 champ in Remembering "Amarillo Slim" Preston.
Lynn Gilmartin sat down with Team PokerStars Pro Bryan Huang to talk about life and the start of his poker career. Find out the story by watching the latest in the Seat Open series.
We all know that Black Friday affected a number of poker players. One of them is Alec Torelli, and in the latest Black Friday Chronicles, he discusses how that fateful day impacted him.
The World Poker Tour Jacksonville BestBet Open kicked off this weekend and is progressing quickly. Catch up with the most recent action in our Day 2 recap.
Speaking of the WPT, Fox Sports Network aired another brand new episode on Sunday night. If you missed it, be sure to check out our recap of the WPT World Poker Finals Part II.
Finally, be sure to check out all the results from the Sunday Majors on PokerStars in the latest Sunday Briefing.
California Tribes Oppose Online Poker Bill
Last Wednesday, the Tribal Alliance of Sovereign Indian Nations (TASIN) wrote a letter that stated it is "strongly opposed" to SB 1463, a piece of Senate Legislation that would legalize online poker. TASIN opposes the bill, which it says has a "fundamental disregard for the unique government-to-government relationship between the State and California's tribal governments."
The bill, which was authored by State Senator Rod Wright (D-Los Angeles) and Senate President Pro Tem Darrell Steinberg (D-Sacramento) and introduced in February, is estimated to generate around $200 million if passed.
TASIN also called the current version of the bill a "blanket waiver of tribal sovereign immunity" and states that it "is not acceptable" that the bill allows for games other than poker after two years. SB 1463 has yet to face a committee hearing.
For more information, visit The Press-Enterprise.
Heartland Poker Tour Event Sets Minnesota Record
Late last week, the Heartland Poker Tour kicked off its latest Main Event at Canterbury Park in Shakopee (Minnesota), which is just south of the Twin Cities. The $1,650 tournament attracted 333 players and created a prize pool of $473,928 — the largest in state history.
With a top prize of $118,482 up for grabs, not to mention a televised final table, the event attracted some familiar names including former World Series of Poker November Niners Jason Senti and Darvin Moon; the highest-earning player in HPT history, Craig Casino; and HPT Daytona Beach winner Joey Chalbaud. Unfortunately, all but one of the aforementioned players failed to make the money in the top 33. The man who did was Casino, who finished in 26th place for $2,796. He was joined by a few other notables including Michael Schneider (30th - $2,796), Erik Burton (22nd - $3,270), Samuel Hanson (18th - $4,834), Chris Wallace (13th - $8,531), Daniel Dykhouse (10th - $14,218) and Gary Loeffler (7th - $15,403).
HPT Canterbury Park Final Table
| Seat | Player | Chips |
| --- | --- | --- |
| 1 | Dr. Gary Lamber | 885,000 |
| 2 | Naser "Naz" Alkhatib | 5,065,000 |
| 3 | Edward Janezich | 1,275,000 |
| 4 | Eric Worre | 685,000 |
| 5 | Daniel Conway | 840,000 |
| 6 | Paul Ratajczyk | 1,265,000 |
HPT Canterbury Park is set to conclude Monday, so be sure to check back on Tuesday for the final table results.
For more information, visit hptpoker.com.
Antigua & Barbuda vs. USA
Last week, the World Trade Organization (WTO) held a meeting where Antigua & Barbuda and the United States hoped to reach an amicable resolution in a long-term online gambling dispute. Unfortunately, that meeting resulted in no progress and had each side blaming the other for the lack of progress.
The dispute harkens back to 2007 when the U.S. began modified the General Agreement on Trade in Services schedule, changes that Antigua & Barbuda objected to. Then, in 2008, the WTO backed Antigua's request to level some sanctions, but though no actions were taken.
According to the Antigua Observer, Antigua & Barbuda presented a letter to the WTO Dispute Settlement Body last week, one that alleges the U.S. is "continuing to criminally prosecute Antiguan-based remote gaming service providers for providing services to consumers in the United States and refusing to negotiate over the matter."
The letter states that the U.S. needs to "observe its international obligations in good faith and with due consideration for the rights of Antigua & Barbuda." In response, the U.S. has told the WTO that while it has accepted the results of the dispute settlement, Antigua & Barbuda are responsible for the stalemate.
For more on this story, visit the Antigua Observer.
PurpleLounge Closes Doors
After a struggling trading period, Media Corp Inc. announced the closure of its online gaming site, PurpleLounge.com. Media Corp directors claim that the losses were a result of negative trade press brought about by litigation against one of the company's subsidiaries by CD casino.com Limited.
Over the last two years, Media Corp has not generated any income from PurpleLounge.com, stating that it has loaned the site over £900,000 in the last few months. The company has currently suspended PurpleLounge with no indication when the site will again be operational. It is unclear at this time whether customers will be able to withdraw funds or access their accounts.
Find out more at GamingIntelligence.com.
You've Got Some 'Splainin To Do
While at the PokerStars.net Asia Pacific Poker Tour Cebu, Sarah Grant caught up with Carter Gill to talk about some things — including getting banned for throwing his girlfriends clothes out the window at the Rio last summer.
Get all the latest PokerNews updates on your social media outlets. Follow us on Twitter and like us on Facebook now!