The Nightly Turbo: NHL Star in WSOP Main Event, Duke University Poker Study, and More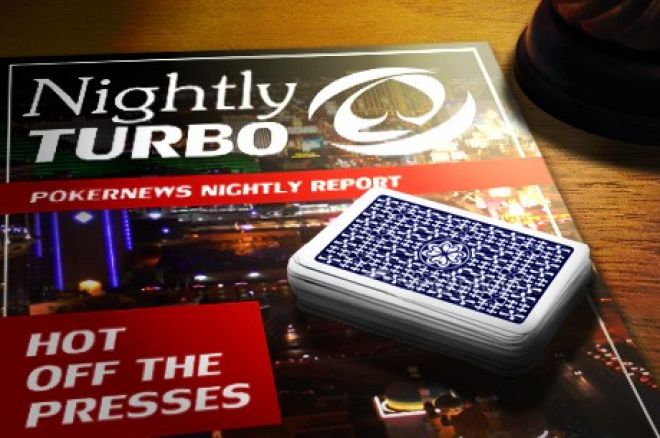 We're only one day away from the start of the World Series of Poker Main Event. The question on everyone's mind: How many players will put up the $10,000 buy-in? Well, we learned of one superstar athlete who's participating this weekend. We'll cover that story and more in this edition of the Nightly Turbo.
In Case You Missed It
How close is Konstatin Puchkov to making World Series of Poker history? We cover that story and more in our Day 40 WSOP recap.
Two WSOP final tables were put on hold late Thursday night. We take a look at the players returning to play for a bracelet in Friday's What To Watch For.
How was the high-stakes action at the PokerStars tables this week? Read the Online Railbird Report to find out the week's biggest winners and losers.
Antonio Esfandiari won the largest prize in poker history this week. "The Magician" is one of the subjects in Rich Ryan's Five Thoughts piece.
Does poker involve more luck or skill? The PokerNews video team asked poker pros for their opinion on Thursday.
Looking for a fun, behind-the-scenes perspective of life at the WSOP? All Mucked Up has daily stories from inside the Rio, so check it out!
Luongo Antes Up
Vancouver Canucks goalie Roberto Luongo has announced he will be playing in the World Series of Poker Main Event this weekend. The NHL netminder joins a number of sports superstars like Paul Pierce, Shawn Marion and Antonio Tarver to compete in poker's most prestigious tournament.
Luongo, who guided the Canucks to the Stanley Cup finals in 2011, has been a poker enthusiast for a long time. In 2009, Luongo competed in the PokerStars.net NHL Charity Shootout during the WSOP. He, along with NHL stars Alex Ovechkin and Jeremy Roenick, got a chance to rub elbows with some of the best players in the poker world.
Last October, Luongo signed a controversial sponsorship deal with a government-owned British Columbia Lottery Corp. While some opponents argued that Luongo wasn't serving as a role model for children, Luongo decided to represent Playnow.com at a number of gaming events, including the World Series of Poker, where his buy-in is paid for by the company.
"Businesses commonly partner with celebrities or sports figures to help strengthen their brand image," a BCLC spokesperson said in a statement Thursday, according to the Vancouver Sun. "Roberto Luongo is a well-known celebrity in our marketplace, and a natural fit for this type of a marketing approach.
Luongo expressed his excitement about playing the Main Event via Twitter this week.
Well it's official my BAGS ARE PACKED..... For Vegas! Going to play in the World Series of Poker Main Event this weekend! #superexcited

— Strombone (@strombone1)
The Vancouver Sun has more.
Testing the Bluff
A study by Duke University has determined that poker players use a special region of their brain when executing a bluff at the poker table.
Scientists at the Duke Center for Interdisciplinary Decision Science studied how poker players bluff in different situations by hooking 20 people up to scanners and studying their neural reactions while they played a version of one-card poker. Researchers found that activity in a certain part of brain predicts whether the subject would bluff based on information that was unique to making decisions about who might be a worthy opponent. The test subjects played the game against another human and a computer.
The results could help scientists learn more about human emotions in the future.
"Often the brain is considered to have an entire 'social network' comprising a number of regions that help us interact with others in social contexts," said Scott Huettel, a professor of psychology and neuroscience at Duke. "Our analyses looked at all of those regions and found that all but one responded in essentially the same way against the human and computer opponents."
Read more at the Boston Herald.
Belgium's Blacklist Grows
The Belgium Gambling Commission has updated its list of blacklisted online gambling operators. The latest additions include Bet365, www2.bwin.com, 7Red.com, Maaslandgames.be and SJbet.at.
In May, Belgium blacklisted 30 nonlicensed sites including Bwin, Betsson, Betfair, William Hill and 888. Under the Belgian Gambling Act, players are only allowed to play on licensed sites, and the nation's four largest Internet service providers are in the process of barring unauthorized domains.
Among the sites granted licenses to operate in Belgium include PokerStars, Partouche, Unibet and Casino777. Meanwhile, PartyPoker.com and iPoker, two of the biggest online poker sites in the world, have called the Gambling Act "unenforceable" because it leaves issues of taxation unresolved.
Get Onnit
Interested in earning some free money during the World Series of Poker Main Event? Sarah Grant stops by the Onnit booth to talk about their product Alpha Brain and the Last Sticker Standing competition during the WSOP.
Follow PokerNews on Twitter for up-to-the-minute news.