The Nightly Turbo: Poker Hall of Fame Inductees, New High Stakes PokerStars Pro, & More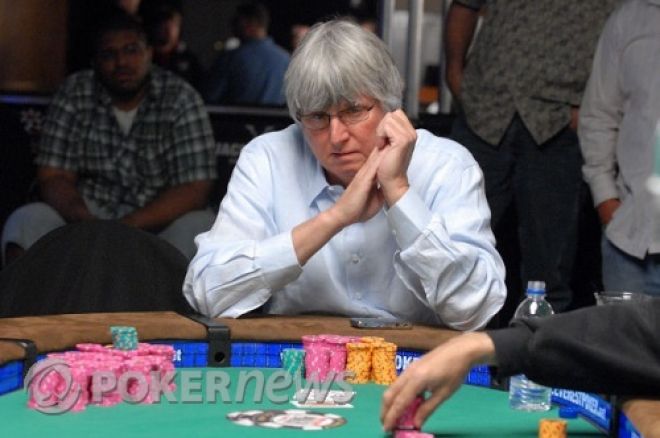 It was a busy Thursday in the world of poker. If you missed the big news stories about the Poker Hall of Fame, the new Team PokerStars Pro, or the online license hearings in Nevada, you can find them right here in the Nightly Turbo.
In Case You Missed It
Three companies met with the Nevada Gaming Commission to receive online poker licenses on Thursday. Check out the stories here at PokerNews.com for the latest on Boyd Gaming, Fertitta Interactive and the Golden Nugget.
Two big names dropped out of the Global Poker Index Top 10 this week. Mickey Doft breaks down the biggest movers and shakers in this week's GPI rankings.
It's all about the Benjamins in 2012. Ben "Sauce123" Sulsky and Ben "Ben86" Tollerene are racing to become the top cash game money earner on PokerStars this year.
Kristy Arnett returned with her Strategy With Kristy strategy podcast on Thursday. This week, Kristy was joined by Las Vegas grinders Andrew Moreno and Lincoln Garner to talk about making the transition to live poker
Drache, Roberts Join Elite Poker Group
The Poker Hall of Fame Governing Council has revealed two new inductees into its prestigious Poker Hall of Fame. Eric Drache (pictured above) and Brian "Sailor" Roberts were voted in by a 36-person panel of existing Hall of Famers and media members, becoming the 43rd and 44th members of the elite group of poker icons.
They will be officially inducted on Tuesday, Oct. 30, at the Rio All-Suite Hotel & Casino as part of the October Nine festivities.
Roberts passed away in 1995 but will forever be recognized for his accomplishments during the game's "early" years. Roberts was part of poker's Old Guard with Doyle Brunson and Amarillo Slim. The trio traveled together playing cash games during a time when poker players were viewed as bandits.
Drache originally came up with the idea to create Poker Hall of Fame, so it's only fitting that he sit alongside poker's greatest icons. Drache's biggest contribution to the game could be his invention of "satellite" tournaments, which have greatly expanded the game's growth in around the world.
"I'm not only surprised and honored to have been selected, I'm also a bit embarrassed considering the other nominees," Drache said after learning of his induction. Among the other nominees for the 2012 class were Chris Bjorin, David Chiu, Thor Hansen, George Hardie, Jennifer Harman-Traniello, John Juanda, Tom McEvoy and Scotty Nguyen.
For more, read the story here at PokerNews.com.
DeepStacks Heads to Florida
On Thursday, DeepStacks and the Players Poker Championship announced that the first stop on the 2013 DeepStacks Poker Tour will be at the Isle Casino Racing Pompano Park in Pompano Beach, Fla. The event, which features a $1,500 buy-in with a $100,000 guaranteed prize pool, will run Jan. 28 through 29.
The DeepStacks Poker Tour-Players Poker Championship has already drawn commitments from Florida natives and World Series of Poker bracelet winners Michael "The Grinder" Mizrachi and Tristan "Cre8ive" Wade. Event organizers believe the tournament will be a huge draw in South Florida' booming poker market.
"We're excited to bring a fun and unique experience to our customers that is not offered anywhere else in South Florida once again," said Mike Smith, director of poker operations at Isle. "As happens with many of our tournaments, we expect our fair share of novices and pros to turn-up for this tournament to make it an event not to miss."
Before the next season of the Deepstacks Poker Tour kicks off, the 2012 version will wrap up with the DeepStacks Poker Tour Mohegan Sun National Championship from Dec. 1 through 4. PokerNews will be there providing live updates for the Main Event, which offers a $2,500 buy-in with a $500,000 guarantee.
For more on the DeepStacks Poker Tour schedule, visit DeepStacks.com.
Macau Approves MGM Resorts' $2.5 billion Hotel-Casino
The Macau government has given the go-ahead for MGM Resorts to build a $2.5 billion hotel-casino on the Coati Strip region. The approval comes after MGM Resorts, through its 51 percent-owned MGM China subsidiary, made an initial payment of $56 million for the land. Construction will begin as soon as the land concession contract is published, which could take six to nine months.
"This destination resort represents a significant growth opportunity for MGM China," MGM Resorts Chairman Jim Murren said in a statement. "The project will fully demonstrate our strengths in terms of design and branding, quality of service, and thoughtful diversification of product offerings."
The unnamed project will take 36 months to construct and will include a hotel with1,600 rooms and a casino hosting 500 gaming tables and 2,500 slot machines. Numerous restaurants, retail outlets, and entertainment options are also included in the plans.
"(MGM Resorts) has been discussing this catalyst for some time; however, given the lack of an announcement, we don't believe that the market has been ascribing any value to the project," Macquarie Securities gaming analyst Chad Beynon said, referencing what the approval means to investors of MGM China.
For more on the MGM Resorts' expansion into the Cotai Strip, visit the Las Vegas Review-Journal.
If I Could Be Like Ike
On Thursday, PokerStars revealed Isaac "Ike" Haxton as the newest member of Team PokerStars Online. Haxton joins the likes of Shane "shaniac" Schleger, Randy "nanonoko" Lew, Adrienne "talonchick" Rowsome, and Mickey "mement_mori" Peterson as members of the Team Online roster.
Haxton played high-stakes cash games and tournaments on PokerStars under the moniker "philivey2694" for several years, but he'll play as "Ike Haxton" as a member of the PokerStars team.
"I'm excited for the new opportunities this partnership brings," Haxton said of the deal. "I'm not just playing for myself now – I'm representing a team and a brand. That brings new opportunities and new responsibilities."
Haxton introduced himself to the PokerStars family in a video blog on Thursday. Check it out:
For more on the deal, plus an exclusive interview with Haxton, check out the article here at PokerNews.com.
Follow PokerNews on Twitter for up-to-the-minute news.