The Weekly Turbo: Isaac Haxton Joins PokerStars, Poker Hall of Fame Inductees, and More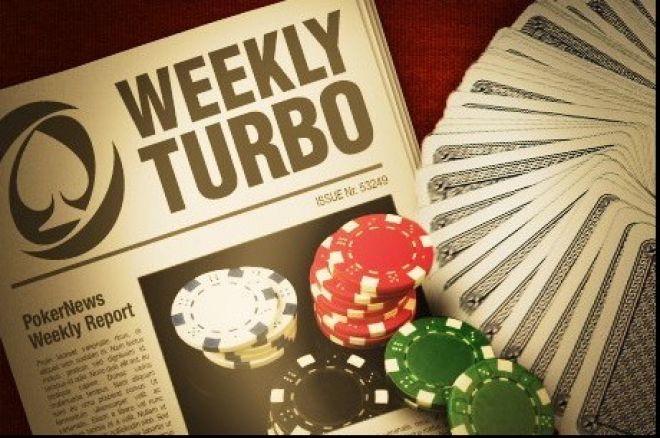 Did you miss any of the top poker news stories this week? Well you've come to the right place to get caught up. We're covering Isaac Haxton's new deal with PokerStars, the two new members of the Poker Hall of Fame, and more.
Poker Players
Drache, Roberts Join Elite Poker Group
The Poker Hall of Fame Governing Council has revealed two new inductees into its prestigious Poker Hall of Fame. Eric Drache (pictured above) and Brian "Sailor" Roberts were voted in by a 36-person panel of existing Hall of Famers and media members, becoming the 43rd and 44th members of the elite group of poker icons.
They will be officially inducted on Tuesday, Oct. 30, at the Rio All-Suite Hotel & Casino as part of the October Nine festivities.
Roberts passed away in 1995 but will forever be recognized for his accomplishments during the game's "early" years. Roberts was part of poker's Old Guard with Doyle Brunson and Amarillo Slim. The trio traveled together playing cash games during a time when poker players were viewed as bandits.
Drache originally came up with the idea to create Poker Hall of Fame, so it's only fitting that he sit alongside poker's greatest icons. Drache's biggest contribution to the game could be his invention of "satellite" tournaments, which have greatly expanded the game's growth in around the world.
"I'm not only surprised and honored to have been selected, I'm also a bit embarrassed considering the other nominees," Drache said after learning of his induction. Among the other nominees for the 2012 class were Chris Bjorin, David Chiu, Thor Hansen, George Hardie, Jennifer Harman-Traniello, John Juanda, Tom McEvoy and Scotty Nguyen.
For more, read the story here at PokerNews.com.
Ausmus Inks Sponsorship Deal
When the World Series of Poker presented the November Nine concept in 2008, it gave final table members the opportunity cash in on sponsorship deals leading up to their appearance on ESPN's popular WSOP programming.
Obviously, most of those sponsors were online poker rooms that were forced to exit the U.S. on April 15, 2011. But the post-Black Friday players are still finding ways to make a little extra money.
On Wednesday, social media company TTAGIT Social Networks Inc. announced that it has sponsored Jeremy Ausmus for the 2012 World Series of Poker Main Event final table. Ausmus, who enters the final table last in chips, will compete for the $8.5 million top prize from Oct. 29 through 30 in Las Vegas.
"TTAGIT.com, a revolutionary leading-edge social media company, is ready to win the world over just like me in the world series of poker," Ausmus said in a press release.
In addition to Ausmus, October Niner Steve Gee was able to ink a deal with PokerAce.com in August, and Jesse Sylvia and Russell Thomas have been donning 888poker gear in recent tournaments overseas. We'll keep an eye on any new sponsorship as the Main Event final table approaches.
For more on Ausmus, read the press release at Yahoo.com.
Shaun the Boxer?
For whatever reason, poker players are drawn to the boxing ring. In the past we've seen Theo Jorgensen battle Gus Hansen, Lex Veldhuis take on Bertrand "ElkY" Grospellier, and Liv Boeree traded punches with Melissa Castello.
Now, Shaun Deeb is contemplating a fight against fellow high-stakes poker pro Richard "Chufty" Ashby.
Deeb tweeted over the weekend that Ashby wants to duke it out for a $50,000 purse. Deeb, who plays massive cash games with pots sometimes growing larger than $50K, looks at the opportunity as incentive to work out. "Could be fun way to get in some kind of shape besides round," he wrote.
Deeb has a history of indecisiveness (see: 2009 poker retirement), so we're not holding our breath on this one. But we're certainly rooting for it to happen purely for the entertainment value.
If I Could Be Like Ike
On Thursday, PokerStars revealed Isaac "Ike" Haxton as the newest member of Team PokerStars Online. Haxton joins the likes of Shane "shaniac" Schleger, Randy "nanonoko" Lew, Adrienne "talonchick" Rowsome, and Mickey "mement_mori" Peterson as members of the Team Online roster.
Haxton played high-stakes cash games and tournaments on PokerStars under the moniker "philivey2694" for several years, but he'll play as "Ike Haxton" as a member of the PokerStars team.
"I'm excited for the new opportunities this partnership brings," Haxton said of the deal. "I'm not just playing for myself now – I'm representing a team and a brand. That brings new opportunities and new responsibilities."
Haxton introduced himself to the PokerStars family in a video blog on Thursday. Check it out:
For more on the deal, plus an exclusive interview with Haxton, check out the article here at PokerNews.com.
Online Poker
South Point Launch Delayed
South Point Poker's plans to launch the first real-money intrastate online poker site in Nevada could be in jeopardy due to technology testing delays and ongoing negotiations with gaming regulators.
South Point, which received interactive gaming licenses from the Nevada Gaming Commission in August, intended to have the online poker room up and running by October — months ahead of any other competitors in the new market. However, according to a report by VegasInc on Monday, the launch could be delayed until December or early 2013.
"We feel we could launch today," South Point Poker CEO Lawrence Vaughan told VegasInc. "But you've got to go through the independent testing labs, you have to satisfy the State Gaming Control Board and because we are the first, we're going to be under the microscope. They're going to prod us every which way, and that's good. We don't want to come out and fall flat on our face and be an embarrassment for Nevada."
South Point had an edge on competitors because it acquired its own interactive gaming system rather than relying on a service provider, allowing it to receive licenses both as an operator and a service provider of interactive gaming systems in Nevada. Companies like Bally Technologies and IGT, which were the first to receive licenses in the state, can only serve as business-to-business providers.
Boyd Gaming, Fertitta Interactive and the Golden Nugget are scheduled to meet with the Nevada Gaming Commission on Thursday to receive licenses. We'll be providing a full report from the hearing, so stay tuned to PokerNews.com.
For more on South Point Poker's delay in Nevada, check out VegasInc.com.
TLC88.com to Offer Poker, Joins Forces with Sunderland
Last week, we told you that the Bodog Poker Network had its eyes on Asia. On Monday, Bodog confirmed a partnership with TLC88.com, an Asia-facing community-based gaming site. Unlike other sites, TLC88.com focuses its efforts on providing a unique sense of fun and community to its gaming.
TLC88.com CEO Nick Lee said of the deal, "In Asia, offline gambling is viewed very much as an engaging, social pursuit, and the success of TLC88 has been to bring that sense of sharing and fun to the Internet…Poker is in its infancy in Asia, but unlike most Western-focused games lends itself well to the concepts of sharing and community that are so familiar to Asian gamblers. The Bodog Network is different from the other poker rooms and works better for players who are new to the game, which is what many of our customers will be.
Bodog Poker Nework CEO Jonas Odman added, "We always felt the best place for the Network was Asia as we are confident our product is the fairest place to play online poker, which especially appealing to those who are looking to learn the game and have fun while doing so. TLC88.com has cleverly built a great brand in the Asian market, and we hope we can help them continue that success for a long time."
Also on Monday, the Sunderland Association Football Club announced that TLC88.com will be the club's official Asian betting and gaming partner. This is the first Asian partnership that Sunderland A.C.F. has ever signed, but international marketing director Mike Farnan is excited to grow the club on an "international level."
Sunderland ACF currently sits in 13th place in the Barclays Premiership League table. During the 2011-12 season, West Bromwich Albion Football Club wore the Bodog logo on the front of their kits.
CNBC.com has more.
Poker Tournaments
Tomaž Kogovšek Wins WPT National Series Vienna
A winner was crowned at the €1,100 World Poker Tour National Series Main Event in Vienna on Tuesday. Young Slovenian Tomaž Kogovšek began the final table as the chip leader and carried that momentum all the way to his first WPT National title, picking up €60,600 in the process.
After dominating most of the final table, Kogovšek began heads-up play with a sizable lead over Thomas Mühlöcker. The two battled for a short time before Mühlöcker got his short stack all-in preflop with
against Kogovšek's
. Mühlöcker was poised for a double, but the
flop sent Kogovšek into the lead. The
on the turn gave Mühlöcker a few more outs to a higher two pair, but the
on the river sealed the deal for Kogovšek, who celebrated with friends after the victory.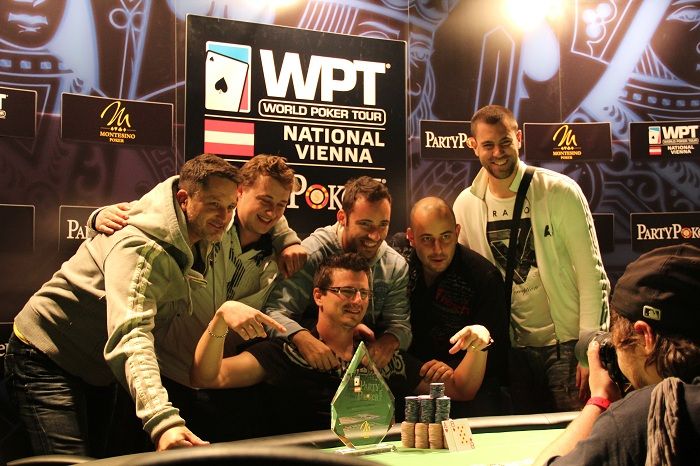 Here's a look at the final table results of the 2012 World Poker Tour National Series Vienna Main Event:
| Place | Player | Prize |
| --- | --- | --- |
| 1 | Tomaž Kogovšek | €60,600 |
| 2 | Thomas Mühlöcker | €42,550 |
| 3 | David Taborsky | €27,370 |
| 4 | Peter Kamaras | €20,260 |
| 5 | Predrag Kecojevic | €15,210 |
| 6 | Shai Zurr | €12,160 |
| 7 | Robert Heidorn | €10,100 |
| 8 | Blaz Svara | €8,100 |
Photo courtesy of Poker770.com.
Global Poker Index Player of the Year
The Global Poker Index Player of the Year standings were released on Wednesday with Dan Smith occupying the top spot for the eighth consecutive week.
There were no changes in the top five of the standings as Smith maintained a sizable lead over Kyle Julius, Marvin Rettenmaier, Phil Hellmuth and Andrew Lichtenberger, respectively. Justin Bonomo climbed back into the top 10, jumping five spots to No. 6 thanks to a deep run in the European Poker Tour Sanremo Main Event. Bonomo's biggest result in 2012 also came on the EPT; he won the Monte-Carlo®Casino EPT Grand Final €100,000 buy-in Super High Roller in April for €1,640,000.
Appearing in the top 10 for the first time this week was Joseph Cheong, who recently finished fourth in the World Series of Poker Europe Main Event for €292,320. He also took fourth in a €10,000 buy-in side event at EPT Sanremo for €74,100. Cheong bumped Daniel Negreanu out of the top 10, leading "Kid Poker" by less than one point.
Here's a look at the Top 10 of the Global Poker Index Player of the Year standings:
| Place | Player | Total Score | Change in Rank |
| --- | --- | --- | --- |
| 1 | Dan Smith | 1098.79 | -- |
| 2 | Kyle Julius | 906.02 | -- |
| 3 | Marvin Rettenmaier | 891.34 | -- |
| 4 | Phil Hellmuth | 846.83 | -- |
| 5 | Andrew Lichtenberger | 819.75 | -- |
| 6 | Justin Bonomo | 798.33 | +5 |
| 7 | David Baker | 790.71 | -1 |
| 8 | Jason Mercier | 766.71 | -1 |
| 9 | Bertrand Grospellier | 752.53 | -1 |
| 10 | Joseph Cheong | 748.60 | +5 |
The Global Poker Index Player of the Year, presented by PokerNews, honors the player who has the strongest performance in live tournaments during the calendar year, according to the USA Today Global Poker Index point system.
For the full GPI Player of the Year standings, head on over to GlobalPokerIndex.com.
Follow PokerNews on Twitter for up-to-the-minute news.