The Nightly Turbo: Chad Elie's Black Friday Story, Tony G and Manchester United, & More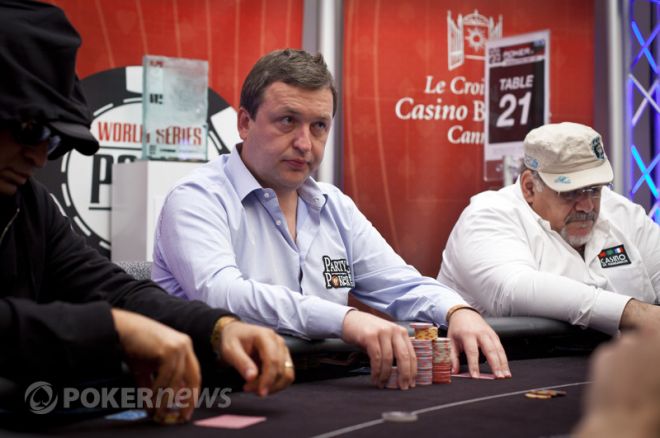 More information is being revealed about the downfall of online poker in the U.S. We bring you that story, plus Tony G's poker lessons with Manchester United, in this edition of the Nightly Turbo.
In Case You Missed It
What was life like for Pius Heinz before he became the world champion of poker? Find out that and more in the latest Seat Open.
How did Sunday's majors play out at PokerStars and Full Tilt Poker? Who took down the biggest score? Find out in the Sunday Briefing.
Many of poker's best online players never get a chance to shine in the spotlight. We're here to change that. In the latest edition of Online Chat, Katie "hotjenny314" Dozier discusses online poker, living in Mexico, and more.
Day 2 of the World Series of Poker Circuit Harveys Lake Tahoe Main Event saw only 13 players advance to the final day of action. Check out all of the day's highlights in our WSOPC recap.
Chad Elie Speaks Out
Former online poker payment processor Chad Elie is set to begin a five-month prison sentence for his involvement in illegal transactions with Full Tilt Poker, PokerStars and Absolute Poker. But before his term begins on Jan. 3, he's making sure people get his side of the Black Friday story.
Last week, Elie sat down with Diamond Flush to reveal everything he knows about the online poker industry. Among the topics discussed by Elie include his long meeting with FTP exec Howard Lederer, a meeting Lederer failed to mention during The Lederer Files interviews with PokerNews in September. Elie claims he met with Lederer on Dec. 31, 2010, and discussed business and payment processing with him for several hours — including the backlog that Lederer claimed he didn't know about until April 2011.
"We sat there and it was nothing but the Howard Lederer show," Elie said. "I mean, all he did was talk about himself and how he built a 3 billion dollar, 2 billion dollar company, and you know, I don't even think my poor wife at the time said one word. She was just like, are we really doing this on New Year's, are we really talking business for 2 or 3 hours or 4 hours, Chad?"
Elie also went into detail about fellow payment processors Jeremy Johnson and Daniel Tzvetkoff; his arrest at his home on Black Friday; and a threat he received by phone after releasing documents through his Twitter account on Nov. 2.
If you've been following this story closely from the beginning, you won't want to miss Elie's interview with Diamond Flush. Check it out at DiamondFlush.com.
Manchester United Poker Challenge
Tony G recently combined his love for poker and sports when he sat down with six members of the Manchester United soccer team for a special charity poker match arranged by the club and filmed for MUTV.
The PartyPoker.com Challenge saw Red Devils Jonny Evans, Phil Jones, Rafael da Silva, Tom Cleverley, Darren Fletcher and Danny Welbeck face each other at the felts with the winner taking home a big cash prize for their nominated charity.
Tony didn't participate in the event — his role was to provide poker lessons for the athletes and provide commentary for the broadcast. "My first thought about the lineup was that it might be a bit defensively minded, so I pushed them into attack mode," he said. "We're all champions, everybody is a winner."
The eventual winner was Evans, who defeated Fletcher heads-up to retain the title he won in 2011.
"I'm over the moon," Evans said. "Especially to be two-time champion. Some people will say I am lucky but now I have proven I am the number one champ."
Here's a brief look at how the event played out:
Read Tony's recap of the event at the PartyPoker Blog.
Jordan Scott Wins LAPT Peru
Jordan Scott won the Latin American Poker Tour (LAPT) Peru Grand Final over the weekend, outlasting a field of 376 to win the top prize of $168,210.
Scott began Sunday as the short stack of a tough final table that included two-time LAPT champion Jose "Nacho" Barbero, who was looking to become the first three-time winner in the tour's history. However, after the eliminations of Roberto Vahlis and Aramis Salvadori, Barbero exited in sixth place when his
came up short against the
of Oscar Barriga. Barbero came up short of the title but still rewrote the record books by making his sixth LAPT final table. He is also the leading money winner in the tour's five-year history.
Amazingly, Scott didn't send a single player to the rail until he was heads-up. Scott watched on while Maxence Debar eliminated Brent Sheirbon in fifth place, Jorge Gonzalez Pirela in fourth place, and then Barriga in third place. Still, Scott had accumulated enough chips to hold the lead with two players remaining, and he was able to grind away at his French opponent Debar until he had all of the chips. On the final hand, the two players saw a flop of
and Debar bet 165,000. Scott raised to 390,000, Debar moved all in for around 2 million and Scott called:
Debar:

Scott:
Scott was way out in front, needing to dodge a four, deuce or running straight cards to win the title. The turn brought the
and the river was the
, giving Scott two pair and his first LAPT victory.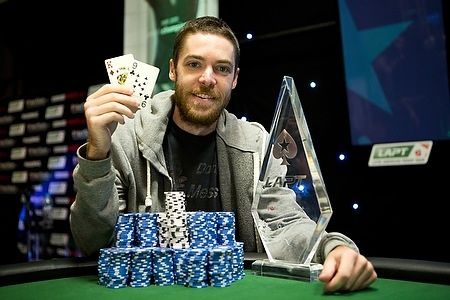 Here's a look at the final results of the LAPT Grand Final Peru:
| Place | Player | Prize |
| --- | --- | --- |
| 1 | Jordan Scott | $168,210 |
| 2 | Maxence Debar | $138,210 |
| 3 | Oscar Barriga | $81,370 |
| 4 | Jorge Gonzalez Pirela | $60,400 |
| 5 | Brent Sheirbon | $46,140 |
| 6 | Jose "Nacho" Barbero | $36,070 |
| 7 | Aramis Salvadori | $26,840 |
| 8 | Roberto Vahlis | $20,130 |
For an extensive look at the entire event, check out the PokerStars Blog.
Sheldon Adelson Gets a Break
Madrid mayor Ignacio Gonzales has announced that the region will be significantly cutting taxes on brick-and-mortar casinos, paving the way for billionaire Sheldon Adelson to construct a €15 billion EuroVegas hotel in Madrid.
The region currently takes 22 to 45 percent of gaming profits from brick and mortar casinos, but Adelson demanded that the number decline closer to the single-digit figures he's accustomed to in Las Vegas, where he owns The Venetian and The Palazzo. Gonzales said that taxes in Madrid will be reduced to 10 percent once EuroVegas opens for business.
Earlier this year, Adelson struck a deal with the regional government of Madrid to build Europe's biggest gambling venue to the city's outskirts, bringing with it the prospect of thousands of construction and service jobs. The plans call for six casinos, 12 hotels featuring 36,000 rooms, a convention center, three golf courses, shopping centers, bars and restaurants.
Madrid was selected over Barcelona as the project's home. Construction is scheduled to begin in early 2013
For more, check out the story at CalvinAyre.com.
Mile High Poker Club
According to former basketball star Jalen Rose, high-stakes gambling is a regular activity in the NBA. It even takes place on NBA planes, where tens of thousands of dollars are exchanged between teammates during road trips.
The one chief rule: Pay your debts and "don't dry snitch while you stretch" at practice the next day. Rose explains:
Get all the latest PokerNews updates on your social media outlets. Follow us on Twitter and like us on Facebook today!