The Weekly Turbo: Full Tilt Poker Reopens, Doyle Brunson Battling Cancer, and More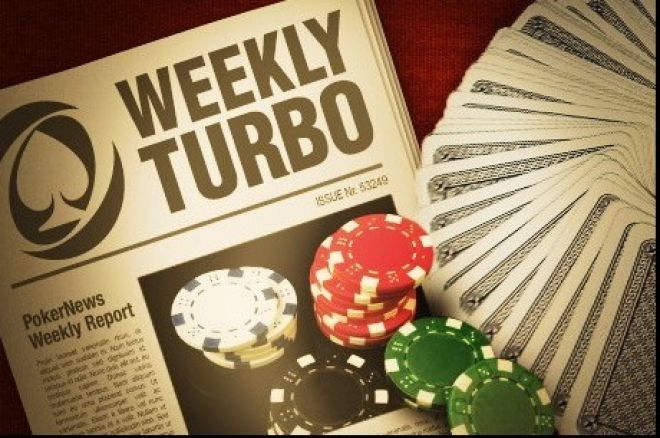 Did you miss any of the top poker news stories this week? Well you've come to the right place to get caught up. We're covering the return of real-money games at Full Tilt Poker, Doyle Brunson battling cancer for the fourth time, and more.
Online Poker
Back in Business
Many in the poker community didn't think this day would ever come. But on Tuesday, Full Tilt Poker relaunched real-money games in much of the world, picking up where it left off when the site was shut down last June.
The highly anticipated reopening took place at 7:00 ET (12:00 GMT), and within minutes cards were being dealt to more than 10,000 real-money players. According to PokerScout.com, Full Tilt Poker immediately vaulted back into the No. 2 spot in the online poker traffic rankings behind its new sister site PokerStars. FTP saw a peak of 14,773 real-money cash game players on Tuesday, as reported by PokerScout.
Among those hitting the virtual felt early on were Full Tilt Poker Team Pros Gus Hansen and Viktor Blom. Hansen jumped right back into the site's highest stakes, playing $1,000/$2,000 Limit 2-7 Triple Draw. Blom, meanwhile, took a seat at a $.50/1 cash game before hopping into $50/100 pot-limit Omaha to play against Hansen and others later on in the day.
Blom even posted a picture of one of his $.50/1 tables. Check out the new avatar: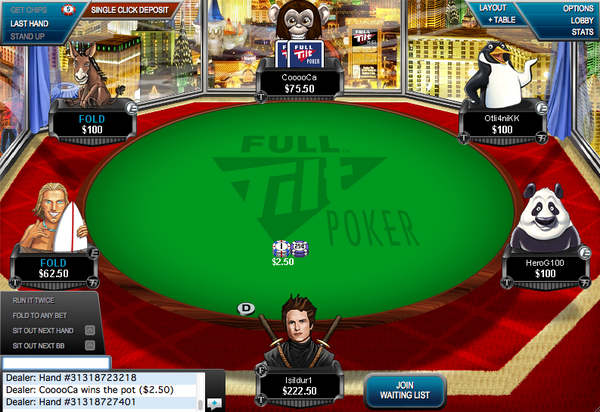 Tom Dwan, the third member of Full Tilt's elite team of sponsored pros, is in the U.S. until next week and was unable to participate in the reopening of the site. We expect to see the "durrrr" moniker at the high-stakes tables sooner rather than later.
For now, real-money games are not available those located in segregated markets like France, Spain, Denmark, Estonia and Belgium, but those players can withdraw their balances though PokerStars. Players in the U.S. and Italy do not yet have access to their funds.
FTOPS Schedule
Full Tilt Poker wasted little time in bringing back its popular Full Tilt Poker Online Poker Series (FTOPS). On Friday, FTP announced that FTOPS XXI will run from Dec. 2 through 16, featuring 35 tournaments and millions in guarantees.
The series gets under way Dec. 2 with a $216 buy-in event with a $750,000 guarantee and culminates Dec. 16 with the flagship $640 buy-in Main Event with a $1.5 million guarantee. Last year, more than $9 million was awarded in the $640 buy-in FTOPS IXX Main Event alone, with Blair Hinkle collecting the largest share ($1.1 million) after negotiating a deal at the final table. The most recent series, FTOPS XX, ran post-Black Friday and saw much smaller prize pools because of the absence of U.S. players. Full Tilt Poker's real-money games are still unavailable in the U.S., as well as in segregated markets like Italy, France, Spain, Denmark, Estonia and Belgium
Other key events on the FTOPS XXI schedule include a $1,050 no-limit hold'em multi-entry event on Dec. 3, a $1,060 reentry six-max event on Dec. 10, and a $2,100 no-limit hold'em event with antes from the start on Dec. 15-16.
Full Tilt Poker has come back with a bang since being taken over by PokerStars. Within minutes of going live for real-money on Nov. 6, FTP regained its position as the No. 2 poker site in the world, averaging 8,600 cash game players according to PokerScout.com. To compare, PokerStars has averaged 23,200 cash game players during the past seven days, while the third-place iPoker Network has averaged just over 3,000.
For the full FTOPS XXI schedule, visit FullTiltPoker.com.
Betsson Joins MicroGaming Network
Stockholm-based company Betsson Ab, owner or Betsson Malta, and operator of sites like www.betsson.com, www.betsafe.com, www.casinoeuro.com, and www.cherycasino.com, has joined the Micrograming Poker Network (MPN).
The move follows the recent closure of the Entraction/IGT Network, where Betsson resided since March 2010.
"The MPN is one of the world's most established online poker networks; naturally we are delighted to be joining the MPN," said Betsson Group Product Director Henrick Andersson. "At Betsson.com, we strive to create the finest gaming experience for our players and we are confident that by adding the MPN to our offering, we will deliver an exceptional experience to all of our poker players."
"We are thrilled to have Betsson.com join the Microgaming Poker Network," stated Lydia Melton, Microgaming's head of network games. "The MPN has undergone a transformation this year, and we are delighted that our efforts have resulted in the signing of such major operators. We look forward to working closely with Betsson.com on the MPN and in the Network Management Board over the coming years."
In addition to Betsson.com, other operators such as Paf, iGameMalta Ltd, 24h Poker, and BetVictor Poker, will be joining the Microgaming Poker Network. It was also mentioned that more operators would be joining MPN in the upcoming weeks.
Read the full press release at InnovateGaming.com.
Chad Elie Tweets Torpedoes of Truth
Last week, Chad Elie, who was recently sentenced to five months in prison after pleading guilty to conspiring to commit bank fraud and operating an illegal gambling business in the United States, tweeted the following:
"I never met with a payment processor"-Howard Lederer. Interesting Howard,do you not remember the MEETINGS we had?What about NYE?5hr meeting

— Chad Elie (@BlackFridayChad)
Elie followed his first tweet up with a picture of a memorandum letter from Tom Goldstein, creator of the SCOTUSblog, which explicitly says that "Transfers of funds related to on-line poker that are conducted accurately and transparently (including through accurate credit card coding), and pursuant to any license required for transferring money, are lawful."
Over the weekend, Elie interacted with various new Twitter followers, and agreed to do an exclusive interview with independent poker journalist Diamond Flush. His main target was Howard Lederer, who stated in The Lederer Files that he never met with a payment processor.
Last one for the night. Reid, Bitar & Lederer! But seriously Howard, you never met with a processor? #igotpics http://t.co/DY9UEjVx

— Chad Elie (@BlackFridayChad)
There's a thread on TwoPlusTwo.com titled "Chad Elie on Twitter," in which "BFChad" has made a few posts. There is no confirmation yet that this is actually Elie, but a moderator will surely confirm or deny the user's identity soon.
Elie is due to report to prison on January 3rd. You can read all of his tweets here.
Everest Joins iPoker Network
On Tuesday, French online gaming group Betclic Everest announced that it has officially joined Playtech's iPoker Network, making its products available in France and international markets on ipoker.fr and ipoker.com, respectively.
Playtech, a leading provider of software and services for the online and mobile gaming industry, also confirmed that the Everest Casino brand is scheduled to launch in early 2013.
Everest and Betclic poker will continue to share their liquidity pool and have improved on their rake structure to benefit their French players, which will enhance the player's experience. Playtech Chief Executive Mor Weizer is happy with the move, stating: "We anticipate that the enlarged liquidity pools on iPoker.fr and iPoker.com will attract further brands to the growing stable of well-established operators and contribute to our future success."
Ignacio Martos, CEO of the Betclic Everest Group, said: "We are pleased to offer the best of breed technology to our poker players. Larger liquidity and state of the art features will give our players a superior experience, in line with our strategy of offering nothing but the best to our community of players. Playtech offers a market-leading range of products including a world-class casino, which Everest will be taking full advantage of in 2013. Betclic will maintain its program of investment in technology and innovation, focusing on major regulated markets to sustain profitable business growth."
Read more at InterGameOnline.com.
Poker Legislation
Maryland Gets Dealt In
The most expensive political advertising campaign in Maryland's history has resulted in the passage of a measure that will legalize table games like poker at the state's casinos.
On Tuesday, Maryland voters passed Question 7, also known as the Gaming Expansion Question, by a 52 percent to 48 percent margin statewide. The measure needed to be passed both by state voters and by voters in Prince Georges County, where it succeeded by a 59 percent to 41 percent margin.
According to WBAL in Baltimore, more than $90 million was spent by opponents and supporters of the Question 7 issue. Among the rivals of the measure is Penn National Gaming, which said Wednesday that it was "disappointed" in the results of the ballot. Penn National operates a casino in West Virginia and is hinting at taking legal action against the measure, according to the Las Vegas Review-Journal.
"There remains a question as to the validity of the outcome given a legal challenge that has been filed by an outside group as to what constitutes a 'qualified voter' in this election," the company said in a statement. "We'll be exploring that issue in the coming days."
If all goes as planned in Maryland, table games could be introduced at the state's three existing casinos early next year and when a new casino opens in Baltimore near M&T Bank Stadium, home of the NFL's Ravens. Tuesday's measure will also allow for a new casino to be constructed at National Harbor along the Potomac River near Washington, D.C.
Maryland is the home of some of the top poker minds in the world, including Christian Harder, Anthony Gregg, and 2012 World Series of Poker Main Event champion Greg Merson, who expressed his excitement after the measure passed Tuesday evening:
USA Today has more.
Follow PokerNews on Twitter for up-to-the-minute news.
Poker Players
Doyle's Fight
Doyle Brunson has faced many tough challenges in his life, but none more grueling then his long bout with cancer.
On Tuesday, Brunson revealed via Twitter that was recently diagnosed with Squamous cell carcinoma, a form of skin cancer. It was the fourth time Brunson has been diagnosed with a life-threatening illness. He described this particular type as a "slow growth that is usually OK but it's still something you'd rather not hear."
Brunson has beaten cancer three times in the past 50-plus years and seems confident that he'll do it again. Each time, he's been told the illness is malignant, but the 79-year-old continues pushing forward, beating some of the toughest cash games in the world along the way.
Doyle received a large amount of support on Twitter Tuesday:
@TexDolly normal health rules don't apply to you sir. You'll be 150 and keep doctors shaking their heads cause they can't explain St.Louise

— Daniel Negreanu (@RealKidPoker)
@TexDolly Sorry to hear that Doyle. You'll kick its ass in no time! Thinking of you x

— Liv Boeree (@Liv_Boeree)
@TexDolly Sorry to hear this, but you're a fighter and will get through this! :)

— Katie Dozier (@Katie_Dozier)
Cantu Exacts Revenge
Brandon Cantu felt he had a score to settle, and on Wednesday, he got even.
With several pros watching, Cantu beat Jon Aguiar in a $130,000 heads-up sit-and-go at the Aria Poker Room. The two poker pros agreed to the no-limit hold'em grudge match after Aguiar defeated Cantu for a bracelet in the €10,000 Mixed Max event at the World Series of Poker bracelet in September. Cantu claimed the WSOP "robbed" him of the victory after a controversial decision to delay the match two days. Cantu proposed that they play heads-up again for the money difference ($130,000) at a later date, and Aguiar accepted.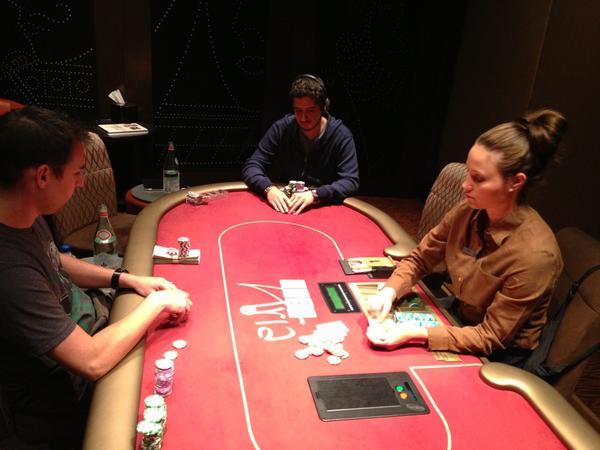 The date came and went Wednesday, with Cantu fighting back from an early deficit to exact his revenge. According to Aguiar, who was tweeting updates during the match, Cantu won the final hand when his pocket sixes held up against Aguiar's pocket fives.
Cantu hit Twitter later in the evening, saying, "This teaches me a lesson that crying and complaining really does work in poker."
If you haven't seen the "crying and complaining" Cantu is referring to, check out his interview with PokerNews' Sarah Grant.