The Nightly Turbo: Caesars Approved for Online Poker, Gus Hansen's Racketlon Success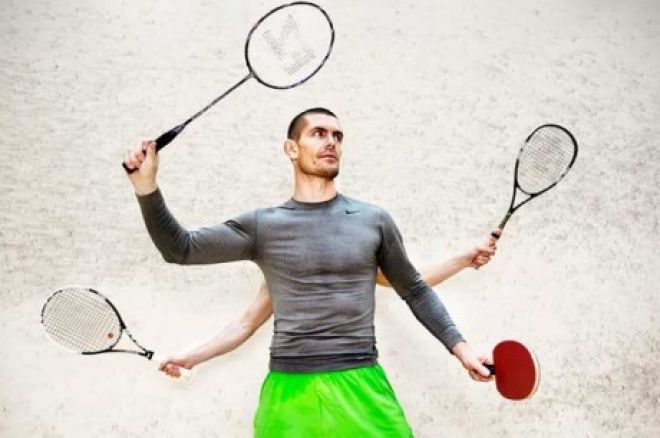 Caesars Interactive Entertainment was approved to offer online poker in Nevada on Wednesday. What will the World Series of Poker brand be able to offer the new market? We'll bring you that story, plus Gus Hansen's run at a racketlon world title, in this edition of the Nightly Turbo.
In Case You Missed It
The 2012 World Poker Tour Doyle Brunson Five Diamond World Poker Classic kicked off Tuesday in Las Vegas. The field was stacked with big-name pros, but lesser-known Jeremy Kottler finished Day 1 as the leader.
The World Poker Tour introduced a controversial new reentry format at the Five Diamond World Poker Classic this week. Rich Ryan gave his take in his latest Five Thoughts piece, and Pamela Maldonado spoke with several players who participated in the event.
The Full Tilt Online Poker Series (FTOPS) resumed on Tuesday. Take a look at the winners in our FTOPS XXI Day 3 recap.
Artyem Perlov won the 2012 DeepStacks Poker Tour Mohegan Sun National Championship on Tuesday. Read about his path to victory in our final table recap.
Day 1b of the 2012 World Poker Tour Prague Main Event took place on Tuesday. Mikhail Mazunin led the way with a massive stack of 203,600.
An online gambling bill advanced in New Jersey this week. PokerNews' Matthew Kredell spoke with State Sen. Raymond Lesniak about the bill's future.
Caesars Approved For Online Poker In Nevada
On Wednesday, Caesars Interactive Entertainment — which owns the World Series of Poker brand — moved one step closer toward offering legalized intrastate online poker in Nevada. In a hearing with the three-member Nevada Gaming Control Board, Caesars received preliminary approval to offer real-money online poker as an operator.
The casino giant will seek final license approval from the Nevada Gaming Commission on Dec. 20.
During the hearing with the NGCB, Caesars general counsel Michael Cohen said that the online poker website would be operated as a World Series of Poker brand in conjunction with 888 Holdings, according to the Las Vegas Review-Journal. In January, Caesars and 888 agreed to a deal which will see 888 power a selection of Caesars' poker brands once online gaming is regulated in the U.S.
888 has applied for an interactive poker license as a service provider in Nevada but isn't expected to meet with regulators until next year.
Caesars Interactive Entertainment is expected to be one of the leaders in Nevada's emerging online poker market, competing with operators like MGM Resports International, South Point, and Fertitta Interactive. In an interview with PokerNews this year, WSOP Executive Director Ty Stewart said that Caesars and the WSOP brand could "absolutely revolutionize" online poker in the U.S, whether it be at the federal or state-by-state level.
"Of the big casino gaming companies we have more customers in our database, more consumer traffic through our floors, more properties in more territories than anywhere else," Stewart said. "Obviously one would hope we could offer an exciting product and regularly host games with significant liquidity — potentially the softest games with the highest ROI for players. I think consumer confidence has always been the No. 1 barrier to entry for online customers, and Caesars has buildings all over the world. People will know where to find us. And we're never going to turn our back on customers."
The Las Vegas Review-Journal has more.
Hansen Squashes His Competition
Gus Hansen has endured a tough run at the poker tables since the relaunch of Full Tilt Poker last month. But the Danish poker icon has been able to keep his mind balanced thanks a great run at the World Racketlon Championships in Stockholm over the weekend.
Hansen, ranked No. 71 in the world at the rapidly growing sport of racketlon, advanced all the way to the quarterfinals before losing to fellow countryman Kasper Jønsson. Hansen achieved upset wins in each of the first three rounds, defeating Austrian Lukas Windischberger (No. 38) in the first, Belgian Peter Duyk (No. 9) in the second, and Austrian Marcel Weigl (No. 13) in the third.
The sport of racketlon combines the four most popular racket games — table tennis, badminton, squash and tennis — with each match consisting of four sets, one in each aforementioned game. The winner is determined by the player that scores the most overall points over the course of the match.
Hansen, 38, was a youth tennis champion back in the day, but he's been working hard on his table tennis and badminton game since he began taking the sport seriously last year. With the great result in Stockholm, Hansen climbed to No. 59 in the world rankings for December.
The sport piqued our interest, so we tracked down a video of Hansen playing table tennis during a racketlon competition last summer:
Global Poker Index Player of the Year
With less than a month less to go 2012, Dan Smith is closing in on the inaugural Global Poker Index Player of the Year award.
Smith occupied the top spot for the 15th straight week when the updated standings were released Wednesday. Despite cooling off on the live circuit for the last quarter of the year, Smith is sitting comfortably with 1,098.79 GPI POY points, well out in front of his closest competitors Marvin Rettenmaier (966.63 points), Kyle Julius (906.02), Joseph Cheong (848.90), and Phil Hellmuth (846.83).
The only change in the top 10 of the GPI POY this week came from Mohsin Charania, who jumped six spots to No. 9, knocking Jason Mercier out of the top 10. Charania's biggest score of the year came at the Monte-Carlo®Casino EPT Grand Final, where he took first place for €1,350,000.
Here's a look at the top 10 of the Global Poker Index Player of the Year race:
| Place | Player | Total Score | Change in Rank |
| --- | --- | --- | --- |
| 1 | Dan Smith | 1098.79 | -- |
| 2 | Marvin Rettenmaier | 966.63 | -- |
| 3 | Kyle Julius | 906.02 | -- |
| 4 | Joseph Cheong | 848.90 | -- |
| 5 | Phil Hellmuth | 846.83 | -- |
| 6 | Andrew Lichtenberger | 819.75 | -- |
| 7 | Justin Bonomo | 798.33 | -- |
| 8 | David Baker | 790.71 | -- |
| 9 | Mohsin Charania | 788.15 | +6 |
| 10 | Daniel Negreanu | 768.40 | -- |
The Global Poker Index Player of the Year, presented by PokerNews, honors the player who has a strong performance as calculated by the USA Today Global Poker Index point system.
For the full GPI Player of the Year standings, head on over to GlobalPokerIndex.com.
William Hill Withdraws from Greece
Last month, the Hellenic Gaming Commission issued a warning to a number of unlicensed online gaming companies to cease providing services in Greece by Dec. 6 or potentially face jail time, fines, and blacklisting.
In response, London-listed bookmaker William Hill announced that it has stopped all operations in Greece, including its online poker room. William Hill posted the following on its Greek website on Tuesday: "We regret to inform you that William Hill has decided to withdraw fully from providing services to the Greek market for legal reasons beyond our control by 23:59 Tuesday, Dec. 4, 2012."
The operators seeking a an operating license in Greece were required to pay back taxes dating to Jan. 10, set up permanent establishments, and use bank accounts located within the country. William Hill is not among the 24 companies who have started paying taxes on Greek operations, reflecting a potential claim for backdated taxes had they decided to apply for a license at this time.
William Hill said that the withdrawal was not permanent and would last only until "there is greater clarity on the regulatory approach to be taken by the Greek authorities."
Rival gaming group Betfair has also decided to leave at the end of the month for similar reasons. William Hill Online expects to lose £4-5m in anticipated annual operating profits as the result of its withdrawal from the market.
Casino Choice has more.
Jim Ryan Announces Retirement
Jim Ryan, co-CEO of bwin.party Digital Entertainment, has announced his decision to retire from his position on Jan. 15, 2013.
Ryan joined PartyGaming Plc in in June 2008 as CEO and became co-CEO with Norbert Teufelberger in March 2011 after the merger between PartyGaming and bwin Interactive Entertainment. Ryan's departure will leave Teufelberger as the sole CEO of the company. Teufelberger praised Ryan, calling him "an excellent business partner," adding that Ryan was a "good friend" to him.
During his time as co-CEO, Ryan played an integral role in securing partnerships with MGM, Boyd Gaming, United Auburn, and Zynga.
"Together with Norbert, Jim has been a driving force behind the merger. His expertise and passion for the Group's gaming products have been instrumental in ensuring that the merger integration has proceeded as planned, putting the Group in an excellent position to remain at the forefront of the global online gaming market," said Simon Duffy, non-executive chairman of bwin.party.
In a press release, Ryan said, "Being co-CEO of bwin.party has been my dream job. As we approach the final stages of our merger integration, I am immensely proud of what we have achieved and know that with Norbert at the helm, the business is in excellent hands and is particularly well-placed for the future. Having given over 11 years of my life to the online gaming industry, I am now looking forward to returning to Canada and enjoying more time with my family."
Read more here at PokerNews.com.