Nate Silver Confirmed as Crown's Special Guest for 2013 Aussie Millions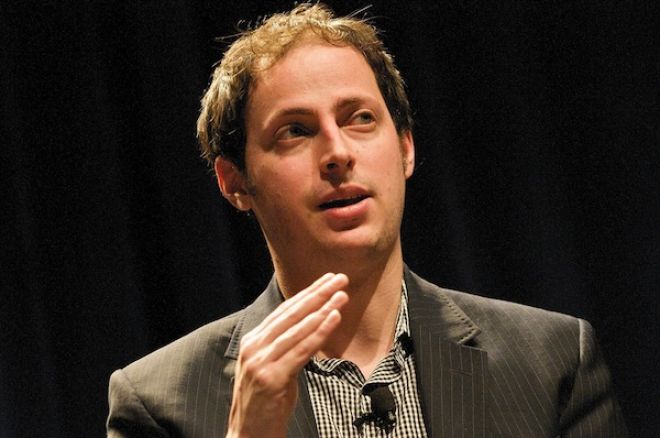 Crown Casino in Melbourne, Australia — home of the famed Aussie Millions — announced on Tuesday, Jan. 22, that Nate Silver will be arriving on Jan. 25 as Crown's special guest at the event. Silver is a renowned American statistician, sabermetrician, psephologist, writer and semiprofessional poker player. In 2008, Silver correctly predicted the winner of 49 of the 50 states in the presidential election, then successfully predicted the correct result in 50 out of 50 states in 2012.
According to the press release issued by Crown, Silver said: "Poker played a major role in helping my life to become what it is today, and is a great way to develop the critical-thinking skills that allow us to make better decisions under conditions of uncertainty. No venue puts those skills to the test more than a tournament like Crown's Aussie Millions Poker Championship with elite players from all around the world."
Poker has been a focus of attention in Silver's life, having taught him about chance and the role it can play in life. Silver added: "And it gave me better training than anything else I can think of about how to weigh new information, what might be important information and what might be less so. Our basic instincts tend to be not very good. We tend to overweigh new information."
After going a perfect 50 for 50 in his state-by-state predictions for the 2012 presidential election, Silver became a pop-culture icon and political oracle. His blog at FiveThirtyEight.com has made its way to The New York Times and is must-read for any numbers geek (plenty of those in the poker world).
Silver receives a lot of questions asking for predictions on a variety of topics from the Major League Baseball MVP races to the Oscars. During a live chat session last year at DeadSpin.com, he was even asked about the odds of online poker federal legislation: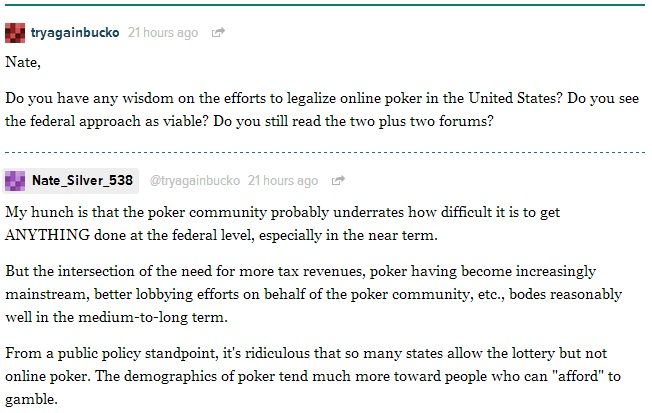 Silver's new book, The Signal and The Noise: Why Most Predictions Fail - But Some Don't, is a New York Times bestseller and was published in November 2012 by Penguin. Data-based predictions underpin a growing sector of critical fields, from political polling and hurricane watches to the stock market, and even the war on terror. Silver takes readers on a tour of modern prediction science, uncovering a surprising connection among humility, uncertainty and good results. It's an essential read for anyone interested in how data can be used to understand the future.
Silver has been honored by a series of accolades, from Time Magazine's 100 Most Influential People of
2009 to Rolling Stone's 100 Agents of Change. His blog, FiveThirtyEight.com, won Best Political Coverage in the 2008 Weblog Awards.
Lead photo courtesy of http://appliedrationality.org/.
To stay on top of the poker world, follow us on Twitter and like us on Facebook.