The Nightly Turbo: Negreanu Withdraws from NBC Heads-Up, GPI European Poker Awards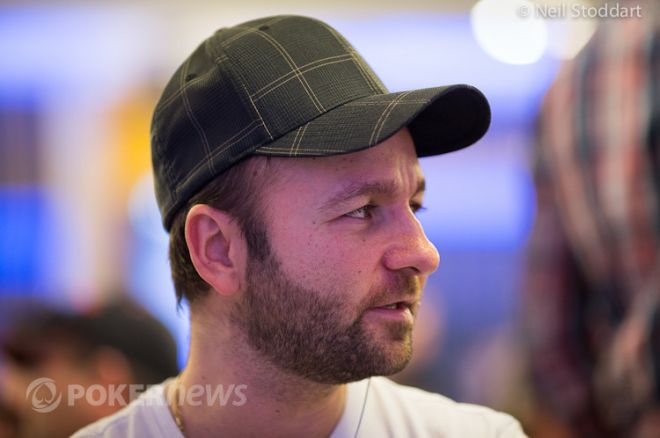 The exciting return of the NBC National Heads-Up Poker Championship is upon us, but we learned Wednesday that one of poker's most famous players won't be participating. We'll bring you that story, plus the winners from the European Poker Awards, in this edition of the Nightly Turbo.
In Case You Missed It:
Need something to help pass the time during your work day? The PokerNews Podcast crew breaks down all the latest stories, including the conclusion of the PokerStars Caribbean Adventure, the upcoming NBC National Heads-Up Poker Championship, and more.
What is life like for a grinder on the World Series of Poker Circuit? Chad Holloway talks to three-times WSOPC ring winner David Nicholson.
Digging through the PokerNews strategy archives can lead to buried treasure. This week, we found an old strategy article featuring Lex "Raszi" Velduis discussing how to play a low top pair.
Daniel Drops Out
The NBC National Heads-Up Poker Championship returns to Caesars Palace in Las Vegas on Thursday, but the event will be without one of the game's biggest superstars.
Daniel Negreanu announced via Twitter on Wednesday that he has dropped out of the $25,000 buy-in invitation-only event. His reasons for withdrawing weren't given at the time, but Negreanu said he would explain in a video later this evening.
I am withdrawing from the NBC Heads Up event this weekend. I love and support this event and will explain why in a video later today.

— Daniel Negreanu (@RealKidPoker)
Taking Negreanu's place in the 64-player bracket-style tournament will be David "Doc" Sands, one of the many players discussed as possible snubs when the player list was released last week. Sands, who was very vocal about being overlooked for the event, was very appreciative of his supporters on Wednesday — enough so that he's giving 1 percent of his earnings in the event to a randomly selected Twitter follower.
I can confirm that I have been added to the list of NBCHU participants as the first alternate! I am thrilled to have this opportunity:)

— David Doc Sands (@Doc_Sands)
Now, Sands will be among the players at Caesars Palace tomorrow when the action kicks off. Stay tuned to PokerNews.com for live coverage of the tournament.
Hansen and Rettenmaier Win Poker Awards
On Tuesday night, members of the poker community gathered at the Aviation Club De Paris for the 2012 European Poker Awards.
It was the first year the event was sponsored by Global Poker Index (GPI), and after a few words from GPI CEO Alexandre Dreyfus, the presentation commenced and a number of talented players were recognized.
Kara Scott hosted the ceremony and received the award for Poker Personality of the Year. The overall reaction to the event was positive, and many attendees posted their thoughts via Twitter:
Thank you @GlobalPokerIndx European Poker Awards for giving me a beautiful trophy for Poker Personality of the Year!! Shocked & so happy :)

— Kara Scott (@KaraOTR)
Amazing night at #GPI #EPA2013, awarded for #1 French player of the year!! @sylvainventre @rocollinet @nojennyno

— Bertrand Grospellier (@elkypoker)
Attended European Poker & @GlobalPokerIndx awards in Paris tonight, fascinating mix of industry and player celebrities. It's a big business

— Patrick Nally (@patrick_nally)
German poker pro Marvin Rettenmaier was the lone double-winner of the night, receiving the German Player of the Year and European Player of the Year. Another major honor went to Gus Hansen, who was presented with the Lifetime Achievement Award.
Here's a look at the winners:
Rookie of the Year: Ole Schemion
Best Tournament Performance of the Year: Davidi Kitai
Europe's Leading Lady: Lucille Cailly
Internet Player of the Year: Jens Kyllönen
Poker Staff Person of the Year: Simon Trumper
Rob Gardner Memorial Award for Poker Personality of the Year: Kara Scott
Best Tournament of the Year: EPT Barcelona
GPI Player of the Year: Marvin Rettenmaier
Lifetime Achievement Award: Gus Hansen
French Player of the Year: Bertrand Grospellier
German Player of the Year: Marvin Rettenmaier
UK Player of the Year: Roberto Romanello
Belgian Player of the Year: Davidi Kitai
Irish Player of the Year: Dermot Blain
Finnish Player of the Year: Juha Helppi
Italian Player of the Year: Andrea Dato
Austrian Player of the Year: Ivo Donev
Spanish Player of the Year: Cesar Garcia
For more, read the story at the Global Poker Index website.
Undecided in New Jersey
Poker players in New Jersey are one step away from being able to play poker legally online. But that last step could once again prove difficult to be hurdle.
During an "Ask the Governor" show on a New Jersey radio station Tuesday night, Governor Chris Christie was asked by a caller whether he was prepared to sign the online gambling bill that moved through the state legislature last month. The answer wasn't quite what poker players hoped for.
Here's what Christie said about the bill, courtesy of NorthJersey.com:
Well, [the bill] is sitting on my desk. I've got to make a decision very soon. I haven't made a final decision yet, but here are the things – two things that I'm concerned about.

The first is that I don't know that it really will help Atlantic City. And I'm concerned that it may drive traffic away from Atlantic City – that if people can gamble in their own homes on their laptops, why are they going to go to Atlantic City? And I think it's contrary to what we're trying to accomplish there.

Secondly, I'm also really concerned about setting up a whole new generation of addicted gamblers. You know, if you can sit on the edge on your bed on your laptop and gamble away the paycheck – that's a lot different than making the decision to go down to Atlantic City to gamble in a casino. So I've got those two concerns.

I haven't made a final decision yet, but I have those two concerns, and you should know that that's the way I feel. And [there is] in part the reasons that I vetoed the bill before, in addition to some ways that it was constructed that made no sense, either. So I'm taking a very close look at it, I was reading it over the weekend, and reading the briefing from my staff in depth, and I'm going to have to make a decision in the next couple of days.
Christie has until Feb. 4 to act on sign, veto, or allow the bill to proceed without action. Sen. Ray Lesniak put a similar bill on Christie's desk in March 2011, but the governor vetoed it despite warming up to the idea of an Atlantic City-centric online gambling market. Christie's comments on Wednesday seem to indicate that he's again wavering on the issue.
Read NorthJersey.com for the full story.
Nadal Wins First Poker Tournament
Tennis superstar Rafael Nadal has done it again. No, he didn't win another Grand Slam tennis tournament. But Rafa did win his first poker tournament on PokerStars.es this week.
Nadal, who signed a sponsorship deal with PokerStars last July, has been benched from tennis for nearly eight months with tendonitis in his left knee. The persistent injury forced him to withdraw from the London Olympic Games, the U.S. Open, and now the Australian Open taking place this month.
Nadal has used his spare time to recuperate, rest, and hit the online felt to practice his poker. In a €10 No Limit Hold'm event on Wednesday, Nadal scooped the first place prize of €152.40 after outlasting a field of 47 players. Although the prize may be small (Nadal has more than $33 million in career earnings), it is likely a nice boost to his confidence after being unable to compete on the court for months.
For a closer look at his win, visit the PokerStars Blog.
Mississippi Online Poker Bill Back on the Table
Mississippi Rep. Bobby Moak has reintroduced an online gambling bill that would make real-money online poker legal within state lines. This is Moak's second attempt at legalizing online gambling in Mississippi; his initial run failed to pass through committee in early 2012.
The Mississippi Lawful Internet Gaming Act of 2013, or House Bill No. 254, is similar to the one Moak file in February last year. Those holding gaming licenses would be issued permits from the state's Gaming Commission.
According to the bill, Internet games would be taxed at 5 percent of gross revenues and would require operators to apply for five-year licenses through the Mississippi Gaming Commission.
To protect the state from any wrong, the bill would "inhibit underage wagering and otherwise protect vulnerable individuals, ensure that the games offered through the Internet are fair and safe," and would require that all players be at least 21 years old and sign a wagering agreement.
Along with Mississippi, New Jersey, California, and Iowa are also working on legislation while Nevada and Delaware have already legalized real-money wagering online.
PokerStars TCOOP Winners
The second annual PokerStars Turbo Championship of Online Poker surpassed the midway point Tuesday after four more events ended. Entering Wednesday's action, 27 of the 50 events had been completed, with more than $10.5 million handed out to players thus far.
One of the biggest guaranteed events of the series took place Tuesday as 3,778 players competed in Event #25, a $500k guaranteed $215 no-limit hold'em event. Croatia's "cynicalfish" took this one down for $96,932 after negotiating a deal with three other players at the final table.
Bulgarian player "PSMozak" picked up his fifth cash of this year's TCOOP by winning Event #24, a $109 PL Omaha Hi/Lo 6-Max tournament. In addition to the $24,436 score, he jumped into third place on the TCOOP 2013 Player of the Series leaderboard with 165 points. Denmark's "Tjepan" still leads with 220 points, and Canada's Allan "Yaba" Drake is second with 190 points.
Here's a look at the results from Tuesday:
Event #24: Pot-Limit Omaha Hi/Lo Six-Max($75k Guaranteed)
| Buy-in | Entrants | Prize Pool |
| --- | --- | --- |
| $100+9 | 1,481 | $148,100 |
| Place | Player | Prize |
| --- | --- | --- |
| 1 | PSMozak | $24,437 |
| 2 | PIUlimeira | $18,364 |
| 3 | eds_empire | $13,699 |
| 4 | evilroyca | $9,478 |
| 5 | Alesu' | $6,072 |
| 6 | danylaroo2 | $4,028 |
Event #25: No-Limit Hold'em ($500k Guaranteed)
| Buy-in | Entrants | Prize Pool |
| --- | --- | --- |
| $200+15 | 3,778 | $755,600 |
| Place | Player | Prize |
| --- | --- | --- |
| 1 | cynicalfish | $96,931* |
| 2 | SifUrPro | $83,214* |
| 3 | vip25459 | $73,400* |
| 4 | isinm2006 | $59,273* |
| 5 | boahgerding | $32,113 |
| 6 | bostanu24 | $24,557 |
| 7 | pyszalek | $17,001 |
| 8 | wineboxwilly | $9,445 |
| 9 | och_jong | $$6,044 |
*Denotes four-way deal
Event #26: Stud ($50k Guaranteed)
| Buy-in | Entrants | Prize Pool |
| --- | --- | --- |
| $25+2 | 2,407 | $59,092 |
| Place | Player | Prize |
| --- | --- | --- |
| 1 | recusant_89 | $9,446 |
| 2 | Pawel_Frants | $7,692 |
| 3 | Y2JKID | $5,592 |
| 4 | MILF ISLAND | $4,136 |
| 5 | nkgud | $2,954 |
| 6 | svetlyiy1980 | $1,772 |
| 7 | sparky2907 | $1,181 |
| 8 | grooverr | $591 |
Event #24: No-Limit Hold'em with Rebuys ($400k Guaranteed)
| Buy-in | Entrants | Prize Pool |
| --- | --- | --- |
| $25+2 | 6,978 | $609,699 |
| Place | Player | Prize |
| --- | --- | --- |
| 1 | jonesbn | $92,739 |
| 2 | gondar86 | $68,591 |
| 3 | bisk2800 | $48,775 |
| 4 | Thief0fchips | $33,533 |
| 5 | marktb | $25,607 |
| 6 | uremyatm | $19,510 |
| 7 | holly17 | $13,413 |
| 8 | aep x | $7,316 |
| 9 | AliStatus33 | $4,725 |
For a full look at every tournament, check out the recaps in the PokerStars Blog.