The Nightly Turbo: Poker's Most Influential People, Ari Engel Wins 5th WSOP Circuit Ring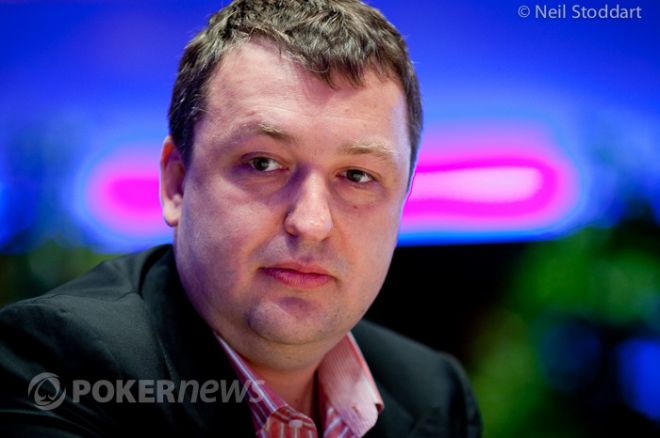 Who are the most powerful figures in poker? Did our very own Tony G make the cut? We'll bring you that story, plus another WSOP Circuit title for Ari Engel, in this edition of the Nightly Turbo.
In Case You Missed It:
How was the high-stakes action at the online tables this week? Read the Online Railbird Report to find out the week's biggest winners and losers.
On Friday, Judge Kimba M. Wood approved Ferguson's settlement agreement with the United States Court Southern District of New York. Read more about the settlement here at PokerNews.com.
While Massachusetts and Tennessee are seeking new casinos, one high-priced development in New Jersey has filed for bankruptcy. Read all about it in the return of Inside Gaming.
Day 2 of the ANZPT Perth Main Event wrapped up on Thursday. James Broom led the way after two Team PokerStars Pros fell by the wayside.
A Washington state bill that would have lessened penalties for online poker died in committee this week. PokerNews' Matthew Kredell has the story.
Tony G Among 2013 BLUFF Power 20
For the past eight years, BLUFF Magazine has put together its BLUFF Power 20, a list of the most influential people in the industry today. The 2013 rankings were determined by "a group of 60 people comprised of poker journalists, online and land-based operators, players and members of previous Power 20s in an attempt to accurately gauge who the real movers and shakers are."
The Power 20 was dominated by some heavyweights in the poker industry including ONE DROP founder Guy Laliberté (#17); New Jersey Governor Chris Christie (#12); bwin.party CEO Norbert Teufelberger; and the founding family of PokerStars/Rational Group, Mark and Isai Scheinberg (#1). Another member of the industry with a lot of power is PokerNews owner Tony G, who made the list for the third consecutive year, this time at No. 13. Here's what BLUFF had to say about the "G":
"While live-streaming is becoming a more common way for fans to keep up with poker action around the world, live updates are the way that almost everybody stays up to date with major tournaments. That's why Tony G, who owns PokerNews, is on this list, with PokerNews providing official live update coverage from the WSOP, EPT, APPT, LAPT and more. The traffic from those updates and the vast multimedia content they produce allows PokerNews to drive sign-ups at online poker sites and generate a ton of revenue worldwide."
For the complete 2013 BLUFF Power 20 list, visit bluff.com.
Engel Makes it Five
Poker pro Ari Engel won his fifth World Series of Poker Circuit ring on Thursday, moving him within one victory of catching all-time leader Alex Masek (six).
Engel bested a field of 212 to win the $580 buy-in No-Limit Hold'em tournament at WSOPC West Palm Beach, collecting a payday of $26,501. With his family in attendance to watch him win a ring for the first time, Engel defeated William Richardson heads-up to secure the title.
| Place | Player | Prize |
| --- | --- | --- |
| 1 | Ari Engel | $26,501 |
| 2 | William Richardson | $16,379 |
| 3 | Eddie Tronolone | $11,921 |
| 4 | Andrew Kelsall | $8,816 |
| 5 | Abbey Daniels | $6,622 |
| 6 | Harold Mahaffey | $5,051 |
| 7 | Jurgen Sternad | $3,911 |
| 8 | John Rhodes | $3,074 |
| 9 | David Bellavia | $2,452 |
With the victory, Engel joined three players with five gold rings each: Mark "Pegasus" Smith, Kyle Cartwright, and Kurt Jewell. They're all chasing Masek, who won his sixth ring last month at the Bicycle Casino.
"There's a very friendly rivalry between us," Engel told the WSOP Blog about the Circuit's most successful players. "Some of these guys have been around for a long time. We see each other a lot and because we are some of the more aggressive players we bump heads a lot in tournaments around the country."
"When Alex (Masek) got his sixth gold ring, I (finished) 18th in that event," Engel added. "He busted me, in fact. So, he got some chips that way — even though he already had a lot of chips. So, I made my own contribution, I guess you could say. But seriously, competition is good because everyone tries to get better."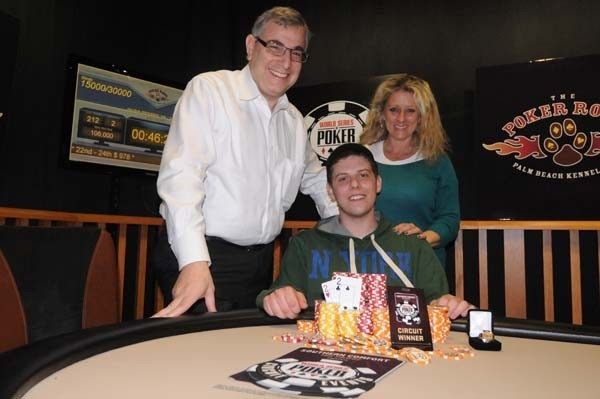 Engel's victory on Thursday also moved him into first place in the WSOP Circuit National Leaderboard, meaning he's in excellent shape to earn a seat into the WSOP National Championship in New Orleans this spring. Engel passed Rex Clinkscales, who held the top spot for several months.
The World Series of Poker Circuit Palm Beach Main Event kicks off Saturday, and the PokerNews Live Reporting team will be on site to bring you all of the action during the three-day event. You can also read the daily recaps right here at PokerNews.com.
For more on the WSOPC Palm Beach prelims, check out the WSOP Blog.
DeepStacks Poker Tour Show
The 2012 DeepStacks Poker Tour Mohegan Sun National Championship made its debut on the New England Sports Network (NESN) this week. The event took place last December and attracted popular players like Ashton Griffin, Michael "The Grinder" Mizrachi, Mike Matusow, Allen "The Chainsaw" Kessler, Justin "Boosted J" Smith, and Vanessa Selbst.
"The DeepStacks Poker Tour show is going to give the viewer a new and unique TV poker experience," said DeepStacks CEO Chris Torina. "We have put a lot of time and effort into this show and really worked hard to make the DeepStacks Poker Tour a leader in the televised poker industry."
In case you don't have NESN on the Direc TV, here's the complete episode of the final table, courtesy of Torina and the DeepStacks team:
Voulgaris Featured in Story by ESPN
On Thursday, Feb. 21, Haralabos Voulgaris was the subject of a piece written by Scott Eden for ESPN. Voulgaris' bread and butter is sports betting — mainly the NBA — but he is also quite the poker player with just shy of $2 million in live tournament earnings. Last summer, Voulgaris played in The Big One for One Drop at the World Series of Poker, and he has also taken time to play in some of the largest cash games around the world.
The story appeared online, but is also set to appear in ESPN The Magazine's Analytics Issue coming out in the beginning of March. In the piece, Eden discusses some brief history about Voulgaris, his rise to becoming the NBA's top gambler, and the quantitative betting model Voulgaris employs.
Eden starts off the story by writing, "Bob Voulgaris had become one of the most successful sports gamblers in the world when, in 2004, he started to lose. It wasn't just a streak of bad luck, a series of randomly unfavorable outcomes that could last only so long. His edge, he realized, was gone."
It was upon losing that edge that Voulgaris realized he needed to adapt his method or he would continue to lose. At this point in his betting career, Voulgaris opted to build a predictive model for NBA games, but with that he needed assistance. Eden writes, "To help him build his model, Voulgaris required a specialist in the field, a mind trained in the codes of statistics, mathematics and computer science. He started the search in 2005. It took him two years and six individual tryouts — most of those interviewees were found online, Voulgaris says, and two of them landed in NBA front offices — to find the right person. The right person was a literal math prodigy."
With that, "Ewing" was born, and Voulgaris' rise to the top of the NBA sports betting world took serious flight. But despite Voulgaris believing that he was "in possession of the world's most lethal gambling device," as Eden writes, he was on the verge of walking away from everything.
We highly suggest you take a bit of time to read the entire piece about Voulgaris by Eden, and you can find it by clicking over to ESPN here.
The World Poker Tour Returns to TV
The World Poker Tour will also be returning to television this week. All new episodes of World Poker Tour Season XI begin airing on FOX Sports Net on Sunday, Feb. 24 at 8 p.m. and 11 p.m. local time, and the broadcast promises to bring the same level of entertainment we've seen in past years.
The same cast of characters returns in Season XI as commentators Mike Sexton and Vince Van Patton are joined by anchor Kimberly Lansing, Raw Deal host Tony Dunst, sideline reporter Matt Savage, and the Royal Flush Girls. The series also features a new crop of WPT Ones to Watch, as you'll see in the following teaser clip:
Be sure to check out Chad Holloway's World Poker Tour on FSN reaction piece each Monday after a new episode airs. For more on Season XI, read Holloway's interview with WPT President Adam Pliska.