Greg Mueller Looks for Redemption and Third Bracelet in Event 8: $2,500 Eight-Game Mix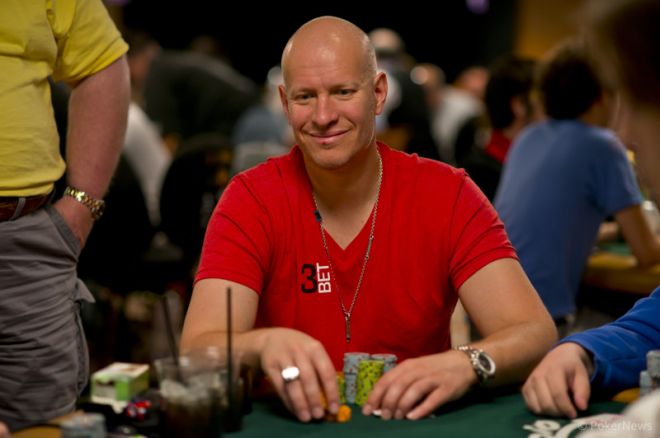 Greg Mueller is a two-time World Series of Poker bracelet winner. He won his first WSOP title in 2009 in the $10,000 Limit Hold'em Championship to collect $460,841, and 11 days later went on to win his second WSOP bracelet and $194,909 in a $1,500 Limit Hold'em Shootout event.
Today the Canadian pro is in contention to win a third bracelet, and it just happens to be in the same event he final-tabled in 2012. Last year, Muller went heads-up against David "ODB" Baker in the $2,500 8-Game event but lost when he tabled a queen-eight low against Baker's seven-six low in the game of razz.
Mueller won't have to worry about Baker this time around, but does have some serious competition with players like Chris Tryba, Dario Alioto, Robert Mizrachi, and Josh Arieh still alive. At the start of Day 3, Mueller sat fifth in chips with 258,200 and is guaranteed to receive at least $6,796.
We caught up with Mueller before play started to discuss his run at a third bracelet.
PokerNews: So you finished second place in the same exact event last year. Does this year feel any different for you?
Mueller: Not really. I've been in this position before so it's not intimidating or anything. It's always exciting and it's good to reminisce because last year my good buddy David Baker won first and I took second. I've been saying as a joke that I've got to do better than last year but now in Day 3 it feels like there is a semi-realistic chance of it coming true.
You hold two WSOP bracelets, both in limit hold'em. How important is it to you to win a bracelet in a different game?
It's funny how it worked out that way. I would obviously love to win another bracelet, but if I won 10 bracelets all in limit hold'em I would still be as excited than if it were won in a different event. You know, I've come second in no-limit, and final tabled in stud so I wouldn't say that I'm a one-trick pony. If I were to win this event, I would be thrilled, though. It's a variety of games, and I fancy myself being able to play well in most of the games so it would be nice to improve on last year's result.
Over the last year, do you think you've become a better mixed-game player?
I wouldn't say that. I play pretty much exclusively mixed games now-a-days, so I'll just say I'm very comfortable with my game and where it's at in terms of skill.
Where and how have you been working on your mixed game?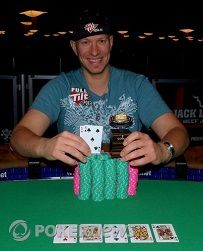 I go to the library a lot and read books (laughs). No, I'm just kidding. I play tons in Bobby's Room at Bellagio and Ivey's Room at Aria and at Commerce. Pretty much wherever I play, I end up playing mixed games. When you are playing against the best cash-game players in the world all the time, it definitely helps make you a better player. Cash games are, of course, different than tournaments, but playing the best daily definitely helps.
You mentioned that you've played a lot of these guys in cash games. Will that affect you in any way since they're familiar with your game?
In the overall scheme of things, the meta game comes into play. It could work for me and against me. Knowing what they know of me I just have to play differently than how they perceive me. If a couple of the guys think that I won't steal unless I have it then I have to steal more. If they think that I would be aggressive and steal for sure, then I have to sit back. Some guys definitely know my game, but I just have to adjust to that and adapt.
If you make it to the final table, is there anyone you're hoping not to see?
Not really. I like all the tough players, so I never want to root against them just to avoid them. There are some players here that I play regularly in the bigger cash games that are obviously tougher opponents, but at the same time I have good rapport with them. I am just more focused on playing well and making it to the final table and not at all worrying about who I am playing against.
Of the eight games being played, do you think you're stronger at one game and weaker at another?
My weakest game is definitely in pot-limit Omaha. Everybody here knows it and I'm not afraid to sit out a hand or two. That being said, I'm not afraid to jam it in if I didn't have the best hand, but it is absolutely my weakest game — it's no secret. My best game in relation to the field is 2-7 Triple Draw. Other than that I feel I play most of the game solid.
Follow PokerNews on Twitter for up-to-the-minute news.