WPT on FSN Venice Grand Prix Part I: Hellmuth's Most Over-the-Top Entrance to Date?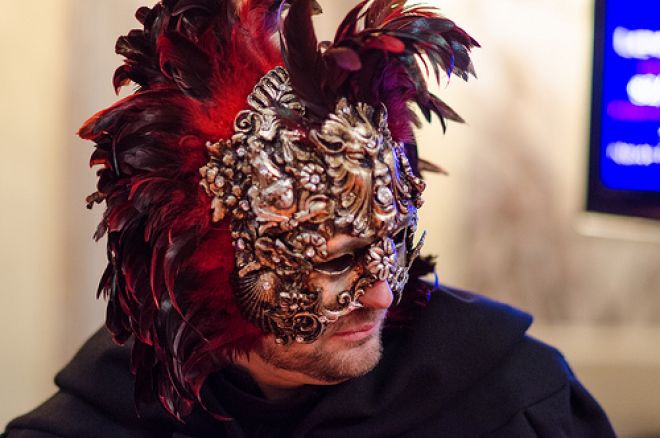 On Sunday night, the World Poker Tour Season XI continued with a new episode — Part I of the Venice Grand Prix — on Fox Sports Network. It was the first of three episodes from the Casino di Venezia, which hosted a €3,300 buy-in tournament from March 25-30 that attracted 173 entries and created a prize pool of €519,000. Here's my recap of the episode.
The Small Fields: One of the things I like most about the WPT stops in Europe are the relatively small fields compared to those in the U.S. Usually that might be a bad thing, but for me it allows the stars of the game to shine and get a fair share of the airtime. In Venice, that roster included online star Daniel "jungleman" Cates, WPT host Mike Sexton, "Mad" Marvin Rettenmaier, PokerStars Caribbean Adventure champ Galen Hall, WPT Player of the Year contender Matt Salsberg, and the lovely Kara Scott.
Here Comes Hellmuth: Another poker celebrity in attendance was 13-time World Series of Poker bracelet winner Phil Hellmuth, who made his patented over-the-top late entrance on Day 1b. I've watched Hellmuth make a spectacle before, from his coming to the WSOP dressed as Caesar to crashing a racecar in a Las Vegas parking lot, but his entrance to the Casino di Venezia takes the cake as the most brash and corny (something only Hellmuth can pull off) that I've ever seen. Don't believe me? Take a look:
Unfortunately Hellmuth's getup didn't bring him any luck as Fernando Cimaglia, who went on to finish as the Day 1b chip leader, dispatched him.
"It's me, Max Pescatori": One of my favorite players on the poker circuit is Max "The Italian Pirate" Pescatori. The guy is super nice, and he is a bit of an Italian caricature. He reminds me of a third Super Mario Brother, except instead of being a plumber he's a poker player. Anyway, I mention Pescatori because he ended up as the bubble boy in this year's Venice Grand Prix when he got his short stack all in holding the
and was called by Salsberg, who held the
.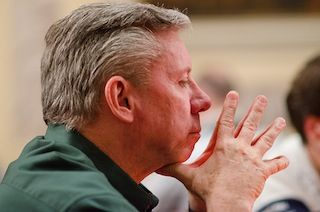 According to the PokerNews Odds Calculator, Salsberg was a 66.42% favorite while Pescatori had a 33.13% chance of coming from behind. Unfortunately for the Italian, the
flop delivered Salsberg a set and made him the overwhelming 95.66% favorite. The
turn left Pescatori drawing dead, and after the
was put out on the river for good measure, the "Italian Pirate" set sail.
Here Comes Sexton: In the old days of the WPT, Sexton wasn't allowed to play in the company's tournaments. That changed a few years ago, which meant it was only a matter of time before the Poker Hall of Famer made a final table. He did just that back in 2011 when he finished in sixth place in the $9,500 WPT Bay 101 Shooting Star.
Fast forward to this year's Venice Grand Prix and Sexton was making a run at his second career WPT final table. He did so by making the unofficial final table of ten where he eliminated 2011 World Series of Poker Main Event runner-up Martin Staszko and then dispatched the last woman standing, Giorgi Tabet, in ninth place.
A little while later, Salsberg and Marcello Montagner got involved in a big hand on a board reading
. Montagner moved all in holding the
for an open-ended straight draw with a flush draw and Salsberg, who had flopped a set with the
, called off for his tournament life. Much to Salsberg's dismay (he literally slapped the table in frustration) the
spiked on the river to give Montagner a straight and the win. Salsberg's seventh-place finish gave him 150 WPT Player of the Year points and tied him with Paul Volpe atop the leader board with 2,350 points.
Hellmuth Enters… the Booth: Since Sexton made the final table, there was an empty spot in the WPT broadcast booth. The Raw Deal's Tony Dunst filled in at Sexton's prior final table, but this time it was someone new — Hellmuth. I must admit, I was excited to see the "Poker Brat" calling the action alongside Vince Van Patten. The two have known each other for over 20 years and make quite the odd couple.
Here's a look at how the final table, which began at 10,000/20,000/3,000 stacked up:
WPT Season XI Venice Grand Prix Final Table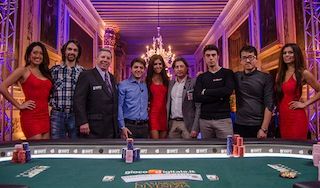 | Seat | Player | Chips |
| --- | --- | --- |
| 1 | Xia Lin | 309,000 (15 BBs) |
| 2 | Rocco Palumbo | 406,000 (20 BBs) |
| 3 | Mike Sexton | 1,079,000 (53 BBs) |
| 4 | Erion Islamay | 406,000 (20 BBs) |
| 5 | Marcello Montagner | 1,805,000 (90 BBs) |
| 6 | Roby Begni | 1,203,000 (60 BBs) |
The Final Table Fashion Report: Sexton has always said it's good for the game when players dress up for the TV final table. So how did he and the rest of the Venice Grand Prix Season XI finalists fare? Here's my take on each player's wardrobe.
Mike Sexton: He's been one of the most vocal proponents of dressing up for a big final table, and I was glad to see Sexton took his own advice. A suit is always classy and memorable, and Sexton's purple getup underneath a black jacket was no exception. Toss in a couple sponsor patches and Sexton looks like a confident and professional poker player. Grade: A+
Roby Begni: I actually liked Begni's blue-brown checkered shirt, but I wasn't too crazy about his selection of eyewear. His sunglasses were a bit much for me, but then again I'm no expert on Italian style. Grade: B-
Erion Islamay: Now here's a guy with a nice pair of sunglasses. They fit the shape of his head nicely and matched well with his form-fitting black long-sleeve sweater. Toss in the sponsorship patches and Islamay looked like a smooth operator. Grade: B+
Marcello Montagner: If Sexton and Islamay had a baby, Marcello Montagner would be it. He's a young, slender Italian wearing a suit akin to Sexton. Toss in a nice big pair of sunglasses and you have the perfect blend of old and new school. Grade: A
Xia Lin: A gray long-sleeve shirt complete with a watch. Bracelet and sunglasses. The young Chinese native knows how to accessorize but does so in a quaint manner. Grade: B
Rocco Palumbo: It's hard to bash a WSOP bracelet winner so I won't. I didn't think Palumbo's long-sleeve blue shirt and fancy watch were anything too special, but my guess is it's a little more dressed up than he's used to. I like the effort. Grade: B+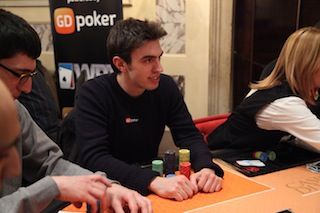 Italian Down: Action folded to Islamay on the button and he moved his short stack of 316,000 all in holding the
. Montagner looked down at the
and then asked for a count. He thought a little too long before making the call and Islamay looked a bit miffed upon seeing the inadvertent slow roll. Islamay sweated the action from the rail alongside a beautiful woman one can only assume was his girlfriend, but he seemed to know his days were numbered when the
flop gave Montagner a set. The
turn gave Islamay a straight draw to a nine since all the fours had been folded, but the
river was not it. With that, Islamay, who is the WPT commentator for Italy, was eliminated in sixth place for €24,100.
Tune in Next Week: Part II of the Venice Grand Prix is set to air on Sunday, July 28 on FSN, so be sure to check your local listings. If by chance you miss it, check back next week for the latest recap of all the action here on PokerNews.
Who will be the next player to add his name to this prestigious list of champions?
Past WPT Venice Champions
| Season | Player | Entrants | Earnings |
| --- | --- | --- | --- |
| 8* | Sven-Ragnar Arstrom | 397 | $532,388 |
| 9* | Alessio Isaia | 523 | €380,000 |
| 10* | Edoardo Alescio | 213 | €194,000 |
| 10 | Rinat Bogdanov | 155 | €229,800 |
| 11 | ??? | 173 | €180,097 |
*Titled WPT Venice as opposed to Venice Grand Prix.
*Pictures courtesy of World Poker Tour.
Get all the latest PokerNews updates on your social media outlets. Follow us on Twitter and find us on both Facebook and Google+!