Full Tilt Poker Montreal: Pahuja Discusses the Main Event, Grinding Abroad, and More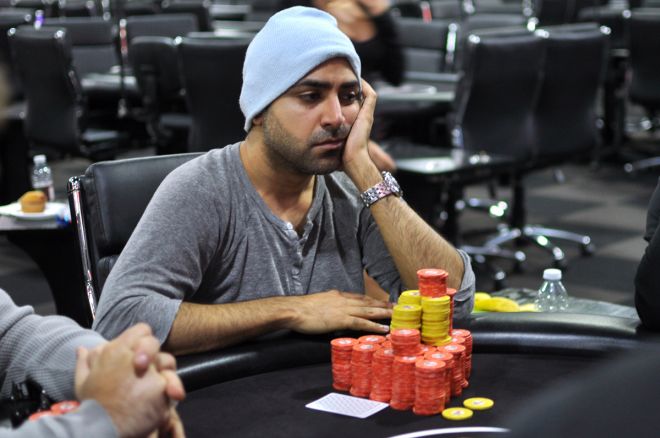 Vinny Pahuja is among the leaders on Day 3 of the Full Tilt Poker Montreal Main Event, and is looking to add even more to his already impressive poker résumé. Pahuja has nearly $1.5 million in career tournament earnings, with his largest score coming in 2008 when he finished runner-up in the Borgata Summer Poker Open Championship Event ($289,800). Vinny's brother Mukul recently recorded the biggest score of his life, finishing third in the Seminole Hard Rock Poker Open $10 Million Guarantee for $872,625.
Vinny was kind enough to talk with us during a break, discussing a crazy hand, grinding abroad, and more.
PokerNews: You've chipped up to two million already on Day 3, thanks to a crazy hand where you had aces. How are things going?
Vinny Pahuja: I don't know what it was. I've never played with the guy before and he just six-bet shoved all in with
. I couldn't even figure it out — I thought for sure he had kings. I held, which was huge, and I got to 2.4 [million]. Then I kind of ran into "it" a lot. There were a couple of guys that were really nitty three-betting a lot, and I don't think that they were ever light. Then I doubled Gavin [Smith] in a spot that was close. He shoved with a few blinds and I called with
. He had
and held. It was pretty trivial. So I'm back down to two million, but I'm still fine. I love the table, I have a good idea of how they're all playing now, so I'm just going to try and run good.
It seems like there's a pretty stark dichotomy between professional players and amateur players right now. Do you see that too?
Yeah, I've been fortunate that I have had more table draws with amateurs and satellite winners. Yesterday, I went into the bubble with 500,000 and left with 1.2 million, and I only won one showdown. I was punishing them on the bubble because I knew a lot of them just wanted to cash. You just have to pick your spots, and hopefully I can avoid some of the good players left.
Are you enjoying your time at Playground?
I love Playground. This is my third or fourth time here. They run great tournaments. This one is kind of dragging out a bit — I think they could've finished in in four days — but it's fine. I love the room. I love the floor staff. The dealers are great. The wait staff is beautiful [laughs]. Everything about this place is great.
You've been in Canada for a while grinding WCOOP. How much time do you spend in Canada and abroad playing online?
That's a good question. Before the year started, I wanted to make a conscious effort to play online. I've been a live player for so long and I don't think it's efficient use of my time. When the year started, I was down-swinging pretty hard and I was kind of over live poker, so I made an effort to play more online. I went to Toronto for SCOOP prior to the World Series, and I missed the World Series due to my injury, and now I'm here in Montreal for WCOOP.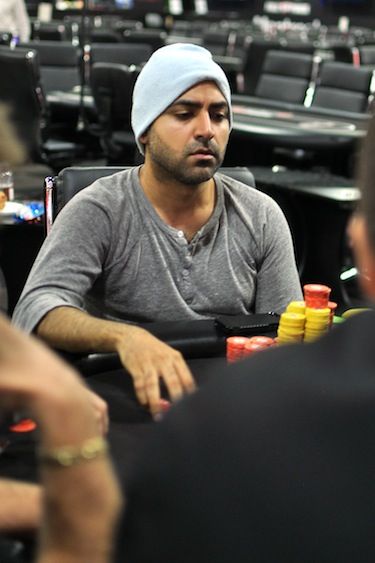 I think it's important — if you're a tournament grinder, it's important to get online. Not only do you get better, but you give yourself that many more shots to make money.
Are you enjoying your time in Canada?
Yeah, I love Canada. I come here quite a bit. Last year, I went to Vancouver to play a couple events, and obviously I was in Toronto. It's just so easy from New York, it's an hour flight. So for me it's super easy to come here and play.
Your brother Mukul finished third in the Seminole Hard Rock Poker Open $10 Million Guarantee, and I asked him about the relationship you two have. He said you had a big influence on his tournament poker game. What have you taken away from it?
We constantly talk about the game and strategy. We're always bouncing ideas and hands off one another. It's great to have someone who knows what you're going through and knows how you think, and then can approach the game. He's really come a long way since he started. It's something that is important for both of us, we're passionate about it, and it's great to have that support system in your family. I can always ask him about a hand. He'll be in the middle of dinner, or we'll just text one another a hand. It's great.
Where are you off to after Montreal?
I'm going to go home. I need a break. I'm kind of burnt out, and that's the truth. I'm going to go back to New York, I'm going to get some more physical therapy for my leg, see a couple of doctors, make sure everything is OK, and take care of some real-life stuff like bills and what not. Hopefully I can make a run in this and the rest of the year I don't really know. I'm not going to Europe, I'm going to be laying low, and just taking a break. It's been a sick run these past couple of weeks so I'm looking forward to going back home and seeing family.
Get all the latest PokerNews updates on your social media outlets. Follow us on Twitter and find us on both Facebook and Google+!