No. 2 Nuke Commander Relieved of Duty in Iowa Counterfeit Poker Chip Debacle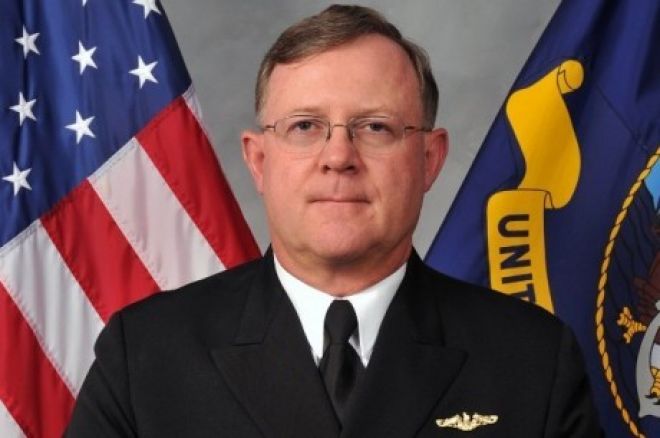 Over the past couple weeks, a wild story has unfolded involving a high-ranking Navy official using counterfeit chips in a poker game at the Horseshoe Council Bluffs casino in Iowa. PokerNews first reported that Navy Vice Adm. Tim Giardina, the No. 2 officer at the military command in charge of all U.S. nuclear war-fighting forces, was suspected of passing counterfeit chips — which is a felony in Iowa – back on Oct. 3. Despite the state not pressing charges, the AP is now reporting that Giardina has been relieved of duty and demoted to a two-star admiral.
The decision to suspend Giardina required approval by President Barack Obama. According to Pentagon spokesman Carl Woog, Giardina was recommended by General Robert Kehler, the top official at the Strategic Command, to be relieved of duty. This is believed to be the first time a deputy commander has been relived of duty in the Strategic Command since its creation in 1992.
"I know of no other case ever of a deputy commander who was relieved for cause," retired Air Force general Eugene Habiger, who headed the command from 1996-98, told the AP in a telephone interview.
Details regarding the alleged counterfeit chips are sketchy, but according to Pottawattamie County Attorney Matt Wilber, it is believed Giardina used at least $1,500 in counterfeit chips while playing at the Horseshoe Council Bluffs, which is located just across the river from Omaha, NE. Officials would not confirm if anyone else was a suspect in the case.
A source familiar with the situation told PokerNews, "It was a few chips discovered in a cash game on only one occasion [back in June]." The players in the game that ended up with the chips was paid face value by the Horseshoe. Upon discovering the chips, the Horseshoe took that denomination of chip out of play for the month that followed.
Giardina has been the deputy commander of Strategic Command since December 2011. According to his biography on navy.mil, Giardina "most recently served as deputy commander and chief of staff, United States Pacific Fleet. His most recent command assignment was as commander, Submarine Group Trident, Submarine Group Nine, and Submarine Group 10 where he was responsible for all 18 U.S. Trident Submarines."
*Lead photo courtesy of navy.mil.
Get all the latest PokerNews updates on your social media outlets. Follow us on Twitter and find us on both Facebook and Google+!