Ty Stewart Discusses the WSOP Year, Ryan Riess, One Drop, Online Poker, and More

Donnie Peters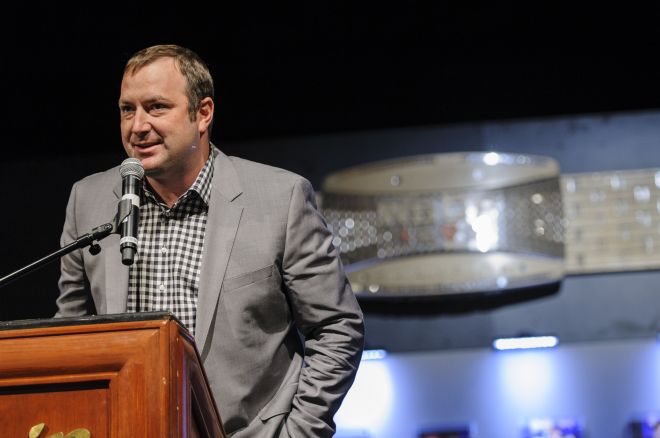 Ty Stewart, Exective Director for the World Series of Poker, is never short on words. In a recent interview with Remko Rinkema from iGaming.org, Stewart had plenty to say in regards to some of poker's hot topics, including the 2013 WSOP year, Ryan Riess, Daniel Negreanu, and online poker.
When it comes to reviewing the WSOP's year, Stewart seemed very happy when reflecting back. "If we're grading the WSOP 'year in review,' this had to be one of, if not the very best year ever," Stewart said. "We broke all-time participation records in Vegas and on the Circuit."
Stewart isn't lying, as overall participation numbers soared in gold bracelet and gold ring events across the globe. The 2013 WSOP in Las Vegas alone attracted 79,471 participants — the largest in the WSOP's storied 44-year history. There were 62 events that generated over $197 million in total prize money, and young, up-and-coming star Ryan Riess was the man who pocketed the most from that prize pool by winning the 2013 WSOP Main Event to the tune of nearly $8.4 million. Riess is an American, but altogether a total of 107 countries participated in the events.
Speaking of Riess, Stewart is of the impression that the new world champion is nothing but positive for poker, specifically citing Riess' decision to wear a Calvin Johnson Detroit Lions jersey at the WSOP Main Event final table in November.
"That was so 'good for poker' if [you] look at everything that came from that," Stewart said. "The Detroit Lions, part of an uber-conservative organization, plugging tune-in from their official account, the amazing Bill Simmons' tweets, and the best receiver in football talking up the new poker champ in news conferences. Ryan could have worn a hoodie with somebody's patch, and whether he knew it or not, he did something so cool for poker. Not to mention going on College Gameday and almost exactly predicting the winner and total. Strong. All of that and everything about Ryan should be celebrated as good for poker."
While Riess may be a young, innocent-looking kid from Michigan, Stewart admitted that he secretly hopes Riess turns to the dark side. "I think he's too nice a kid to change who he is, but selfishly I'd love to see him turn to the dark side. Outside of Phil Hellmuth, there aren't many players people love to hate and I think he [Riess] is going to be a fixture in poker for years to come."
For Riess, there will be no greater proving ground than the first six weeks of 2014. He's already set his sights on the 2014 PokerStars Caribbean Adventure and the 2014 Aussie Millions, where he plans to play several big buy-in events, including two $100,000 ones and two $25,000 ones. All eyes are going to be fixed on the world champion in these events, and all of the top players will be gunning for him as many didn't take too kindly to Riess' comment of "I just think I'm the best player in the world," following his WSOP Main Event win.
Rinkema then discussed the idea behind making the WSOP schedule, which is a topic surely current in the front of Stewart's mind as the dates for the 2014 WSOP in Las Vegas were announced on Thursday. One of the specifics discussed was the return of the $10,000 championship events.
"I think that the traditional core disciplines of the game deserve a championship event," said Stewart. "I'm a student of the history of the WSOP, and it was always that way and I agree we should put those back to the $10,000 buy-in level. I've had a few years of data to look at, and it's my belief that moving back to $10,000 events will generate the biggest overall prize pools. We brought them down to $5,000 because we were concerned for player bankrolls across a long series in this era. We thought it would benefit the ecosystem, conserving ability to play more events and allowing new players to enter. But it turned out we did not double the entries in those events."
Part of the WSOP's plan for 2014 will be to begin sending more people to live events through the company's online poker client, which Stewart mentions in the interview. Stewart also gives a few brief thoughts about online poker in general, remaining confident that the best days are ahead.
"It was an exciting year, but what was the most gratifying to us is that it seems like the tide is turning and there's a very unified enthusiastic community bullish on the future of poker," Stewart said. "And while it's going to take time with online poker, the worst days are behind us."
Stewart also made reference Daniel Negreanu's massive amount of WSOP success in 2013 and even referred to it as "the year of the Negreanu." He even joked, "Even Daniel's hair had run-good this year!"
In the interview, Stewart discusses many more topics, including the WSOP's decision for just one international event per year, the return of the Big One for One Drop, and his dislike with the term "poker world." You can read the full interview by clicking here.
Get all the latest PokerNews updates on your social media outlets. Follow us on Twitter and find us on both Facebook and Google+!