WPT Alpha8 on FOX Sports 1 Florida Part I: The First Hand, Alligators & Mercier's Pad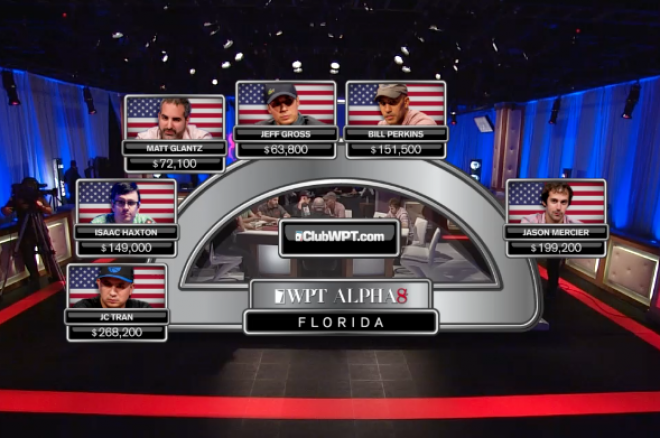 In August of last year, the World Poker Tour launched Alpha8, a series of high buy-in events located at exotic locations around the world. The first of these events took place at the Seminole Hard Rock in Florida and featured a $100,000 buy-in. The tournament attracted 21 entries and was recorded for television.
Originally set to debut on March 16, the Alpha8 premiered on Fox Sports 1 this past Sunday after being pushed back due to an unsettled NASCAR race. I watched the broadcast and thought I'd offer you my thoughts on what transpired.
New Faces: For 12 seasons, Mike Sexton and Vince Van Patten have been the faces of the World Poker Tour. With Alpha8, viewers must get used to two new faces — Ali Nejad and Olivier Busquet. Both have extensive experience in the poker-broadcasting world, with the former doing a fine job on past NBC National Heads-Up Poker Championship events and Full Tilt Poker's Poker After Dark, with the latter largely regarded as one of the best analysts in the game.
My initial impression was that Busquet and Nejad had good chemistry, and that they gave the show a bit of an edge. Speaking of which, I loved how the Alpha8 introduced its players. Instead of panning around the table, they put up a graphic with all 14 players complete with country flags in the background. I don't know why I liked this so much, but I did.
More Than Just the Final Table: Unlike the WPT, which dedicated its broadcast to final table action (with the exception of Part I which also looks at the early stages of the tournament), Alpha8 picks up things from the get go. With 14 players in the field, this meant the action was spread across two tables.
What It's All About: To promote the Alpha8 launch, the WPT released a trailer of what to expect. I thought it'd be a proper way to kick things off:
The First Hand of Alpha8: In the first-ever hand of the WPT Alpha8 broadcast, blinds were at 500/1,000 when Andrew Lichtenberger looked down at the
and raised to 2,200. Jason Koon then three-bet to 6,800 from the small blind with the
, Lichtenberger moved all in for 38,500, and Koon called. It was a classic flip, and while Lichtenberger got it in good, he wouldn't end with the best hand as the board ran out
.
"Good luck, gents," Lichtenberger said before becoming the first player to be eliminated from an Alpha8 episode.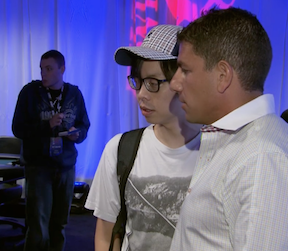 "I'm just not really feeling it after busting out," Lichtenberger told hostess Lynn Gilmartin when asked if he planned to reenter. "Just gonna hang out and wait for the next tournament."
Cheong Scrounging & Cahlik Creeping: I happened to be at the Seminole Hard Rock Casino when the Alpha8 was playing out. Phil Laak and I actually strolled over to the studio to scope out the action, and while he was contemplating whether or not to buy in for $100K, I was simply there to observe.
While there, I distinctly recall Joseph Cheong scrambling to put in the buy-in. It wasn't that he was broke, it's just that he didn't have the full amount on him. The broadcast showed Cheong hitting up Brandon Steven, and in the background you can clearly see poker reporter Josh Cahlik checking in.
Life's Good for Gilmartin: I've had my fair share of adventures with Lynn Gilmartin from her days as a presenter for PokerNews, though most of them were inside a casino. Now that Lynn has graduated to the big leagues, she gets to do some fun stuff that makes me extremely jealous.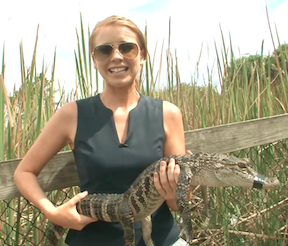 For instance, while in Florida she took an airboat ride in the Florida everglades. She even got to drive it for a little bit before holding a good-sized alligator. It was kind of cool living vicariously through Lynn, especially since I know she doesn't take it for granted. Lynn is genuinely appreciative of the opportunities afforded her, and I think it's refreshing to see someone enjoy life to its fullest extent.
Mercier's Backyard: In another segment, Lynn Gilmartin got a behind-the-scenes look at Jason Mercier's pad. The Team PokerStars Pro lives in South Florida, so he had home field advantage — which was reflected in the tournament as he was the early chip leader.
Viewers got a look at Mercier's view from 25 stories up, as well as a peek inside his condo. So what sort of things does one of the world's best players have in his apartment? It was surprisingly minimalist, or as Mercier put it, "Simple." Nothing on the walls, no fancy furniture, but there was one thing that stood out — his trophy case. There he had his two World Series of Poker bracelets displayed as well as numerous magazine covers, trophies, and PokerStars "Spadies."
Mercier then took Lynn down to the gym to shoot some hoops, which is one of Mercier's favorite activities off the felt. Who was rebounding the ball? I'm not 100% sure, but it appeared to be Mercier's assistant, "Dirty Dave." Seriously, I've met him before and he is nicknamed "Dirty Dave."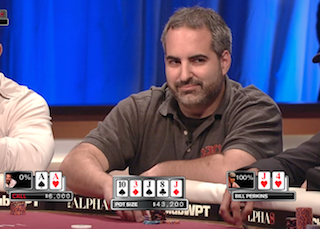 Proper Poker Etiquette: A hand played out toward the end of the broadcast that I thought was particularly interesting. It began when Matt Glantz raised to 2,700 from the button with the
and Bill Perkins, a businessman known for mixing it up, defended from the big blind with the
.
The
flop saw Perkins check top pair, Glantz bet 3,000, and Perkins woke up with a minimum check-raise to 6,000. Glantz just called, the
turned, and Perkins bet 6,000. Glantz called, and then the
peeled off on the river to give Perkins the best hand with trip jacks. Perkins bet a modest 6,000 and Glantz called. Perkins flipped over his hand, and this is where I think Glantz showed just how much of a professional he is.
Instead of getting upset and berating his opponent, which I've seen plenty of players do, Glantz simply smiled and folded his cards facedown without saying a word. He knows that even though he lost that particular hand, he wants players like Perkins playing hands like
. It's good for him in the long run, and he acted accordingly.
Big Slick Doesn't Do the Trick for Hall: At an outer table, Steven Silverman found himself all in holding the
and racing against the
of Tom Hall, who recently spoke to PokerNews about the high-stakes cash games in Macau. The board ended up running out
and Silverman scored the double.
"I really enjoyed the Alpha8 High Roller at the Seminole in Miami last August and I hope they repeat that as I loved Miami and would definitely go and play that as well," Hall told PokerNews on his experience. "Next time, I won't go on a massive bender the night before a $100K buy-in. I managed to fall asleep for a good 20 minutes and awoke to the film crew and fellow players laughing at me as I was drooling onto the felt whilst dozing — not a pretty sight."
Why Watch the Alpha8?: Leading up to the Alpha8's premiere, the WPT released eight reasons why you should tune in. Here's a look at their list (click on each to learn more over on the WPT Blog):
Tune in Next Week: On Sunday, April 6, FSN will air Part II of the Alpha8 Florida $100K, so be sure to check your local listings. If by chance you miss it, check back next week for the latest recap of all the action here on PokerNews.
*Pictures courtesy of World Poker Tour.
Get all the latest PokerNews updates on your social media outlets. Follow us on Twitter and find us both Facebook and Google+!