Inside Gaming: Smoking to be Banned in Macau, Two Withdraw from New York, and More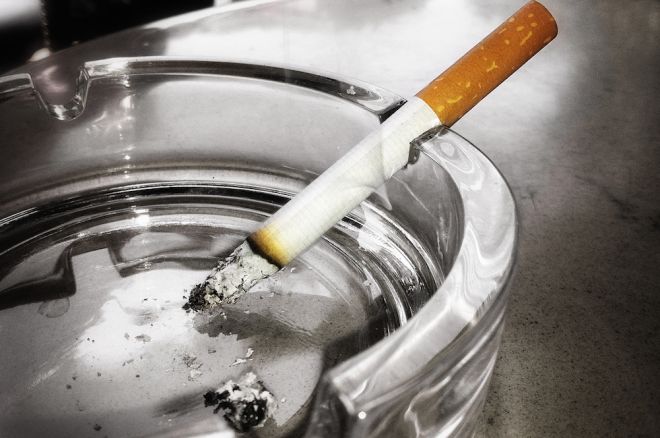 In this edition of Inside Gaming, Macau bans smoking in casinos, two companies back out of the race for casino gambling in New York, and analysts suggest closing another casino in Atlantic City.
Thank You for Not Smoking
According to GGR Asia, smoking will be banned in mass market areas in Macau starting on October 6, after the Golden Week.
"The current rules will still apply to the VIP rooms," a government spokesperson told GGR Asia.
These private areas will have to be physically separated from mass-market areas, so VIP rooms in casinos will have to be completely different then generic gaming areas.
"It's still entirely possible that there will actually be a requirement for even non-smoking in some of the VIP rooms," said MGM China Holdings Ltd's chief executive Grant Bowie. "It is just a question of how it all fits together."
A 2013 report from Deutsche Bank AG said that, on average, 27 percent of tables on the main floors in Macau are designated "premium mass" or VIP. The bank sampled the seven largest casinos on the island, based upon surveys done in November of 2012.
This number is likely to be higher a year-and-a-half later.
Macau casino operators will be permitted to build smoking rooms on their mass market floors, but those areas will not be allowed to have tables or slot machines.
"Any policy change will always have an impact [on operations]," Bowe said. "This is just another opportunity for us to reconstruct our operations. This is how businesses move forward."
Macau leans on Mainland China, the world's largest nation of smokers, for a majority of its gaming revenue. China is home to roughly a third of the world's smokers, and approximately a quarter of the Chinese population smokes.
There was a partial ban put in place in 2013, but an estimated 64 percent of casino areas didn't comply. The Macau Health Bureau found that the air quality was sub-par, with two of three gaming areas testing below satisfactory levels. After the Health Bureau found this information, Macau's Secretary for Economy and Finance, Francis Tam Pak Yuen, warned that stricter sanctions may come. He stated that the government would take the appropriate corrective measures.
For more, head over to GGR Asia
Two Companies Back Out of New York
Three weeks ago, the New York Gaming Facility Location Board accepted 22 $1 million applications to build a casino in the Empire State. On Tuesday, two companies withdrew their applications in order to get a full refund, according to state officials.
Pinnacle Entertainment and Baker Botts LLP will no longer seek to build a casino resort in New York. Pinnacle was eying a casino near Thruway Exit 23 in Albany, but the development team they were planning with opted to side with the Chicasaw Nation and Global Gaming.
"We spoke to more than half a dozen potential operators including Pinnacle, and each of them brought a lot of positives to the table," said a spokesman for developer Flaum Management Co. "At the end of the day, we felt very strongly that Global Gaming's experience in operating successful casino resorts gave us the best chance to submit a winning application and making E23 a reality."
Pinnacle opted not to comment on the matter, and Lee Charles, a principal of Baker Botts, was unavailable as well. Unlike Pinnacle, Baker Botts' development plans are unknown – it was not mandatory for the potential developers to divulge their location when they paid the $1 million application fee.
Developers that withdraw from the process from this point forward will only receive a percentage of the $1 million they paid to the state. Members of the board will deduct any money spent on vetting potential candidates.
The New York Gaming Facility Location Board plans to award four licenses this fall, and complete applications are due June 30. If the Massachusetts casino application process is any indication, then there are sure to be unforeseen delays.
Bizjournals.com has more
Analysts Tell Gaming Congress Another AC Casino Should Close
On Tuesday, financial analysts said that Atlantic City needs to close another yet casino in order to survive. Legislators also debated the prospects of developing a casino in northern New Jersey near the Meadowlands sports complex.
Based upon recent performance, the panel of Wall Street analysts suggested that Showboat and Trump Plaza may be looking at closure or sale.
"All indicators point to Showboat being closed or sold," UBS Fixed Income Research Director Srihari Rajagopalan said.
The Atlantic Club just shut its doors in January, and Revel is doing all it can to bounce back from bankruptcy. Online gaming is also getting off to a slow start.
"My advice to someone who's thinking about taking on one of these properties, that thinks they can build a better mousetrap is: Don't do it," said Joel Simkins, an analyst with Credit Suisse Securities. "It's very, very difficult."
There's also casino development in New York. Drew Goldman, a managing director at Deutsche Bank, fears the four pending Las Vegas-style casino resorts in the Empire State will further threaten Atlantic City's economic prospects.
"[New York is] basically sticking these casinos on the New Jersey border," Goldman said, in reference to Caesars Entertainment's Orange County proposal.
Orange County is roughly 50 miles north of Manhattan and about 40 miles from the New Jersey border.
"We can fix this place," said New Jersey State Senate President Stephen Sweeney. "This city took care of this state for a long time. Before we talk about cannibalizing this city, let's get it on the right track."
Sweeney told the group that he would not support legislation that would allow casino expansion outside of Atlantic City, disagreeing with people like former New Jersey Casino Control Commission board member Michael Epps.
"The question is: Do we get to the Meadowlands to save New Jersey, or do we save the region?" Epps asked.
For more, check out Press of Atlantic City
Photo courtesy of sxc.hu
Get all the latest PokerNews updates on your social media outlets. Follow us on Twitter and find us on both Facebook and Google+!