Inside Gaming: Macau Revenue Stalls, New Jersey Residents Oppose Online Gaming, and More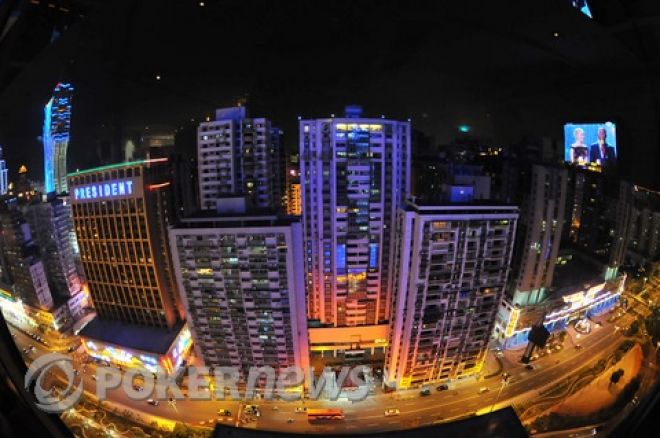 In this edition of Inside Gaming, we take a look at the slump in Macau, new opposition to online gaming in New Jersey, and delays to a proposed casino in Virginia.
Gambling Revenue Slumps in Macau
Shares in Macau casino operators dropped this week, as year-on-year revenue growth was the lowest in 15 months in January.
Gross gaming revenue increase by 7% from 2013 according to the Macau Gaming Inspection and Coordination Bureau. For 2013, growth was the slowest in January as well, with a year-on-year increase of only 7.3%. The second slowest month was February (11.5 percent).
In response to these subpar numbers, shares in Galaxy Entertainment Group Ltd., Sands China, and Wynn Macau dropped. Sands dropped the furthest (7.5%), while Wynn lost the least (2.8%).
Economic activity in the former Portuguese colony is typically slower in January and February because of the Lunar New Year. In 2014, the New Year began on Jan. 31.
"This effect was probably exacerbated this year as the heavily family-oriented days leading up to the Chinese New Year fell at the very end of January and likely brought VIP to a standstill," said analyst Grant Govertsen.
Fellow analyst Kenny Lau agreed that the lack of VIP activity had a significant impact on gaming revenue.
"The smaller growth was a reflection of the weakening VIP performance," Lau told Bloomberg. "As the Chinese economy slowed, the weakness in VIP business may continue."
Transport infrastructure and rail connections are set to improve in 2014, which should lead to more growth in the latter months.
For more, check out Forbes and Bloomberg
New Jersey Residents Oppose Online Gaming More than Before
According to a statewide survey conducted by Fairleigh Dickinson University's PublicMind, the percentage of registered voters that support online gaming has dropped since it was legalized in November of 2013.
Roughly one-third (32%) of registered voters surveyed are in favor of online gaming, while 57% are opposed. In March of 2013, 41% favored online gaming and 46 percent were opposed.
"The public's attitude was, for several years, warming up to online gambling," said Krista Jenkins, director of PublicMinds and a professor of political science. "But there has been a clear change in direction, now that the practice has actually been legalized. Part of the public has always shown deep reluctance to make gambling so accessible in their own homes. Now that it is in fact legal, they may be more concerned than ever."
Senior Lecturer of Hospitality Management Donald Hoover added to the statement from Public Mind, saying "Internet gambling firms operating in New Jersey have been marketing heavily through numerous media outlets to gain recognition in the gambling space. These numbers may reflect a bit of intolerance to internet gambling due to the nature and volume of advertising."
Unsurprisingly, voters who have visited a casino in the last year are significantly more likely to support online gambling. Roughly 40 percent of these respondents support legalization, while only 28 percent of those without a recent visit share the same sentiments.
Women remain more opposed than men. Two-thirds of female respondents (67%) reject online gambling legislation, while only 47 percent of males are against it.
NorthJersey.com has more
Virginia Casino Bill Put on Hold
On Wednesday, a casino bill in Virginia was halted until 2015. Sen. L. Louise Lucas (D-Portsmouth), who introduced the bill, asked to put the measure of for a year so she can gather support. Lucas is in support of conservative supporters.
Senate Bill 19, which called for a casino in Hampton Roads, Virginia, was approved by the Senate's General Laws and Technology Committee on Monday. The same committee killed similar legislation in 2013, so this was an important first step, but the bill would go no further in this calendar year.
According to the Virginia-Pilot, Lucas cheered and hugged several city officials after the bill progressed on a 7-5 vote.
Casino gambling in Virginia typically draws support from business owners, while religious and family groups oppose it due to potential "societal ills."
Lucas plans to use casino revenues to offset regional road tolls. Virginia is one of just 11 states without commercial or Indian casinos.
"Forty-nine states will have it before we get it," Richard L. Saslaw, the Virginia Senate's Democratic leader told the Washington Post. "Maybe 48."
The American Gaming Association is aware of SB 19, but doesn't plan on lobbying in Virginia anytime soon. AGA Senior Vice President Sara Rayme told The Post that the group "will not engage in state legislative attempts to permit gaming (running around state capitols encouraging legislators to do one thing or the other); or more specifically, lobbying to legalize commercial gaming facilities in Virginia."
The Washington Post has more.
Get all the latest PokerNews updates on your social media outlets. Follow us on Twitter and like us on Facebook now!