Inside Gaming: New Jersey and Pennsylvania Yield Decreases in Gambling Revenue for 2013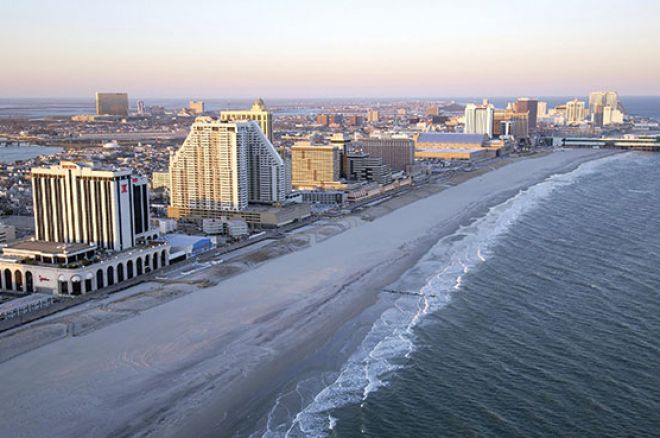 This week's edition of Inside Gaming takes a look at gaming revenues from New Jersey and Pennsylvania, Mohegan Sun casino in Revere facing opposition, and a Macau casino tycoon competing to be Asia's richest man.
Yearly Gambling Revenue Down in New Jersey
Land-based gambling revenue in New Jersey fell 6% in 2013. This is the seventh consecutive year of decline in the Garden State.
Atlantic City's 12 properties raked in $2.86 billion in 2013, down from just over $3 billion in 2012. According to the New Jersey Division of Gaming Enforcement, this is the worst year for casino revenue in the state in 25 years.
In 1989, New Jersey's gaming revenue was $2.8 billion, which was an all-time high at the time. The Garden State peaked in 2006 — the first year Pennsylvania operated casinos – bringing in $5.2 billion.
Of the $2.86 billion, $798 million was from table games (down seven percent from 2012) and $2.1 billion was from slot machines (down six percent from 2012).
Nine of the dozen casinos registered losses for the calendar year. Borgata Hotel Casino and Spa was one of the three to show a profit, creeping up one percent to $617 million. Revel Casino Hotel, which filed for bankruptcy in Feb. of 2013, increased revenue by 27 percent, but the property only operated for eight months in 2012.
The third property to show an increase was the Atlantic Club, where revenue grew 12 percent. The Atlantic Club, like Revel, filed for bankruptcy, however, and shut its doors on Monday. Tropicana Entertainment and Caesars Entertainment partnered up to purchase the property for only $23.4 million.
The following graphic, created by Krishna Mathias for the Press of Atlantic City, compares 2013 with 2012 for all 12 properties: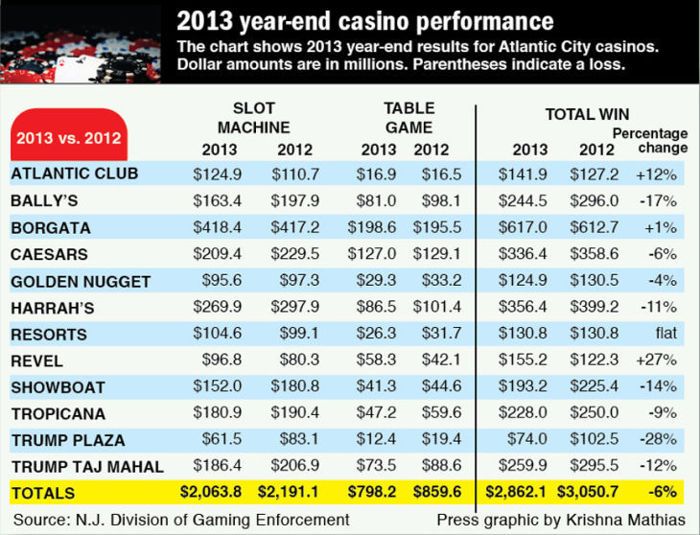 For more, check out the Press of Atlantic City
Pennsylvania Gaming Revenue Decreases for the First Time Ever
Like New Jersey, Pennsylvania saw a decrease in gaming revenue in 2013. Unlike New Jersey, it was the first time the state saw a decline since introducing casino gambling in 2006.
According to the Pennsylvania Gaming Control Board, gaming revenues decreased $44.4 million (1.4 percent) from $3.16 billion in 2012 to $3.11 billion in 2013. In 2006, the state's gaming revenue was a mere $31.6 million.
Revenue from table games rose by 6.2 percent to $730 million in 2013, while slot machines fell 3.5 percent to $2.4 billion.
The losses are attributed to growing competition from border states Ohio and Maryland.
"There's no doubt that the biggest reason for the decrease is that there is more and more competition along our boards," said Doug Harbach, a spokesman for the gaming control board.
Harbach and his companions aren't overly concerned with the figures – the 984% increase from 2006 is very impressive – and there is still interest for a second casino in the city of Philadelphia, along with a horse track and casino in Lawrence County.
That's not to say that the board is turning a blind eye.
"It's certainly something we're watching," Richard McGarvey, another spokesman added.
Mark Nichols, a professor of economics at the University of Nevada at Reno, believes that the drop could be nothing more than a bad year.
"It might just signal just sort of the lack of the novelty effect taking place," he said. "It may be that the casinos may have to invest and attract people with different games and amenities. Gaming is one of those things that has to reinvent itself because people do get burned out."
Michael Paladino, senior director of the gaming sector of Fitch Ratings believes that there may be issues with saturation. He is concerned about the impact of a second casino in the City of Brotherly Love.
"You reach a point where new capacity is not necessarily growing the market," he said. "It's taking away from existing operations."
The Pittsburgh Post-Gazette has more
Revere Casino Opponents Raise Concerns
According to opponents of the Mohegan Sun casino plan in Revere, Mass., the developer failed to meet state application requirements by submitting environmental documents from a defunct casino plan by Suffolk Downs and Caesars. The duo exited the state's casino competition in November when voters rejected their proposal.
"This raises yet another instance where Mohegan Sun and Suffolk Downs are attempting to undermine the spirit and the letter of the gaming law," Mayor Carlo DeMaria, who supports the rivaling Wynn Resorts project, said in a statement. "By submitting another project's development documents in their application, Mohegan Sun has clearly shown that their project does not conform to the Gaming Commission's requirements and lacks merit."
Mohegan sun's applicant environmental notification form was titled "Caesars Resort at Suffolk Downs," and it detailed a failed plan to construct a resort in East Boston.
In a statement, Mohegan Sun says the document "speaks directly to regional impacts that must be addressed under the Massachusetts Environmental Policy Act," and added that that company will file a notice with the state to explain the changes at the end of the month.
The statement continued: "The Massachusetts Gaming Commission is aware that we will be filing a notice of project change by Jan. 31, and they have indicated to us that is completely acceptable."
Matt Cameron, a lawyer for the anti-casino group "No Eastie Casino" said that Mohegan Sun "filed what they had" when Suffolk Downs was forced to separate from Caesars. "That's what you get for pulling an all-nighter."
If Revere voters endorse the Mohegan Sun project on the Feb. 25 vote, the project will officially complete with the Wynn Resorts plan to build a resort on the Mystic River waterfront.
For more, check out the Boston Globe
Lui Che-Woo Competing to be Asia's Richest Man
According to the Bloomberg Billionaires Index, Lui Che-Woo is the second-richest person in Asia, trailing only Hong Kong real estate investor Li Ka-Shing. Lui's net worth rose $2.9 billion in 2013 to $23.7 billion, while Li has a $29.5 billion fortune and has been the richest man in the region since April 9, 2012.
Lui is the founder of casino operator Galaxy Entertainment Group Ltd., and owns a 51-percent stake in the company. Galaxy is Asia's third-largest casino operator, owning two million square meters of Macau and six of the 35 casinos on the island.
Born in 1929, Lui's family fled to Hong Kong when the Japanese invaded South China during World War II. After the war, he bought construction equipment left behind following the U.S. invasion of Okinawa, and imported it to Hong Kong, making his first fortune.
Bloomberg measures wealth based upon changes in markets, the economy, and reporting. Each net worth figure is update every business day at 5:30 p.m. EST. Stakes in publically traded companies are valued at the most recent closing price.
Bloomberg has more
Photo courtesy of NJ Monthly
Get all the latest PokerNews updates on your social media outlets. Follow us on Twitter and find us on both Facebook and Google+!