The Massey Brothers: From Street Hustlers to Poker Pros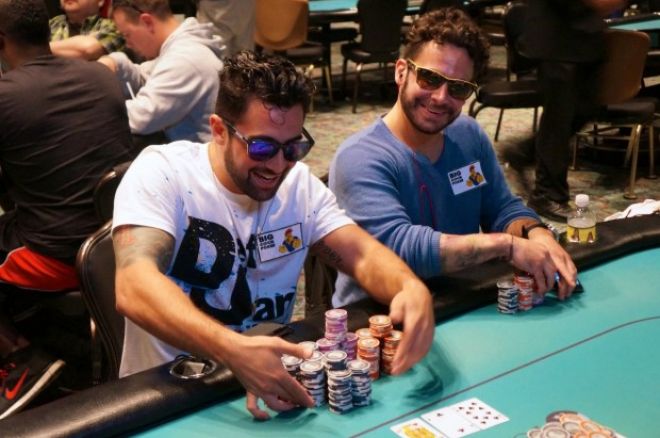 Before poker became the stomping ground of celebrities known more for pimping patches than playing cards, the glamorous game seen on television today was an underworld affair where hustlers plied their trade behind closed doors. And while knowing the odds and reading one's man made poker more than a mere gamble for the best in the business, the long arm of the law and short-tempered suckers packing pistols made that hustle a harrowing experience nonetheless. Most players today consider the rough and tumble days of the Texas road gambler to be nothing but a bygone era in poker history, but for brothers Aaron and Ralph Massey, becoming poker pros was only natural. After all, hustling is in their blood.
Part I: Hustling Up From Humble Beginnings
Proud natives of Chicago, Illinois – the "City of the Big Shoulders" as Carl Sandburg once wrote – the Massey brothers took turns holding one another up above the muck during a tumultuous childhood. After their parents divorced when Ralph was 5-years-old, the eldest brother was left to help his mother raise Aaron, who was just two and a half at the time. From the sprawling landscape of suburbia to the cramped confines of their grandmother's attic, the jarring move showed the Masseys early on that fortunes can turn in a flash. This lesson would prove a serviceable reminder for the brothers as they transitioned from hustling to hold'em.
"We were exposed to a lot throughout our childhood," Aaron told PokerNews during an interview as the brothers prepared for the World Series of Poker. "Not just through our father, but others in our family and the families of our closest friends. Drugs, alcohol, violence… you name it. We battled through it though." The Masseys had their cousins and close friends that could relate to their emotional stasis.
"We'd still visit our father in Florida a few times a year, but by now he had become a drug dealer," Ralph explained. "He thought it was completely appropriate to leave Aaron and I with his dealer friends, people who took us on runs and taught us the business. When you're a kid you think it's cool, but in hindsight, I don't know what kind of man would ever put his children in those positions."
Their father's influence — negative as it was — came furtively in fits and starts. For the most part Ralph and Aaron were left alone with their mother, a woman who did everything she could to keep her kids off of the path their father had paved.
"She worked two jobs, so Aaron and I spent the bulk of our time together, making up games, competing, and being assholes," Ralph said. "We were both angry kids – angry at our situation, angry at our parents, just plain angry… and it showed."
"As kids we were somewhat tortured by the situation, so we acted out," Aaron said, echoing Ralph's sentiments as brothers are known to do. "I was doing things at 10, 12-years-old that I could never fathom doing now as I approach 30. My lowlights included run-ins with the law, getting kicked out of grade school, and then getting kicked out of my first high school a few years later."
Those that attain true success in life often do so after periods of prolonged struggle, and the same is true for the Massey brothers. Along the way though, Ralph was forced to make several sacrifices in order to keep his family afloat, especially after their father finished off his abandonment with a flourish.
"In my senior year of high school, my father lost out on an inheritance he was waiting for," said Ralph. "So he did what every strong, reliable father does… he abandoned us for the second time, and this time for good. No reason, no goodbye, just disappeared and we haven't talked to him since. Around this time, my mother began losing her mind trying to cope, so at eighteen I scrounged up a few bucks, got a job, and moved out on my own."
Although he was now independent, Ralph knew Aaron was still relying on him to provide – both financially and as an interim father of sorts – so he did what came naturally at the time: Hitting the streets in search of easy money.
"Since I had no money for college, I took out loans and attended DePaul University, which is where I met a buddy who had connections," Ralph revealed. "I was tired of working 40 hours a week for peanuts in retail while also going to school, so I took what I had learned from my father's friends, along with my natural entrepreneurial instincts, and began making ends meet as a hustler. Within two years I had dropped out of school and was making money hand over fist, all while Aaron was in college studying finance and learning some game called no-limit Texas hold'em."
Part II: Leaving the Hustle for Hold'em
Just as the road gamblers of old eventually gave up their outlaw lifestyle when poker was pulled into the mainstream, the Massey brothers knew street salesmanship in the name of survival was an unstable way to live. With their eyes wide open looking for a way out, Aaron and Ralph experienced the same epiphany that seemed to motivate young men from America to Australia and everywhere in between: the Moneymaker Boom.
"Everybody in the neighborhood hustled a little in high school and I was no different," Aaron said. "But athletics, wrestling, and my wrestling coach Jerry Ruffino, all helped me grow up and get my act together through that pivotal time in my life. I was taught values that my father never instilled in me, like discipline, sacrifice, integrity, and hard work. Many of the traits that define being a good man, I was taught by my coach… and Ralph obviously."
Aaron was a standout in high school wrestling, eventually going on to attend Northern Illinois University. With no money, he took out student loans to support himself while in school.
"In college, I was making a little money following the same blueprint I had for years, and it kept me afloat," he continued. "In 2003, my sophomore year at NIU, I moved into a townhouse with some friends and my roommate Mike Costello brought a brand new silver briefcase full of poker chips. He taught me how to play and that was it."
With tournament poker fast emerging as a generational touchstone, Aaron began grinding his way up from the lowest stakes possible, dominating local bar and pub games to earn pitchers or pints. All throughout, Aaron studied the game and dedicated his days to improving a skill set that he believed would one day form his family's saving grace.
"We played tourneys for beer and for $5 a man. Small shit," he explained. "There was a bar league on campus and I had a fake I.D., so I would go and take first place almost every time. The winner got a $200 bar tab and I would blow that in 20 minutes. I didn't know what I was doing, but I had balls. That, and I just knew when people were weak and when they were strong. From there, I started playing for money. I would lose the money I would hustle for all week, but I was getting better."
Knowing that any meaningful improvement would come in more serious games, Aaron began branching out into the world of local low-stakes poker, hammering home games on campus and making his first casino excursions to grind cash. With players his age and younger making their fortunes by folding monsters and flopping sets — and their triumphs being trumpeted to the world through TV broadcasts which ran around the clock — Aaron became convinced that playing poker professionally presented opportunities few other jobs could match.
"NIU was only an hour away from home, so I would come back to Chicago once a month, and every summer," he said. "I found out about this game that ran in the city every Wednesday through my friend White Brian, called the 'Wednesday Game.' The game was run by a guy named George, and I didn't realize it then, but the Wednesday Game was going to change my life forever."
Aaron managed to keep his nose to the academic grindstone despite his newfound passion for poker, and he eventually graduated from NIU with a bachelor's degree in finance in 2008, securing what he called a "suit-and-tie job" shortly afterward. As Aaron tells it though, the only finances he really cared about at that point were his current bankroll and the blinds for the next game he bought into.
"I had the job all of 2008 and 2009, but I hated it, and probably only worked an average of 15 to 20 hours a week," he said. "The rest of my time was consumed by live poker and hustling on the side."
With poker profits not yet paying the bills, both Aaron and Ralph were still selling illegal substances to get by, but Aaron knew his destiny waited for him on the felt and not on the street. He continued to cut his teeth in low-limit games around Illinois when his duties to the family business were fulfilled, desperately trying to run up a roll which would allow him and his brother to leave the hustle behind once.
"I was the only person Ralph could trust with his business, so I helped him run the shop," Aaron said. "Any extra money I had leftover was my bankroll. I would spend my days at Horseshoe Hammond and the various underground card clubs around Chicago. If I went bust, I'd play on credit or work something out with another player to get back in the game. I played in cash games from the moment the game started to the moment the game broke. If the game broke, we would go to the Shoe. Many of these marathon sessions were at the Wednesday Game."
Every poker pro remembers the rough-and-tumble home games that shaped their playing style and perspective on poker, and Aaron is no exception. He attributes much of the success he has enjoyed in the poker world to those heated home-game sessions, when young men like himself risked everything they had on a single hand while hoping for the best.
"A $1/2 no-limit hold'em game with a straddle to anything from anywhere," is how Aaron described the Wednesday Game. "A very intimate game where everyone knows everyone. There was no max or min buy-in. Slowrolling was encouraged. Needling was mandatory. Deals could be made at any point during the hand. Steve-O the dealer talked shit during the hands. You had to have the thickest skin to play, as it became a sick game of 'fuck your neighbor' that tested every emotion of a young player on a desperate roll."
While competing in the Wednesday Game showed Aaron that perseverance is perhaps the most essential skill a poker player will ever learn, he was also discovering the game's best players give back as much as they take from the "fish" still struggling upstream. Crediting his first major success on the poker scene to the steady influence provided by George, Aaron described how the generous offer of a staking arrangement formed the foundation for a life-changing score.
"George, who was like a mentor to me, was the first to really see my poker talent," he said. "I had $900 to my name in October of 2009, while George had a $2,100 roll. He matched my $900, which was forty-three percent of his entire roll, to give me a $1,800 bankroll for the upcoming Hammond WSOP Circuit stop. The first event was a $345 event — the biggest event in the history of the WSOP Circuit at the time with over fourteen hundred players. I chopped it and took second place for a $50,000 payout. That was the day I became a professional poker player, and what I now owed George was far more than his half of the winnings."
The Wednesday Game is also where Aaron met another major influence on his poker career, and the third member of the burgeoning "Big Cock Poker" crew which Ralph started along with his younger brother.
"George had this friend who was some famous online poker player, and he had just won a WPT title for $1.3 million," Aaron said. "He would show up to the Wednesday Game from time to time and go absolutely nuts in this $1/2 NLHE game. This cocky little prick would do crazy shit like blind shove $500 every hand, or go out of his way to try and pop us for the last $800 we had to our name, because he knew we really needed it. His name was Kevin Saul."
Furnished with a bolstered bankroll and a third brother in arms, Aaron appeared poised to take the next step in his poker career, but he soon discovered that real life is a far cry from the movies… for the most part anyway.
"I was living with a girlfriend whose biological clock was ticking, and I had been with her the better part of six years," Aaron said. "She wanted security, a family, and a husband with a square job. She told me if I ever became a professional poker player she would leave me. When I chopped that tourney, Ralph called her to tell her the good news, but she was emotionless on the phone because she knew that was it for us. I never worked another day after that chop, and she left me two months later — the day after Christmas to be exact. She wiped me out and took everything from our apartment, including every single fork and spoon. I felt like Mike McDermott from 'Rounders,' but I was finally free to chase the dream. She was engaged by June."
Despite the dichotomy of his long-term girlfriend leaving him and intercepting strokes of good fortune with poker, Aaron felt a growing sense of resiliency. "I just knew that I was about to take off and become the next big thing in poker. Naturally, by the time March of 2010 rolled around, I was fat and broke."
Part III: Two Brothers and One Dream
When we first met Aaron, the scene was one he had envisioned for a few years prior: His first WSOP final table appearance in 2011 at a $1,000 NLHE event. Confident and cocksure, while clad in a red leather getup reminiscent of Eddie Murphy's "Delirious" heyday, Aaron immediately emulated the comic superstar who took the world by storm nearly three decades before, letting the PokerNews Live Reporting team know the score with bravado.
"Destiny is mine," he told us then while preparing for the most important game of poker he had yet played to that point. "I just want to be a poker star so badly!"
Although Aaron's attempt to win his first major title did not go as planned – as he made an early exit from the final table in 8th place for $44,138 – his performance on poker's premier stage only added to his already unbridled ambition. As he tells the story though, that pinnacle would have never been attainable if not for the steady guidance offered by his mentors from the Wednesday Game back home.
"I went to Kevin and George and asked them to start backing me in 2010," Aaron remembered. "They did, and I stared to win us a little money playing in small tournaments and cash games at the Hammond Horseshoe. I played my first full summer in Vegas for them in 2010, and even though it was mostly Venetian $300s and $500s, I was stoked to be back in the game."
"I had a breakeven summer but the experience I gained was worth more than money," he continued. "In the fall of 2010, Kevin introduced me to online poker. I had never really played online, and although I had accounts, I only messed around from time to time. Without any hand histories, or online experience, Kevin got me a backing deal to start playing online, one based on his word that I would win and that's it. He promised to look after me, teach me how to play online, and mentor me along the way. I basically didn't leave the house until Black Friday. When online poker went down in the U.S., I was thrust back into live poker full-time, but now I was armed with a whole new skill set. I traveled the country and grinded everything in sight until I finally broke through in 2012."
The breakthrough Aaron spoke of came at the WinStar World Casino River Poker Series Main Event in August of 2012, where Aaron finally captured the first six-figure score every aspiring poker pro dreams about. Playing for five days and besting a star-studded field which neared 1,400 entries, Aaron took home $651,559 just 20 minutes after telling his heads-up opponent Andy Robinson, "this is life changing money … It's all going to be okay now."
Aaron's words proved to be prophetic, as shortly after winning the WinStar Main Event he crossed another goal off that long held list of personal ambitions. Just two months after his greatest triumph, Aaron managed to add his name to the list of circuit grinders who can claim a WSOP Circuit ring to their credit. And while his victory at the Horseshoe Southern Indiana stop in a $365 NLHE Turbo event netted only a fraction of the funds he won at WinStar, the validation which came with his shiny new ring made the win just as meaningful to Aaron.
"Since my breakthrough at WinStar, I have continued to grind and live relentlessly," he said. "And I'll continue to do so until my next major title."
In addition to pursuing his next big win, Aaron has also engaged in a bit of role reversal, taking his older brother Ralph under his wing and tutoring him in the finer points of tournament poker. Since diving into the game full-time in 2012, Ralph has accumulated over $200,000 in reported live earnings, but according to him Aaron's overtures to leave the hustle behind and take up poker began just after the Moneymaker Boom.
"My introduction to poker came from Aaron back in 2004," Ralph explained. "He came back from college and taught me how to play NLHE and we'd play nonstop with our friends and watch reruns of the 2003 WSOP Main Event on ESPN."
"Soon enough we started going to the Hammond casinos – prior to the Horseshoe opening – to play for real money," he continued. "We played $5/10 Limit and eventually $1/2 NLHE. The game was fun for me and I began using my instincts alone with no fundamentals to win somehow, even though I was clueless at the time. When Aaron became a tournament pro I have to admit I was envious. He now had the freedom to travel the country and play while I was back home grinding in the street to support him and my sister. I had been doing it for close to a decade at that point, and I didn't want to live like that anymore. The stress and anxiety I coped with daily just became too much."
As Ralph began exploring the world tournament poker which had so thoroughly captured his brother's attention, he soon discovered the game had much in common with "the game." Despite the early scores Aaron had managed to snag prior to his WinStar win, Ralph quickly deduced that his brother remained in debt to his backers, a curious circumstance poker pros and kids on the corner both find themselves struggling to overcome from time to time. Doing what had always come naturally to him, Ralph offered his flesh and blood a piece of himself, hoping to lift Aaron up on his own broad shoulders and give him a chance to rise above.
"Even though Aaron was having success he was almost always in makeup and barely had enough money to live, so we made a deal," said Ralph. "I'd continue to carry him, pay his rent, and give him living money until he had his breakthrough score. After that, I'd be able to use the money to pursue legitimate investments and a new life for the both of us. However, that plan changed after Aaron won WinStar. He wanted to teach me how to play NLHE tournaments and make me a live tournament pro instead of his backer. We had enough money to buy us some time so I agreed, and he began coaching and backing me, making me remember and discuss every significant hand I played."
More than a decade after dropping out of college to support Aaron and their family, it was Ralph who turned to his brother for guidance, soaking up poker knowledge like a sponge while struggling to make a major breakthrough of his own. Two weeks after Aaron won his first WSOP Circuit ring, Ralph came close to matching the mark, registering a 28th place finish in the $1,675 Main Event at his hometown stop.
"I made a deep run in the Hammond main," he said. "Then at the 2013 Chicago Poker Classic I took 11th place in the biggest reentry event they've ever had, and eighth in the main. Aaron and Kevin thought I needed to be putting in the heavy volume, so they got me a backing deal where Aaron maintained a percentage of my action. We hit the rode as brothers, leaving the street behind us for the first time in my adult life. After carrying him his whole life my little brother reciprocated by giving me a new life, a life I'm now eternally grateful for."
That new life has included a steady progression on the felt by Ralph, who has evolved from student to skilled player in short order. In October of last year the eldest Massey brother added another WSOP Circuit ring to the family trophy case, taking down top honors and $10,170 in a $365 NLHE Turbo event at the tour's Southern Indiana stop. To make the moment even more meaningful, the defending champion of that event was none other than Aaron himself, the little brother Ralph had raised, and the man who pulled him out of one game and into another.
Aaron made good on another promise as well, three years after boldly telling PokerNews that he would one day become a "poker star." Named as one of seven "Ones to Watch" for Season XII of the WPT, Aaron was tabbed as one of poker's up-and-coming young guns, with the spotlight he has sought since becoming a pro finally focused where he always believed it belonged. And although Aaron's run through Season XII failed to deliver any significant results, he has already moved on to set his sights on another goal: Snagging his first WSOP bracelet this summer.
While every poker player who makes the summer sojourn to Sin City makes bold proclamations, the past few years have proven that Masseys are men of their word, putting their proverbial money where their mouth is, so it wouldn't be a shock to see either brother sporting gold sometime soon.
Lead image courtesy of WSOP Blog.
Get all the latest PokerNews updates on your social media outlets. Follow us on Twitter and find us on both Facebook and Google+!