Successful Circuit Pros Talk WSOP Circuit, Taking Shots and the Next Step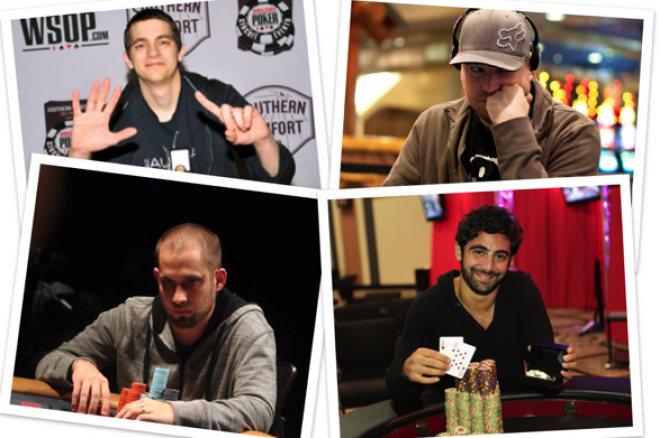 Whenever you travel a circuit, be it the World Series of Poker Circuit, European Poker Tour or World Poker Tour, you're bound to see some regulars — players that travel from stop to stop in search of poker fame and fortune. With it's affordable buy-ins and stops in the United States, the WSOP Circuit has become a popular proving ground for amateurs, aspiring pros and seasoned veterans alike.
Each stop of the WSOP Circuit hosts 12 gold ring events, and some young superstars of the game have consistently dominated in recent years while subsequently closing in on Mark "Pegasus" Smith's record five rings. Ever the gentleman, Smith himself admitted that it was a matter of "when" and not "if" his record would be broken. That feat was finally accomplished in January of this year when Alex Masek, who was then just 27 years old, captured his sixth gold ring in the WSOP Circuit Bicycle Casino Event #9 $365 No-Limit Hold'em, giving him more than $283,000 in WSOP Circuit cashes.
Likewise, players like Kurt Jewell, Kyle Cartwright and Ari Engel have all tied Smith at five rings and sit just one behind the new all-time leader, Masek. With all of this success, why haven't these players and a stable of others graduated to a bigger stage? What's holding them back, and why do they continue to crisscross the country grinding the WSOP Circuit as opposed to traveling overseas to the EPT or testing their skills in bigger buy-in events like those on the WPT?
The Appeal of the WSOP Circuit and the National Championship
For Aaron Massey, who has one gold ring and $190,146 in WSOP Circuit cashes, the answer is simple. "I choose to travel the WSOP Circuit because I have a serious passion for the game of poker," he said. "I love to compete and feel I have an edge in these tournaments. For small buy-ins, the opportunity is there to scoop some decent scores, make a living and make a name for yourself. I'm a leader board guy, always have been. So the National Championship race is also something that I love to be a part of. It gives all of us grinders something to really go after. The race is motivating."
Masek echoed Massey's sentiments. "I'm a fan of the WSOP Circuit for several reasons," said Masek. "I really like how they have 12 tourneys in a two-week period at each stop since it makes travel costs a lot more practical. I like how almost all of the stops get either good or exceptional turnouts, which means you won't be traveling to play a week's worth of small-field tournaments. I think the WSOP Circuit offers great value when it comes to structures, has quality dealers and is run by experienced tournament staff."
"I'm also a very big fan of the National Championship concept," Masek added. "The best part about it is that it increases turnouts at the WSOP Circuit stops, particularly in the second half of the season. It incentivizes people to travel the WSOP Circuit and creates a great buzz leading into the Championship. I was fortunate enough to qualify last year, and it was probably the single most fun tournament I've ever played. You get to play in a 160-person freeroll for a bracelet and over $400K in an ESPN-televised tournament."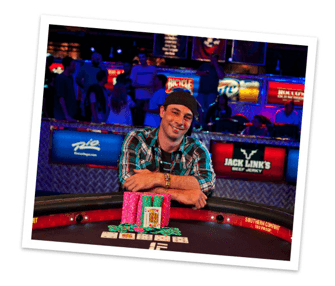 The National Championship is in it's third year and serves as the WSOP Circuit's season-ending championship event, one that awards an official WSOP gold bracelet. The first year saw Arkansas' Sam Barnhart defeat a field of 100 qualifiers to win the $300,000 first-place prize, while last year Ryan Eriquezzo topped a 157-player field of qualifiers and pros to win $416,051. This year, the National Championship has relocated from the Las Vegas desert to Harrah's New Orleans and will take place from May 21-23 following the WSOP Circuit Harrah's New Orleans Main Event taking place May 18-20. The move is a welcomed changed that fits nicely with the WSOP Circuit's new sponsor, Southern Comfort 100 Proof.
For better or worse, the National Championship and its revisions play a big part in the decision-making process of WSOP Circuit regulars. "The freeroll was a significant criteria in our early stop selection," David Clark said on behalf of himself and his long-time girlfriend and three-time ring winner La Sengphet. "We figured the smaller stops with less action would still have the added value of the $10,000 seat to make up for the small fields and prize pools. Changes made to the freeroll and the WSOP Circuit schedule since our first event have reduced our expected return from the tournament though, so we reduced its weight in our decisions. A simplified version of our current criteria looks like this: good action, good rates and good times. If we can get two out of three in a stop that fits our schedule, then we will add it to the list."
Player Recommendations for the WSOP Circuit
The WSOP Circuit is continually refining itself to provide a quality poker experience to its players. While there have been many positive changes in recent years, there are still dozens of voices clamoring for one thing or another.
"I wish the WSOP Circuit would standardize everything around the structures, the rake, the rules, etc," said Tripp Kirk, who has two gold rings and $463,132 in career WSOP Circuit earnings. "For example, at some stops you are allowed to 'post in' behind the button as a late-registration player, others you can't. At some stops, the Main Event plays nine levels on Day 1, at others it plays as many as 17 levels. I think standardizing all the little things would make it easier for everyone."
Clark expressed the same concern. "The most annoying aspect of the WSOP Circuit for me is the constantly changing rules that pop up at the different stops," he said. "There are some backwards house rules that supersede the standard WSOP rules on stops that aren't run by one of the two traveling crews. There are even significant differences in rules used by the two main traveling WSOP Circuit crews. To produce a better product, the WSOP as a brand needs to hold the WSOP Circuit to a more consistent standard. One set of rules to govern all WSOP-branded events would go a long way towards providing that consistency and saving the floor and higher-ups a lot of headaches."
Other recommendations range from adding more bigger buy-in events to lowering the rake. "I guess the one thing I would suggest would be having more bigger buy-in tourneys — $580 and up," Massey said. "Either include these in addition to the schedules they have now, or replace some of the $365s with more $1,125s. If they added a $1,675 prelim event, that would be cool, too."
"Cap the rake," said 2012-13 WSOP Circuit Choctaw Main Event winner Jeff Fielder. "For example, the $580 re-entry event at Choctaw where they raked more than first place won. That's messed up."
Why Not Take a Shot?
So why aren't these superstars of the WSOP Circuit taking their shots at other tours like the WPT and EPT? Some actually do, though success has eluded them thus far, while others have their reasons for sticking to the grind.
"For me, its a matter of timing," Kirk explained. "I'd like to play some larger buy-ins like the WPT and EPT, but with a full-time job outside of poker, time just hasn't allowed it to this point. WPTs, for example, typically last around a week. If I'm able to be away from work for a full week I just prefer to go to a stop such a the WSOP Circuit, where I can play four to five tournaments over that same period, as opposed to one."
For Masek, the all-time ring winner, the travel is detrimental, something he doesn't even do much of on the WSOP Circuit. "For the most part, I don't really like traveling much to play live tournaments," he said. "Most of my success on the Circuit has come in Southern California, and the vast majority of my live results are in Los Angeles casinos. I play the three WPTs that come through California each year (Legends, LAPC and Bay 101), but otherwise I'm not big of traveling to play."
"Traveling full time conflicts with our long-term goals," Clark admits, citing the same reason as Masek. "We are not as interested in the fame and glory of bigger buy-in tours as we are with the stability of a consistent income and a steady home life. Our top goal is to start a family, and our time on the circuit has made it clear that life on the road won't move us towards that goal."
On the other hand, a couple of players have been busy trying to make a name for themselves by splitting their time between the WSOP Circuit and the WPT. AP Phahurat, who has 11 WSOP Circuit cashes for $227,404 and also won the 2012 Chad Brown Challenge for $116,449, has been doing just that as one of the WPT's Ones to Watch for Season XI.
"I've been to every WPT stop this season because I am part of the WPT Ones To Watch," Phahurat explained. "I have pretty good amount of money stuck online on Full Tilt Poker, and I was hoping to use that money to travel the EPT in support of PokerStars in the near future. Traveling outside the country to play is kind of complicated and expensive. I say I'm going to go every year, but I never do."
Massey is another player focused on making a name for himself in poker by adding his name to the WPT's Champions Cup. "I have been traveling the WPT circuit over the last year," Massey clarified. "You just didn't know that because I haven't cashed in any of the WPT flagships. This is a major goal of mine, and I will continue to grind them until I break through. As for the EPT, I am not a top boss in the game yet. When I get to that level and feel I deserve to take that step and play abroad, I will. That is one of my ultimate goals, but I am going to be patient with my career and take it one step at time because I am in this for the long haul."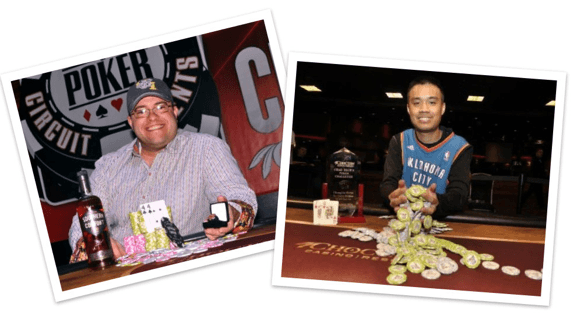 Do They Have What It Takes?
Poker players are a confident breed, with everyone often assuming they're among the best. For players like Massey, Kirk and Masek, they've proven time and again that they're the best on the WSOP Circuit, but do these players have what it takes to succeed on other tours? Here's what they all had to say when asked that seemingly simple question:
Massey: "Yes, I do feel that I will succeed at that next level. I am putting in the work and feel it is only a matter of time. I must be patient, I must earn it. I feel very fortunate to be able to compete at a professional level and in different poker forums all over the country. It's been my dream for some time, and now I'm actually living it. I am not taking this for granted and will make the most of it. If I continue to make the right decisions in life, and in poker, there is no doubt I will breakthrough on the bigger stage."
Kirk: "I like to think so. I believe I have a done a good job of surrounding myself with good players with which I can discuss strategy and continue to improve my game. Anytime you are playing larger buy-ins, the field is going to be tougher, but it's still poker. There are always adjustments to be made in your poker game, and I'm sure there would be many I would need to make in that type of field. I think I'm up to the challenge, though."
Masek: "I certainly think that I have what it takes to succeed on the bigger tours, but I know for me it's going to have to be a gradual process. I've never been backed while playing poker, and though I occasionally sell action to play bigger tournaments, I'm a big believer in grinding your way up. I'm going to keep playing several WPTs each year, especially the ones in California, but will only start playing them regularly when my bankroll allows me to hold all my own action in them."
Phahurat: "I feel like I can play at the highest level, and it's just matter of time before I get my first WPT cash, then I'll win one eventually [laughs]. Besides, I'm also on WPT Ones to Watch list. I definitely have what it takes to succeed in any tour like the WPT, EPT, WSOP Circuit and poker in general."
Clark: "I believe we can be successful in any venture we put our full effort into. Some of the sacrifices we would have had to make to achieve the next level in the current poker economy were unacceptable to us. We chose to stay close to our family and be there for them as much as possible, which meant we couldn't leave the country for months on end to grind online. This has certainly been detrimental to our short-term profitability, but there is more to life than money."
PokerNews will be traveling the WSOP Circuit between now and the National Championship to bring you live updates from the $1,675 Main Events. Be sure to check out our live reporting section for those updates in the coming weeks and months.
Get all the latest PokerNews updates on your social media outlets. Follow us on Twitter and find us both Facebook and Google+!
Executive Editor US, PokerNews Podcast co-host & 2013 WSOP Bracelet Winner.