BlogNews Weekly: How Would You Organize Day 1c of the WSOP Main Event?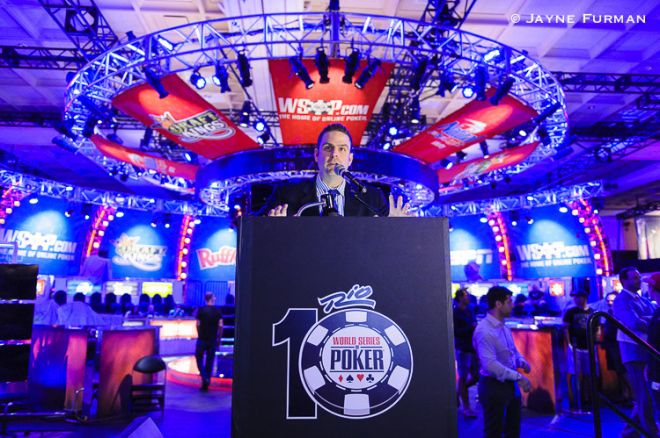 Each week, PokerNews brings you insight into the happenings at some of the major poker sites. Featuring the most popular blog posts, BlogNews Weekly is your one-stop shop for all your poker blog highlights.
In this week's BlogNews report, we bring you the highlights from Full Tilt Poker, PokerStars, and partypoker blogs from last week.
How do you solve a problem like Day 1c?
The last starting flight for Day 1 (Day 1c) of the World Series of Poker (WSOP) Main Event historically receives many more players than the other starting flights put together, causing the event's organizers to have to think on their feet.
Put yourself in WSOP Tournament Director Jack Effel's shoes for a moment. Think about how to make sure everything runs smoothly on the day most likely to cause logistical problems.
Our friends at PokerStars did that and more by looking at some of the issues that have come up both past and present, while also taking a look into the future in their blog titled, "WSOP 2014: How do you solve a problem like 1C...huh?"
The last thing the WSOP wants to do is turn down players, which is something they had to do a few years ago. This may be one of the reasons why the idea of playing 10-handed tables was circulated, but Day 1C did eventually run with nine-players per tables, which is the same as Day 1a and Day 1b.
Read more on the PokerStars blog about trials and tribulations of WSOP Main Event Day 1C.
Download PokerStars through PokerNews.
FTOPS is Back!
Full Tilt Poker has just released the schedule for the Full Tilt Online Poker Series (FTOPS) XXVI in their blog titled, "FTOPS XXVI is Coming!" This edition of the FTOPS will guarantee $4.5 million in prize pools for the 31 events in the series running from Aug. 3-17. The Main Event alone on Aug 17 boasts a guaranteed sizeable prize pool of $1 million.
In addition to the schedule, the blog also discusses satellites for those looked to play on a limited bankroll, as well as the leaderboard for those shooting for the stars.
Head to the Full Tilt Poker blog to read more about the upcoming FTOPS XXVI.
Download Full Tilt Poker through PokerNews.
How Mike Sexton got into Poker
We all have a story of how we got into poker. Here is your chance to hear how Mike Sexton got into the game years ago.
Mike Sexton recently conducted a round-table with fellow partypoker pros Jamie Kerstetter, Scott Baumstein, and Kara Scott along with his WPT broadcasting partner, Vince Van Patten in a series of episodes talking about the fun stories over the years.
The first episode is 3 minutes long and is dedicated to Sexton telling his story about how he got into the game we all know and love.
Check out the partypoker blog to read about the round-table discussion and see the video of Sexton sharing how he got interested in poker.
Download partypoker through PokerNews.
Get all the latest PokerNews updates on your social media outlets. Follow us on Twitter and like us on Facebook now!