Five Thoughts: Ultimate Gaming Exits NJ, WSOP.com Celebrates, and Elias' Big WPT Win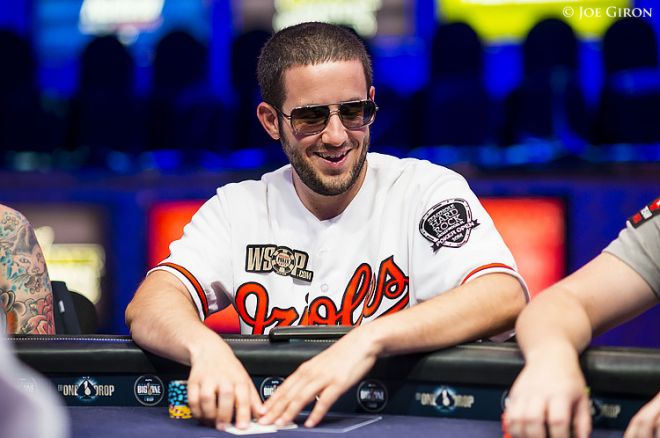 Friday was a polarizing day for online poker in the United States. One operator, Ultimate Gaming, announced that it was withdrawing from New Jersey, while another, Caesars Entertainment, celebrated the one-year anniversary of WSOP.com in Nevada.
While Ultimate Gaming was getting ready to exit Atlantic City, New Jersey, the fourth-largest World Poker Tour Main Event was about to conclude across town at Borgata Hotel Casino & Spa. Borgata continues to see sustained success while the rest of Atlantic City continues to disintegrate around it.
We'll also touch upon the upcoming World Series of Poker Asia-Pacific, reported progress in California for online legislation, and real money deposits at Nevada convenience stores in this week's Five Thoughts.
1. Ultimate Gaming Exits, WSOP.com Celebrates
Ultimate Gaming terminated its contact with Trump Taj Mahal Associates LLC on Friday, 10 days after the casino filed for bankruptcy, due to "multiple breaches by Trump Taj Mahal Associates." The online poker room and casino ceased operations on Sunday, Sept. 21 at 11:59 p.m. ET.
Players will have access to their accounts online until Oct. 5, and will receive refunds for all U-Dollars and tournament tickets.
The New Jersey Department of Gaming Enforcement requires online gaming providers to partner with land-based casinos, so Ultimate Poker was left stranding once Trump Taj Mahal announced it was closing its doors in November. Trump Taj Mahal is the fifth Atlantic City casino to announce its closure in 2014.
While Ultimate Gaming was getting ready to exit the New Jersey Turnpike one last time on Friday, WSOP.com celebrated its one-year anniversary in Nevada. Upon launching in 2013, WSOP.com quickly took the lead as the most popular site in the state, edging out Ultimate Poker. In the last year, WSOP.com has registered more than 100,000 accounts, has dealt more than 15 million hands of real money poker, and has hosted more than 14,500 tournaments in Nevada.
The World Series of Poker announced on Friday the signing of 2012 WSOP Main Event champion Greg Merson as the site's first brand ambassador. Merson earned $8.5 million and Player of the Year honors for taking down the biggest tournament in poker, and has raked in nearly $1.1 million in live tournament earnings since.
"WSOP is the most exclusive brand in all of poker, and I am honored to be able to help them promote online poker back to its full potential," Merson told PokerNews after the news broke.
During the summer, PokerNews Editor-in-Chief Donnie Peters read the tea leaves and predicted this outcome:
.@GregMerson won @WSOP Main Event, left @IveyPoker, GregMerson on @WSOPcom, and wearing a WSOP.com patch for #OneDrop. #Hint?

— Donnie Peters (@Donnie_Peters)
Merson even favorited the tweet at the time.
The WSOP's decision to bring on a brand ambassador makes sense, and there are several other qualified players (cough, Phil Hellmuth, cough) who could also promote the brand, but it's a bit contradictory. When WSOP.com launched, Caesars officials explicitly stated that they weren't going to bring on any "pros" in an effort to avoid conflict.
In the end, they got it right. Brand ambassadors, when chosen correctly, can have a very positive impact, and Merson is a very driven and extremely bright individual who will represent the WSOP well.
On the whole, I don't believe this was a positive weekend for online poker in America. State-run regulatory bodies continue to suppress the growth of online operators, and, although they were fourth in traffic in New Jersey, Ultimate Gaming was forced to cease operations because their partners failed, not because they chose to. For the past few years many industry members and players have looked to PokerStars as a savior that will come galloping into the United States and save us all, but they too will be suffocated by bureaucracy no matter where they go.
2. Darren Elias Wins Fourth-Largest WPT Main Event
As a fifth Atlantic City casino prepared to shut its doors, Borgata continued to crush. The Season XIII WPT Borgata Poker Open attracted a total of 1,226 entries, making in the fourth-largest Main Event in WPT history. Eight of the 10 largest WPT Main Events have now taken place at Borgata.
Darren Elias took down the massive event, besting Kane Kalas heads up to earn $843,744. For his efforts, Kalas, the son of the late great Philadelphia Phillies and Eagles announcer Harry Kalas, pocketed $500,364.
Elias, 27, is the "original End Boss" according to the aforementioned Greg Merson. Mutual friend Tony Gregg is also referred to as "End Boss," and I'm not sure how this result affects the End Boss Power Rankings. Right now I've got:
Mike Tyson in Mike Tyson's Punch Out!!
Darren Elias
Tony Gregg
Sorry boys, but you can't top the toughest End Boss of them all.
Here are the results from the entire WPT Borgata Poker Open final table:
| Place | Player | Prize |
| --- | --- | --- |
| 1 | Darren Elias | $843,744 |
| 2 | Kane Kalas | $500,364 |
| 3 | Jose Serratos | $308,067 |
| 4 | Aaron Overton | $259,012 |
| 5 | Blake Bohn | $213,999 |
| 6 | Ray Qartomy | $174,637 |
Aaron Overton and Blake Bohn are two names that really stick out to me. Bohn seems to have quadruple the average at some point in every Mid-States Poker Tour event, accumulating chips left and right with a very aggressive style. His aggression and confidence doesn't take a hit when he plays bigger buy-in events against more qualified players - he plopped down six figures in 2013 to play in the $111,111 ONE DROP High Roller and finished in 15th for $208,968. Just before making the WPT Borgata Poker Open final table, Bohn finished seventh in the Seminole Hard Rock Poker Open $10 Million Guarantee for $213,999.
Overton also stands out to me because he is a classic East Coast grinder. I've covered him several times in Atlantic City at WSOP Circuit events, and it's always fun to see someone who has been grinding for a very long time break out. Prior to this final table, Overton's biggest score came in 2011 when he finished seventh at NAPT Mohegan Sun for $50,000.
As we all know, the day after that NAPT final table was Black Friday.
Two days after Elias' victory, Borgata played host to the inaugural WPT Monster Invitational. This made-for-TV, winner-take-all event featured six poker icons with over $60 million in combined live tournament earnings: Vanessa Selbst, Phil Laak, Antonio Esfandiari, David Williams, Tony Dunst, and Scotty Nguyen.
In the end, Williams bested Laak in a wild heads-up match to win a Hublot King Power Unico watch; seats into the WPT World Championship, WPT Five Diamond World Poker Classic, and WPT L.A. Poker Classic; a pair of Monster 24K headphones; and $20,000 in cash.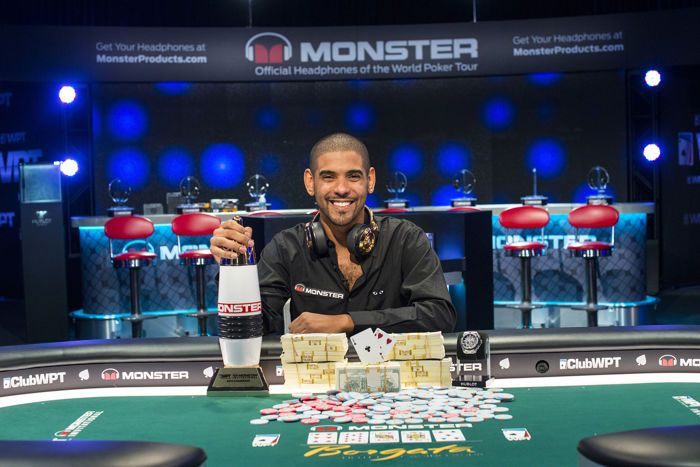 Williams joined the PokerNews Podcast this week to discuss the victory, the table, and the entertainment value of invitational events.
These made-for-TV events are gold, because they showcase superior talent and the players are encouraged to entertain the audience. Donnie and I have both discussed the lack of fun in poker, and our worries directly correlate with the loss of shows like Poker After Dark, High Stakes Poker, and The PokerStars Big Game. These shows, while they highlighted great players, were all about entertainment, and some of the most popular poker videos on YouTube are from invitational events, not your average live event.
Hopefully the World Poker Tour can continue to host these entertaining invitational tournaments, and great sponsors like Monster Products can support the cause. In order to be truly successful, poker needs to adopt a PGA or NASCAR-like model, and it starts with sponsorship exposure.
3. WSOP APAC a Week Away
The WSOP Asia-Pacific kicks off in just over a week's time at Crown Melbourne, and PokerNews will be on hand to provide live updates from all 10 of the bracelet events.
The action begins with the AU$1,100 No-Limit Hold'em Accumulator on Oct. 2, and is highlighted by the AU$10,000 Main Event in Oct. 12. There is also the AU$1,650 Dealer's Choice 8-Game, AU$5,000 Pot-Limit Omaha, and AU$25,000 High Roller.
The main storyline heading into WSOP APAC is the 2014 WSOP Player of the Year race. Both Brandon Shack-Harris, who leads with 752 points, and George Danzer, who trails slightly with 745.2 points, will be at Crown to contend for the title. There's also Daniel Negreanu, who sits at No. 4 with 519.08 points. Negreanu would need to rattle off some big results, but he's no stranger to WSOP success outside of Las Vegas, winning a bracelet at both WSOP APAC and WSOP Europe en route to winning the 2013 WSOP Player of the Year award.
Whoever wins the WSOP Main Event in November will earn 500 points, which is currently good for fifth place in the Player of the Year standings, but there will be several members of the November Nine MIA in Australia. PokerNews has independently confirmed that Jorryt van Hoof, Felix Stephensen, Martin Jacobson, Billy Pappas, and Daniel Sindelar do not plan to attend the WSOP APAC. As of right now, Brazilian Bruno Politano is the only confirmed November Niner.
Van Hoof, Jacobson, and Stephensen will likely play in the EPT London poker festival because it is much closer to their respective homes. As for the American players, I'm not sure why they would choose to skip the event. On the whole, it's unfortunate that these players will not be in Australia to compete for Player of the Year points and a potential bracelet before the Main Event final table. It would've been a good opportunity for some of these players to get some exposure, and perhaps help them build a bit of a brand before November.
Crown has a special place in my heart, and I know that Director of Poker Jim Preston, Corporate Affairs queen Natasha Stipanov, and the rest of the staff on property will deliver another great series.
4. California Tribes and Horse Tracks Make Progress
Our own Matthew Kredell joined the PokerNews Podcast last week to discuss the legislative landscape in the United States, and he hinted at some progress in California. He later confirmed these statements in a subsequent article, highlighting some discussions between Indian tribes and local horse tracks.
Kredell spoke with Robyn Black, a lobbyist for the California Thoroughbred Breeders Association, who forecasted some positive news for the upcoming New Year.
"We've been communicating with tribes and I think at some point in 2015 we're actually going to see one of these bills move, and I expect horse racing to be a part of that," Black said. "It's probably going to happen in 2015, or it isn't going to happen."
The latter part of that quote is a bit ominous, but sometimes ultimatums spark urgency and progress.
Initially, the California tribes were staunchly against racetracks offering online poker because they believed it is an expansion of gambling that violates tribal exclusivity. However, internet gaming is a new entity, and horse tracks in California have offered online horse betting for over a decade.
Black tells Kredell that the tracks were not involved in the legislation process at the start of 2014 because they saw that the tribes themselves were divided. Once the tribes came to a consensus, then the tracks entered the conversation.
From a layman's perspective, it seems as if both the tracks and the tribes understand that online poker has great potential in California, and the only way to maximize that is to work together. Of course, one side might not be keen on sharing a large portion of the pie with the other, but rather than in-fighting and stunting progress altogether, they understand that it will take compromise in order to induce change.
From a regulation perspective, including tracks could have a positive impact because they have been offering some sort of "online gaming" for the last decade. They understand what it takes to stop underage gambling and comply with all of the necessary regulations from the state.
"We've been taking wagers on the Internet for a decade and have a solid record in keeping out underage children, protecting consumer info and handling problem gamblers," Black told Kredell. "Anyone with those concerns, just look at what horse racing has done in a decade of Internet wagering."
5. Grinding at 7-Eleven
While Ultimate Poker was the first regulated online poker site to launch in Nevada, SouthPointPoker.com, now Real Gaming, was the first company to receive an online poker license in Nevada. Now, you can deposit on their site from any 7-Eleven or Family Dollar store in the state using the PayNearMe network.
In order to deposit, players must print or download a payment barcode from RealGaming.com. This barcode can then be scanned at any 7-Eleven or Family Dollar store, and the funds will be immediately credited to their account.
This is pretty brilliant, and an easy way for players to get funds online if they don't live near Las Vegas or their banks are still hesitant to trust an online gaming site. Payment processing remains one of the biggest hurdles for online gaming, and third-party providers like PayNearMe, Skrill, and Neteller will play massive roles going forward.
The only unfortunate part of this news is that withdrawals are not included. Now, while I don't expect players to be able to go to 7-Eleven and take a few hundred bucks from the cash register, there should be some kind of reverse method where they can scan a separate bar code and get some small amount of money back. Without a proper withdrawal process this is somewhat useless.
Still, this is a step in the right direction. We need our online poker operators to be innovative help their customers however they can. Albeit simple, this will help Real Gaming drive traffic to their site and make players in Reno, Carson City, and Spring Creek very happy.
Get all the latest PokerNews updates on your social media outlets. Follow us on Twitter and find us on both Facebook and Google+!