Five Thoughts: 2014 Poker Hall of Fame Finalists, Another Million for Colman, and More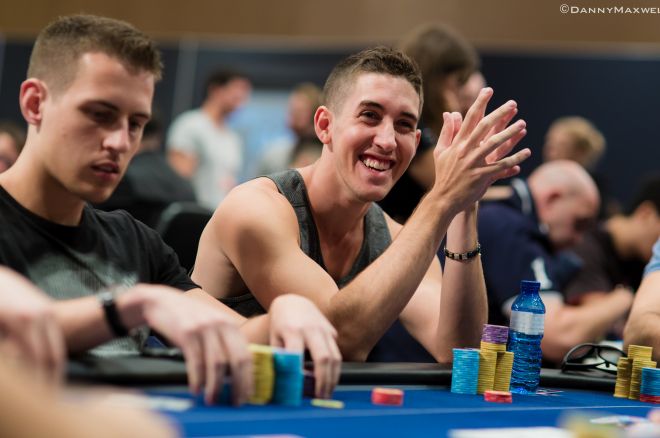 The World Series of Poker announced their 10 hand-picked finalists for the 2014 Poker Hall of Fame on Tuesday. Leading the group is first-timer and likely shoe-in Daniel Negreanu, who turned 40 this year, and he is accompanied by four other first-time nominees: Bruno Fitoussi, Bob Hooks, Ted Forrest, and Jack McClelland.
The five returning nominees are Jennifer Harman, Humberto Brenes, Mike Matusow, Chris Bjorin, and Huck Seed.
The 21 living Hall of Fame members and the designated 20-member media panel will now vote for a maximum of two inductees before the Oct. 10 deadline. Negreanu and whoever else conjures up enough votes will be inducted as part of the WSOP Main Event final table festivities.
Among the notable omissions from this year's finalists are Carlos Mortensen and David Chiu (both of whom were on the ballot last year), John Juanda, and Isai Scheinberg. I would also add John Duthie, Matt Savage, Norman Chad, and Lon McEachern to that list. We'll discuss this group shortly.
I don't quite understand the voting process. The WSOP asks the public to nominate players and industry members, which I assume results in dozens if not hundreds of unique entries. This effectively narrows the field down to, well, it doesn't narrow it down to anything. It basically stays the same. We're a tightknit community, and with the new 40-year-old age limit there are only so many individuals that are now actually worthy of enshrinement in the Hall of Fame. The public nominations don't unearth some hidden poker player that we all overlooked.
The Nominating Committee then selects a list of 10 finalists from the hundreds of nominations. So in essence, they simply choose the 10 people in poker they want to be finalists because the public nominations likely represent all of the eligible individuals in the pool. Under the current model the first step of the process is meaningless, but public nominations are important and should stay. The Nominating Committee has to go.
Poker needs to take a page out of the Pro Football Hall of Fame's selection process. Like the Poker Hall of Fame, any fan can nominate a player, coach, or contributor that meets the necessary qualifications to the Pro Football Hall of Fame by simply mailing a letter. From there, the Hall of Fame Selection Committee creates a list of Preliminary Nominees and whittles them down to the handful of individuals that are enshrined in Canton, Ohio. There is no middleman to select the nominees eligible.
The Hall of Fame voters are polled multiple times throughout the year to whittle the list of eligible individuals down to the finalists and eventually the inductees, but with technology this process is now as simple as clicking a mouse. If we are entrusting the living members of the Poker Hall of Fame and the 20-member media panel to select from these 10 finalists, we can also trust them to come up with a preliminary list and generate finalists on their own.
If the process doesn't change, then I think it's only fair to rename the group as the World Series of Poker Hall of Fame. That's not a knock on the WSOP, which has played a key role in the growth of poker throughout the world; it just is what it is.
1. Examining the List
Before we examine the list of finalists and some of the snubs, here's a reminder of the criteria:
A player must have played poker against acknowledged top competition
Be a minimum of 40 years old at time of nomination
Played for high stakes
Played consistently well, gaining the respect of peers
Stood the test of time
For non-players, contributed to the overall growth and success of the game of poker, with indelible positive and lasting results
Fitoussi, Hooks, McClelland, Harman, Brenes, and Bjorin are all eligible because they were influential both on and off of the felt. Hooks is one of the original Texas road gamblers, McClelland worked in gaming for five decades, Harman is one of the most influential woman in poker, and Fitoussi, Brenes, and Bjorin have helped grow the game in France, Central America, and the Nordics, respectively.
Both Bjorin and Brenes have also performed remarkably well this decade, cashing in a combined 44 bracelet events since 2010.
Here are the four pure players and their results:
| Player | WSOP Bracelets | WPT Titles | EPT Titles | Career Earnings |
| --- | --- | --- | --- | --- |
| Daniel Negreanu | 6 | 2 | 0 | $29,796,380 |
| Mike Matusow | 4 | 0 | 0 | $9,015,656 |
| Huck Seed | 4 | 0 | 0 | $7,612,989 |
| Ted Forrest | 6 | 1 | 0 | $6,235,104 |
Let's compare that to Mortensen, Juanda, and Chiu:
| Player | WSOP Bracelets | WPT Titles | EPT Titles | Career Earnings |
| --- | --- | --- | --- | --- |
| John Juanda | 5 | 0 | 0 | $16,086,640 |
| Carlos Mortensen | 2 | 3* | 0 | $11,482,995 |
| David Chiu | 5 | 1 | 0 | $7,766,366 |
*Tied for the most ever with Gus Hansen
Who are the four most accomplished players between these seven? Clearly Negreanu is number one, then the next two strongest candidates are Juanda and Mortensen. Both of these players have stood the test of time and are two of the 27 individuals with eight-figure résumés. The fourth spot is a coin flip between Forrest and Chiu. Forrest has one more bracelet than Chiu, but Chiu has earned an additional $1.5 million in live tournaments.
For Seed and Matusow, four bracelets just isn't enough to get them in the conversation. Daniel Alaei already has four bracelets, and there are a plethora of three-time winners that will have hundreds of chances to net a fourth over the next few years like Dutch Boyd, Davidi Kitai, Jeff Madsen, Matt Matros, Dominik Nitsche, Michael Mizrachi, Brock Parker, and Vanessa Selbst, to name a few. Like mainstream professional sports, we need to raise the bar a little bit as it becomes easier to rack up accolades and awards.
Scheinberg's omission isn't surprising, but Ty Stewart offered the following interesting comment in response to PokerNews Editor-in-Chief Donnie Peters asking what it will take for Scheinberg to receive a nomination:
I think gets in one day + have tons of respect for what built @Donnie_Peters But if can't enter country to accept, likely isn't the time

— Ty Stewart (@wsopSUITd)
2. Colman Wins Another Million Dollars
Yawn.
If the Poker Hall of Fame didn't add an age limit after Tom Dwan was nominated in 2009 at the tender age of 23, perhaps Daniel Colman would be the 2015 controversial young candidate. After all, he is on pace to win $31.6 million this year.
(By the way, would Dwan be a finalist today if he were eligible? No, right? What were we thinking in 2009?)
Obviously that extrapolation is misleading because it includes his $15 million win in the $1 Million BIG ONE for ONE DROP this summer, but he has binked two seven-figure scores since the WSOP, including his win in the 2014 Seminole Hard Rock Poker Open $10 Million Guarantee.
Colman outlasted a field of 1,499 entries and defeated Mike Leah heads up to earn the first-place prize of $1,446,710. Leah took home just over $1 million, and several familiar faces joined these two at the official final table:
| Finish | Player | Prize |
| --- | --- | --- |
| 1 | Dan Colman | $1,446,710 |
| 2 | Mike Leah | $1,047,638 |
| 3 | Shawn Cunix | $748,313 |
| 4 | John Dolan | $548,763 |
| 5 | Joe Kuether | $424,044 |
| 6 | Martin Hanowski | $324,269 |
Colman now has $21,058,153 in live tournament earnings in 2014 alone, including four seven-figure scores. If you take away his ONE DROP score, his 2014 total is still an impressive $5,751,485 — good enough for 89th on the all-time money list, right above Shannon Shorr.
This return to the winner's circle keeps Colman in the spotlight for seemingly all of the reasons he didn't want to be showcased during ONE DROP, but it also led to two excellent pieces by Andrew Seidman and Sam Grafton.
Seidman wrote a piece on his personal website titled "Poker's Emotional Conundrum." Here's an excerpt:
"I imagine that this is a problem for a lot of good players. If you spend your whole life training to be dispassionate and emotional disengaged (i.e. invulnerable), how can you ever truly connect with someone?

"This a big challenge that I also struggle with. It's great for poker, but it can make life very confusing and challenging. Sometimes I think that the incredible self-control required by a poker career is both its biggest blessing and curse. I can win or lose a lot of money and not care. Tangible things can come and go (dollars, cars, fancy things, even people), and I've made a living off reducing my emotional response time to under three hours. Is that actually something to be proud of?

"You tell me."
Grafton tackled the issue of poker and the media, penning "Poker and Silence" for Run it Once. Again, here's a snippet:
"I personally hope that our top pros do not follow Colman's lead and retreat from the spotlight. The game on the felt is a test of individual prowess, but there is almost no poker player who rises to the top as an autodidact. The spread and evolution of the game's strategies is a remarkable tale that will likely never be told. Poker strategy has developed and advanced with such remarkable rapidity because of the strong friendships and alliances formed between players. Poker knowledge develops and mutates via huddled confabs at live events, over Skype and WhatsApp, friend helping friend; innovation and experimentation creating a tapestry of human connection that has crossed cultures and classes. It is this remarkable web of learning and self-improvement that binds players together as a fraternity."
Both Seidman and Grafton are brilliant individuals, and I suggest that you read both posts in their entirety.
Seidman's examination of the emotional disengagement in poker makes me think about the old "live-pro-versus-online-pro" argument. We praise the best players in the world for their successes, many of which come from their ability to be dispassionate and not succumb to bad beats, and yet we turn around and expect them to entertain us. It's a difficult juxtaposition that only a few individuals can pull of successfully.
Grafton focuses on a myriad of topics, ultimately painting a very vivid picture of the contemporary professional poker player. While he and his mates aren't riding around Texas with revolvers at their waist, fearing for their lives every time they step into a card room, there are still dangers and major annoyances that professionals have to deal with. There are distrusting banks and landlords, untrustworthy corporations like the original Full Tilt Poker and Ultimate Bet, and hazards like home invasions (Jonathan Duhamel and Theo Jorgensen) and hotel break-ins (Barcelona).
Under these circumstances it's fair for a poker player to want to avoid the spotlight, but Grafton still urges poker's elite to do what they can to help preserve and grow the game we all love.
Colman's continued success doesn't have to spawn a WWE-style "face-versus-heel" discussion, rather it can lead to fruitful conversations such as these. Maybe even the man himself will chime in once again — he did flash a wry smile with the trophy in Florida.
3. Massey Nearly Wins Another
A few weeks after winning the Heartland Poker Tour Ameristar East Chicago Main Event in his backyard, earning $177,502, Aaron Massey headed east to Borgata Hotel Casino & Spa for the first event of the Borgata Poker Open. Event #1, a $560 buy-in tournament with a $2 million guarantee, attracted a total of 4,158 entries, clearing the guarantee, and Massey found himself at yet another final table.
Massey outlasted seven more opponents before reaching heads-up play against Jonathan Evans, where he eventually fell just short of the prize. Massey earned $219,208 for second, bringing his 2014 live tournament earnings to over $700,000, while Evans walked away with $337,801.
| Place | Player | Prize |
| --- | --- | --- |
| 1 | Jonathan "Nolte" Evans | $337,801 |
| 2 | Aaron Massey | $219,208 |
| 3 | Gaurav Raina | $144,794 |
| 4 | Patti Haggerty | $118,981 |
| 5 | Pablo Alvarez | $95,790 |
| 6 | Alex Smith | $73,607 |
| 7 | Kevin Grabel | $52,432 |
| 8 | Kane Kalas | $37,792 |
| 9 | Joseph Felice | $24,200 |
| 10 | Andrew Klein | $15,629 |
Aaron and his older brother Ralph are quite the characters, and this is quickly becoming Aaron's most successful year of his life on the felt. The year 2014 started off a bit rocky for him, and he only cashed five times prior to the WSOP, but he nearly won a bracelet in June, finishing third in Event #55 for $255,209, and has been on a roll since.
To read more about the life of the Massey brothers, check out this piece by PokerNews contributor Jonathan Zaun: "The Massey Brothers: From Street Hustlers to Poker Pros".
The action at Borgata continues this weekend with the televised WPT Borgata Poker Open, starting on Sunday Sept. 14. The World Poker Tour also hosts three more events at the Atlantic City powerhouse during Season XIII: the WPT Monster Invitational (Sept. 21, 2014), WPT Borgata Winter Poker Open (Jan. 25, 2015), and the season-ending WPT World Championship (April 24, 2015).
4. Underground Poker
Antonio Esfandiari and Phil Laak are returning to a television set near you.
On Wednesday, Sept. 10 at 10 p.m., Discovery Channel will air the pilot episode of Underground Poker, a new show staring Esfandiari and Laak. The premise of the show is for the Magician and the Unabomber to travel to different cities and find private, high-stakes, underground poker games.
Think Rounders meets Anthony Bourdain: No Reservations.
"None of the poker is staged," Esfandiari tells PokerNews. "We're finding real games and we're trying to get in them. There's a little bit of banter between me and Phil, because you know that's kind of our characters. At the same time we're trying to get into these games, so we're meeting interesting people along the way."
I think I'm in love.
While sometimes over-the-top, Esfandiari and Laak are always incredibly entertaining. Even when there are no cameras around them during a tournament or in a social setting, they always act ridiculously, leaving their friends and any bystanders roaring with laughter. As diehard longtime poker fans know, this isn't their first foray on television either. The two stared in 24 episodes of I Bet You on MOJO HD from 2007-2008, making prop bets on various activities in cities like New York, Las Vegas, and Miami.
A third season of I Bet You, a show I very much enjoyed, was filmed, but MOJO went down in December of 2008 and the episodes were never released.
"The end goal is the show does well, people like it, and we can do more episodes," said Esfandiari. "So right now it's just the one show that we shot, and when they air it we'll see how it goes."
My fingers are crossed that the pilot will be welcomed with open arms from not just the poker community, but also the masses. The premise of Underground Poker is original and edgy, and both Esfandiari and Laak are sure to provide a ton of laughs along the way.
5. Who Dat?
Led by the rocket arm of Drew Brees, the spread attack of Sean Payton, and the overly aggressive defense of Rob Ryan, the New Orleans Saints are among the favorites to hoist the Lombardi Trophy at the conclusion of the 2014-2015 NFL season.
Then team now plays in the Mercedes Benz Superdome, but as Nolan Dalla wrote last week, this NFC South powerhouse was nearly approached by an online poker room to purchase them after the horrific events of Hurricane Katrina.
Yes, in 2006, Saints owner Tom Benson nearly sold the team. The value was estimated at around $600 million, according to Dalla, and if New Orleans was still in disarray the new Saints owners could move the franchise to a bevy of interested destinations like Los Angeles.
In turn, Dalla cooked up a plan where PokerStars' then parent company Rational Enterprises would offer to buy the franchise for the estimated sum of $600 million. Even if Benson declined the offer, or he accepted and the NFL front offices hit PokerStars with the Heisman, the story would be the A block on SportsCenter and on the front pages of newspapers across America. The amount of publicity would be staggering.
In the end, Isai Scheinberg didn't pull the trigger on the plan, but he entertained it. Three years later, the Saints won the Super Bowl.
I don't know if this offer would've been good or bad for PokerStars and the industry as a whole in retrospect. Sure, we would've crawled into the national conversation for a few days, but what would've been the end result? Would the national media see PokerStars as desperate for headlines? Would the feds have closed in on a Black Friday-like online raid a few years early?
Perhaps poker would've edged towards a bit more legitimacy, but I think the negative effects would've outweighed the potential positives. Scheinberg, unsurprisingly, made what looks like the right call.
Get all the latest PokerNews updates on your social media outlets. Follow us on Twitter and find us on both Facebook and Google+!