Inside Gaming: Marking One Year of Real Money Online Poker at WSOP.com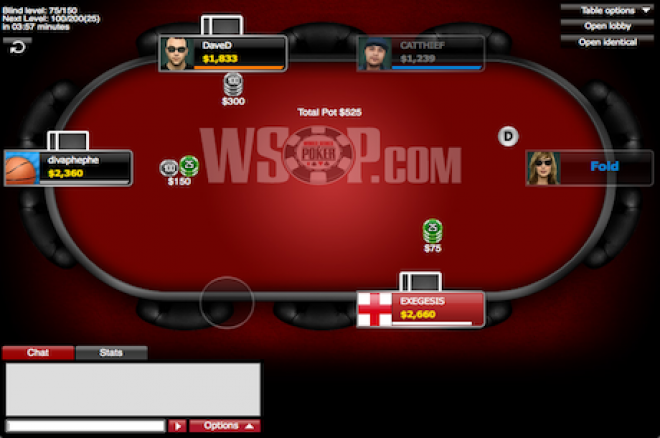 In this edition of Inside Gaming we focus on a history-making week as far as U.S. online poker is concerned with the one-year anniversary of WSOP.com, plus news from Party Borgata's ongoing online series. Meanwhile, as anticipated, the Trump Plaza officially closed its doors this week — the fourth Atlantic City casino to do so this year.
WSOP.com Marks One-Year Anniversary
It was exactly one year ago today — September 19, 2013 (at 9:19 a.m.) — that Caesars Interactive Entertainment at last launched its regulated, Nevada-only online poker site on WSOP.com. "The Wait Is Over," proclaimed the press release announcing the site's going live, an allusion to the lengthy legislative and regulatory processes preceding the site's official opening for real money play.
Following Ultimate Poker's entry into the newly-regulated online poker market in late April 2013, WSOP.com swiftly overtook the lead in real money online poker traffic in Nevada by early November, albeit among a modest-sized player base. A third site, Real Gaming, operated by South Point Casino, launched in Nevada in February.
A year after its debut, WSOP.com continues to maintain a leading role in the nascent Nevada online poker market as Howard Stutz reports this week for Casino City Times in "WSOP.com claims market leadership in Nevada."
Stutz notes that in one year of operation WSOP.com has registered more than 100,000 accounts, has dealt more than 15 million hands of real money poker, and has staged more than 14,500 tournaments in Nevada. The site's greatest traffic during its first year of operation predictably came during this summer's World Series of Poker, including WSOP.com's biggest ever tournament in mid-June attracting 1,235 players in which 25 seats to this year's WSOP Main Event were won.
The anniversary is being marked by numerous promotions from WSOP.com, including reload bonuses, discounted tournament ticket sales, an anniversary tournament series starting today, an increase guarantee for this week's Super Sunday tournament, and double Action Player Points (APPs) over the next week. Read more about the various anniversary-related promotions here.
Also marking the anniversary is this week's signing of 2012 World Series of Poker Main Event champion Greg Merson as the site's first "brand ambassador." Speaking of Merson's signing this week, WSOP.com Head of Online Poker Bill Rini referenced the "solid foundation" established by the site encouraging WSOP.com to remain "bullish on the long-term prospects of the business."
Read more about WSOP.com's first year and what's to come over at the Casino City Times.
Garden State Super Series Setback for Party Borgata
WSOP.com's first year of operation was also marked by the launch of its New Jersey site in late November 2013, and currently the WSOP.com New Jersey site finds itself competing closely with the Party Borgata site owned by bwin.party. While the latter site has enjoyed growth and good reviews during its first nine months of operation, the site endured a setback on Sunday during the staging of its Garden State Super Series.
A 20-event, 60-tourney series beginning September 7 and scheduled over two weeks, the GSSS had run smoothly during the first seven days while attracting decent-sized fields. On Sunday, September 14 six more GSSS events were scheduled, including the series' three "Main Events" with the $200 buy-in "mid"-version of the GSSS ME sporting a $200,000 guaranteed prize pool and a $50,000 guarantee for the winner.
Unfortunately on Sunday evening the site experienced significant technical difficulties, later described by partypoker's Group Director of Poker Jeffrey Haas as a "major system failure... that affected all running tournaments." As Haas explained in his letter of apology, the "bug" affected only tournaments (and not cash games), and that after much work to correct the problem "the technical teams are confident that we should not experience a recurrence of this very unfortunate event in the future."
The cancellation of last Sunday's events caused great consternation among players, not least because of anticipated overlays such as in the case of the "mid" Main Event. Party Borgata very quickly reimbursed and credited players' accounts according to its cancellation policy.
"Eliminated players at the time of cancellation were not refunded their buy-in or entry fee," explained Haas, but "players still in the tournament have been refunded the amount that would have been awarded to the next player to be eliminated from the tournament. 50% of the remaining prize pool was distributed equally between the remaining players, and 50% was distributed on a percentage basis according to each player's chip count. The remaining players were also refunded their entry fee."
Party Borgata has additionally added a total of $50,000 to the prize pools of the six events that will culminate the series this Sunday. The swiftness of the response appeared to satisfy many of those affected, although disappointment over a technical failure undermining what had been anticipated to be a historic day in New Jersey online poker has inspired reservation going forward regarding online poker's U.S. prospects, at least in the near future.
For more about the GSSS's tumultuous day and its aftermath, check out the Online Poker Report.
The End for Trump Plaza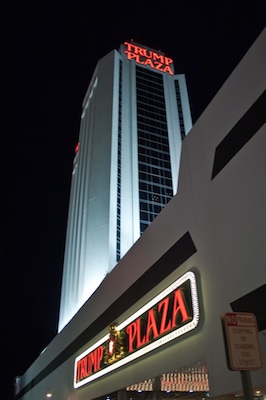 Meanwhile in New Jersey, as noted in last week's Inside Gaming and as had been anticipated, the Trump Plaza indeed closed its doors on Tuesday, marking the fourth Atlantic City casino to shut down this calendar year. The closure ended just over 30 years of operation for the casino from its location at the center of the city's famed Boardwalk.
The shuttering of the Trump Plaza follows the closings of the Atlantic Club Casino in January, the Showboat Casino Hotel in late August, and the Revel Atlantic City earlier this month. While the Revel had only been in operation a little over two years, the Atlantic Club (which opened in 1980) and Showboat (which opened in 1987) had like the Trump Plaza enjoyed much longer histories.
The Trump Taj Mahal is also expected to close in November, which would mark the fifth of the 12 Atlantic City casinos open to begin the year to close.
Originally costing $210 million to build, the 39-story Trump Plaza was nearly sold for $20 million to the California-based Meruelo Group in February 2013 following an extended period of declining revenue. However the sale was stopped when investor Carl Icahn, holder of the casino's mortgage, withheld his approval of the sale at such a low price.
For more on the Trump Plaza's final days, head over to The Washington Post.
Photo, Trump Plaza: Rian Castillo, Creative Commons Attribution 2.0 Generic.
Get all the latest PokerNews updates on your social media outlets. Follow us on Twitter and find us on both Facebook and Google+!