Five Thoughts: Colman Continues Insane Run, Danzer vs. Shack-Harris, and More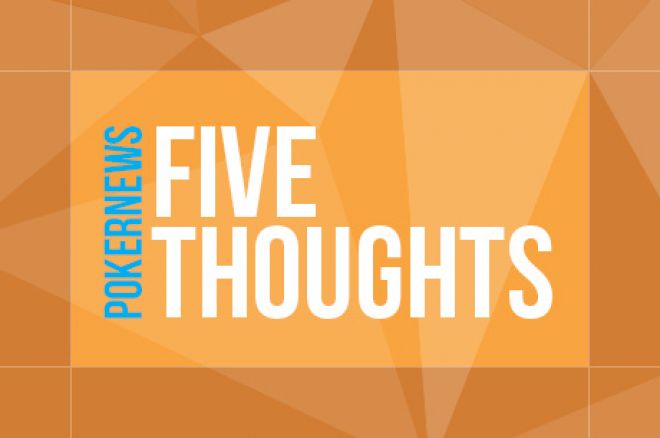 For someone who is uninterested in being associated with his success on the felt, Dan Colman sure does a hell of a lot of winning. On Tuesday, the American added to his already crowded 2014 trophy case, winning Season 2 WPT Alpha8 London and £600,000.
In 2011, the year that six-figure super high-roller poker tournaments became all the rage and PokerStars and Full Tilt Poker were shut down in the United States, Erik Seidel booked what appeared to be the greatest live tournament year ever. Seidel started things off at the PokerStars Caribbean Adventure, finishing third and fourth in the $5,250 six-max and the $25,500 high roller respectively. He then hopped on a plane to Australia, where he finished third in the Aussie Millions AU$100,000 Challenge and won the AU $250,000 Challenge.
In February, Seidel won the $25,100 L.A. Poker Classic high roller. In March, he won the NBC National Heads-Up Championship. In April, he finished runner-up (slacker) in the Season IX WPT Hollywood Poker Open Main Event. And in May, he won the Season IX WPT World Poker Classic super high roller.
In total, prior to the World Series of Poker, Seidel racked up $5,247,647 in live tournament earnings. To put that into perspective, even with 10 years of results from World Series of Poker Main Events in the post-Chris Moneymaker era and the recent boom of six-figure buy-in tournaments, that sum alone is good for 107th on the all-time money list. One spot below Andy Bloch.
Seidel added two more six-figure scores during the second half of the year, including a runner-up finish in the Epic Poker League.
At the time, we didn't know how to quantify Seidel's successes. The amount of money he was winning was staggering, but super high-roller tournaments naturally had smaller field sizes. To some, this made them more beatable, even if they were populated by the best players in the world. In fact, despite earning $4 million less than Seidel in 2011, Eugene Katchalov won the BLUFF Player of the Year award.
Seidel finished in 11th.
As super high rollers have grown in popularity, we've come to realize how difficult it is to have sustained success against the best players in the world. We all marveled at Philipp Gruissem's hot streak last year when he won back-to-back WPT Alpha8 events in London and St. Kitts, and this year we have a new star to gaze at.
Dan Colman.
1. Colman Can't Be Stopped
Unlike Seidel, Colman's year didn't start off with a bang at either PCA or Aussie Millions. He did cash in the PCA $25,500 High Roller, finishing 27th for $59,300, but his big splash didn't come until April at EPT Grand Final. In Monaco, he topped a field of 62 entries in the €100,000 Super High Roller, earning $2,127,398. The next month he finished third in the $10,000 buy-in heads-up event at the WSOP, 19th in the $5,000 buy-in bracelet event, and, oh yeah, won the $1 Million BIG ONE for ONE DROP.
His monumental $15,306,668 score was of course overshadowed by his refusal to do interviews and the poker media's reaction to his nonverbal stiff arm.
Quietly, Colman ended his summer in Vegas with a third-place finish in a super high roller at Aria, earning $796,821, and then "loudly" finished runner-up to his "mentor" Olivier Busquet in the EPT Barcelona €50,000 Super High Roller. While making a polarizing political statement about Gaza with a t-shirt, Colman collected $1,118,479 for his finish.
Just 10 days later, Colman proved that he can do more than outlast world-class players in super high rollers, besting 1,499 entries to win the $10 Million Guarantee Seminole Hard Rock Poker Open. Colman defeated Canadian Mike Leah heads up, pocketing yet another seven-figure score.
On Tuesday, the sick run continued as Colman was crowned the champion of WPT Alpha8 London. Colman defeated German Max Altergott heads up to take home £600,000 - just shy of a million USD - and became the first player to ever win a super high roller tournament on all three major tours.
WPT Alpha8 London Results
| Finish | Player | Prize |
| --- | --- | --- |
| 1 | Dan Colman | £600,000 |
| 2 | Max Altergott | £350,000 |
| 3 | Talal Shakerchi | £224,000 |
| 4 | Isaac Haxton | £160,000 |
The first event of Season 2 of WPT Alpha8 attracted a total of 23 entries, including two-time WPT Alpha8 champ Philipp Gruissem, Igor Kurganov, Daniel Cates, Fabian Quoss, and a host of others.
To date, Colman has earned $22 million in 2014 alone. His last five cashes look like this:
| Event | Buy-In | Entries | Finish | Prize |
| --- | --- | --- | --- | --- |
| WSOP $1 Million BIG ONE for ONE DROP | $1,000,000 | 42 | 1st | $15,306,668 |
| Aria Super High Roller | $100,000 | 30 | 3rd | $796,821 |
| EPT Barcelona Super High Roller | €50,000 | 77 | 2nd | $1,118,479 |
| $10 Million Guarantee Seminole Hard Rock Poker Open | $5,300 | 1,499 | 1st | $1,446,710 |
| WPT Alpha8 London | £60,000 | 23 | 1st | $957,396 |
| Total | | | | $19,626,074 |
Colman is weary about promoting poker and doesn't want to be put on a pedestal because of his accomplishments on the felt, but right now he is spitting in the face of variance. In a small sample of events, he is performing immeasurably well and winning more money than we've ever seen won in a single year before. Of course binking ONE DROP helps, but even Antonio Esfandiari has to be shaking in his boots on the all-time money list.
The Magician outright celebrated when the ONE DROP prize pool was announced and the first-place prize was less than what he took home in 2012, but Colman has already exceeded Esfandiari's 2012 earnings and there are still more than two months to go in the year. Colman would still need to out earn Esfandiari by nearly $5 million to overtake him, but with the run he is going on anything seems possible.
After winning WPT Alpha8 London, Colman leapfrogged two legends on the all-time money list: the aforementioned Seidel (5th, $20,811,659) and Phil Ivey (4th, $21,457,074).
What a year.
2. WSOP Player of the Year Race Heats Up
The World Series of Poker Asia-Pacific is underway at wonderful Crown Casino in Melbourne, Australia. Four events are in the books - Jeff Lisandro earned gold bracelet No. 6 - and the Player of the Year race is starting to heat up.
First @WSOP POY race & now a staring contest! @trickyscarfy & @Oscillator_WSOP seated next to each other at #WSOPAPAC http://t.co/nHR7uGa2i7

— Chad Allan Holloway (@ChadAHolloway)
Going into WSOP APAC, Brandon Shack-Harris held a slight lead over George Danzer, but the German arrived in Australia first and amassed a nice stack in the accumulator event. Shack-Harris arrived just in time to hop into the action as well, but he was unable to build as big a stack as Danzer during the first starting flights.
Both players cashed, but Danzer outlasted Shack-Harris, finishing in 22nd place. For a moment, the German had a 1.7-point advantage over his American counterpart.
The lead didn't last long, however, because Shack-Harris reached the final table of AU$1,650 No-Limit Hold'em Terminator. Unfortunately for him he bowed out in sixth place, earning AU $11,488, but he regained the Player of the Year lead by over 40 points.
Bleh, out 6th. Thanks for the <3 guys. Ready for some mixed now.

— Brandon Shack-Harris (@Oscillator_WSOP)
Shack-Harris vs. Danzer
| Player | Points |
| --- | --- |
| Brandon Shack-Harris | 806.7 |
| George Danzer | 762.2 |
There's also Daniel Negreanu, who's lurking around in fourth place with 519.08 points. The lead between Kid Poker and the two favorites may look unsurmountable on the surface, but there will be hundreds of points up for grabs in the AU $25,000 High Roller and the AU $10,000 Main Event.
With a handful of underwhelming turnouts thus far, at least there is a great narrative for us to cover in Australia. Both Shack-Harris and Danzer are very interesting characters with original styles, and Negreanu is arguably the biggest name in the game. Each day there seems to be a great sweat for one of poker's crowning achievements, and the possibility for a come-from-behind, back-to-back POY win from Negreanu is just too juicy to pass up.
Shack-Harris joined the PokerNews Podcast near the end of the WSOP in Las Vegas to talk about Danzer, the race, and many more subjects, and his appearance quickly became one of my absolute favorites:
I am sweating the updates from thousands of miles away to see if Shack-Harris will continue to pull away, Danzer will even the score again, or if Negreanu can hit a grand slam and get back into contention. My F5 button will be getting a workout for the next week or so.
3. Isai Scheinberg Wins the UKIPT Isle of Man High Roller
When I first saw the headline "PokerStars founder Isai Scheinberg wins UKIPT High Roller title" from PokerStars Blog, I thought it must be some kind of joke. The folks over at PokerStars Blog are exceptionally witty, and upon clicking on the article I fully expected to see some kind of whimsical tale from the floor of UKIPT Isle of Man that would leave me in stitches.
However, when the article loaded in my browser, I saw that it was real. Quickly scrolling down as fast as I could to the winner's photo, wanting to see Scheinberg triumphantly holding up the classic spade trophy, I was met with the following: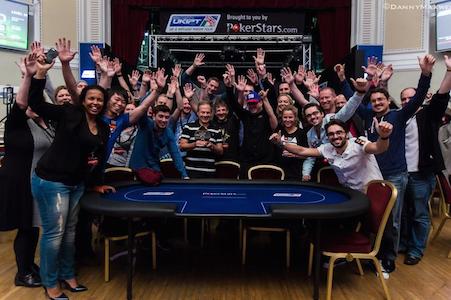 The photo, which is supremely appropriate, was partnered by the following from Brad Willis:
You have to look closely to even find Scheinberg. If you look for the glint of the trophy in the light, you can find the smiling man holding it. Around him, heads poke out in every direction, straining to see the lens, wanting more than anything to be part of that moment. Some of the faces you may know. Some of them you won't. All of them are people who owe their smiles to Scheinberg and his vision. They are players, friends, and PokerStars employees who trusted Scheinberg to lead them and PokerStars on the right path. He did not steer them wrong.
Brilliant. It is penned from a man who was one of Scheinberg's former employees, but if you suspend pessimism with me then you will see that Willis' text is dripping with thankfulness.
Scheinberg's victory only netted him £13,850, and as a "high roller" the buy-in was only £2,200, but PokerNews Editor-in-Chief Donnie Peters joked to me that the PokerStars founder can now check two boxes off for his Poker Hall of Fame résumé:
A player must have played poker against acknowledged top competition
Played for high stakes
Mickey Petersen was also at the final table of this event, and he is certainly top competition.
All jokes aside, this story is wonderful as is the response from the people at the event. I've never had the opportunity to meet Mr. Scheinberg - unfortunately our paths may never meet here in America because of the DOJ's manhunt - but the folks that I know personally at PokerStars always speak glowingly about him and his son Mark. They've both made a lot of money along the way, don't get me wrong, but their vision has truly benefited the entire poker world.
While small, this win is special. Perhaps we'll see Scheinberg put the gloves on again in the future and battle it out against Colman on company on the super high roller circuit on the EPT. He certainly has a few buy-ins to spare.
4. First WPT Ever Held in Holland
The World Poker Tour made its historic first stop in the Netherlands last week for WPT National Valkenburg, and the event didn't disappoint. The €550 buy-in event attracted a total of 402 events, and the most iconic Dutch poker player ever, Marcel Luske, reached the final table.
WPT National Valkenburg Results
| Place | Name | Prize |
| --- | --- | --- |
| 1 | Niels van Leeuwen | €40,000 |
| 2 | Pim van Wieringenl | €28,856 |
| 3 | Marcel Luske | €18,990 |
| 4 | Ronald Keijzer | €13,843 |
| 5 | Joep van den Bijgaart | €10,236 |
| 6 | Thomas Brader | €8,189 |
| 7 | Van Tran | €6,824 |
| 8 | Danny op t Hof | €5,459 |
| 9 | Timo Hendricks | €4,083 |
The Flying Dutchmen was unable to capture the prize, falling in third place, and the winner was Niels van Leeuwen. Van Leeuwen earned €40,000 for the victory, pushing his live tournament earnings to just under $400,000. This is van Leeuwen's third victory in 2014, and his second in Valkenburg - in May he took down a deepstack reentry event, earning $30,710.
Joep van den Bijgaart also reached the final table of WPT National Valkenburg, finishing in fifth place for €10,236. Van den Bijgaart now has over three-quarters of a million dollars in career lifetime earnings, including a seventh-place finish in the EPT Berlin Main Event in 2011. Like van Leeuween, van den Bijgaart has also had great success on his home soil, winning a side event at the 2011 Master Classics of Poker and reaching another final table at the Master Classics of Poker in 2009.
There is a bevy of great players from Holland, and for the second consecutive year there is a Dutchman at the final table of the WSOP Main Event. Michiel Brummelhuis was the first Dutch player to reach the final table in 2013, finishing seventh for $1,225,356, and Jorryt van Hoof is the chip leader now in 2014. There's also the aforementioned Luske, Lex Veldhuis, Pieter De Korver, Rob Hollink, and Ruben Visser.
For a country of around 17 million people, the Netherlands has a unique footprint in the poker world. Unfortunately, due to equally unique legality issues, the country has never been a hub for live poker. Maybe WPT National Valkenburg is a start of things to come - Amsterdam would be a lovely location for a WPT Main Tour, EPT, or even WSOP Europe event.
I may be biased because I am good friends with several Dutch players and members of the media, but it really is a special country with a large amount of notable and amateur players.
5. Massey on Fire
We led this week with Dan Colman's dominance on the super high roller circuit, and we will bookend the piece with yet another win for Aaron Massey on the Heartland Poker Tour.
HPT Club One Casino Final Table Results
| Place | Player | Hometown | Prize |
| --- | --- | --- | --- |
| 1 | Aaron Massey | Chicago, IL | $77,760 |
| 2 | Danny Gonzalez | Denver, CO | $48,384 |
| 3 | Dee Timmons | Manteca, CA | $29,376 |
| 4 | Jed Hoffman | Reno, NV | $21,600 |
| 5 | Billy Huynh | San Mateo, CA | $16,128 |
| 6 | Chris Taylor | Exeter, CA | $13,248 |
| 7 | Mario Sequeira | Hanford, CA | $11,664 |
| 8 | Sean Drake | Ione, CA | $10,224 |
| 9 | Kevork Vorperian | Glendale, CA | $8,640 |
Massey won the Heartland Poker Tour Ameristar East Chicago event in his backyard for $177,502 less than two months ago, and now he is a two-time HPT champion with the HPT Club One Casino title. With over 300 points, Massey is a clear favorite to win the Heartland Poker Tour Player of the Year title, which was won by Allen Kessler in 2013.
"It's a prestigious honor," Massey told the HPT after his win. "I'm glad to be part of the family, and be an ambassador for HPT moving forward."
In Massey's winner photo he is sporting his signature grin, holding up a rooster and wearing his "Big Cock Poker" apparel.
It's more of the same for Massey, who now has over $2.3 million in career live tournament earnings. Massey also nearly snagged a bracelet earlier this year, finishing third in a $1,500 event for $255,209. As a bit of a character, Massey's success is a positive thing for poker because he'll be able to create narratives and generate rooting interests - whether they're for or against him. I have a feeling, as a young, brash kid that doesn't really hit the HPT television demo, Massey is going to be a bit of an anti-hero.
Right or wrong, this will make the programming more interesting, which is always a good thing.
Massey is on fire, and I am left to wonder if he will try and parlay his recent success in smaller buy-in events to bigger buy-in events in Europe and beyond. It may be in his interest to just keep following the HPT though, grow his notoriety on that televised tour and keep crushing lesser players. Either way it's a win-win for Massey, who like Colman is making waves in 2014.
Get all the latest PokerNews updates on your social media outlets. Follow us on Twitter and find us on both Facebook and Google+!