Mikal Blomlie Wins Open-Face Chinese Poker World Championship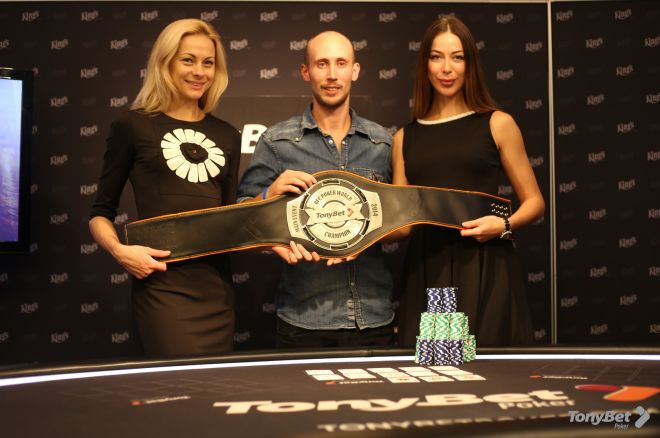 The open-face Chinese (OFC) poker community has its own world champion, now that Norway's Mikal Blomlie took home the title of the first-ever Open-Face Chinese Poker World Championship.
To win the event organiszd in Prague, Czech Republic, by TonyBet Poker, Blomlie had to survive the field of 102 participants that took part to the two-day €1,000 buy-in Main Event. Together with the honors of the title and a big celebratory OFC champion belt, the Macau-based poker pro walked home with a €35,000 top prize.
Blomlie, who was the 2012 World Championship of Online Poker Player of the Year and winner of the $770 buy-in World Poker Tour OFC poker pineapple event held in Paranque City, Philippines, on Oct. 2014, secured the title at the end of a heads-up battle against Germany's Jan Hendrik Tapken. Tapken closed with a second-place finish and a €21,000 payday.
"It's always good to win a tournament, and I had a lot of fun," Blomlie said right after his victory. "I enjoy playing open-face Chinese, and I find it a fun and relaxing game."
Here's a look at the top 10 positions of the event:
| Place | Player | Prize |
| --- | --- | --- |
| 1 | Mikal Blomlie | €35,000 |
| 2 | Jan Hendrik Tapken | €21,000 |
| 3 | Gary Stone | €12,750 |
| 4 | Oleg Udovenko | €9,430 |
| 5 | Maxim Panyak | €7,370 |
| 6 | Nikita Nikolaev | €5,800 |
| 7 | Alexander Lakhov | €4,750 |
| 8 | Jurgen Hellen | €3,830 |
| 9 | Andrii Nodieliaev | €3,060 |
| 10 | Mikalai Davidovich | €2,660 |
Overall, the record-breaking Open-Face Chinese Poker World Championship organized by TonyBet Poker at the King's Casino in Prague attracted a large field that included numerous international pros.
Geographically speaking, the event was dominated by Russia, as 17 Russian players joined the action at the tables. Right after that, the German troops invaded the Main Event with a total of 12 players, closely followed by the home delegation composed by 11 Czechs.
Among the top names that played the event were Konstantin Puchkov, Alex Bilokur, and Alexander Kostritsyn.
The event also saw the participation of the talented chessmaster and PokerStars minds sports ambassador Jennifer Sahade, who won the €10,000 Open-Face Chinese Poker World Championship High Roller on Dec. 9 for €100,000.
"The victory was a great way to start my trip to Prague," Shahade told PokerNews. "I was not even sure I would play until an hour before the event. But somehow, an hour later, I was sitting there and playing for 13 hours straight for the biggest buy-in event I have ever played in and the biggest cash I have ever had."
Shahade continued, "I almost busted several times, and I wasn't so happy with how I played in the beginning, but then as I got more tired, I got to play better. I have played regular open-face Chinese poker in a live tournament before, but never pineapple. It was fun. I thought it was great and hope there will be more tournaments like this."
Shahade also joined the most recent episode of the PokerNews Podcast, and you can listen to her, along with Jason Mercier and Mukul Pahuja, on Episode #263 below:
*Image courtesy of the TonyBet Poker Blog
For news, updates, and more follow PokerNews on Twitter and Facebook.