Jan-Peter Jachtmann's 2012 WSOP Bracelet Stolen During Home Robbery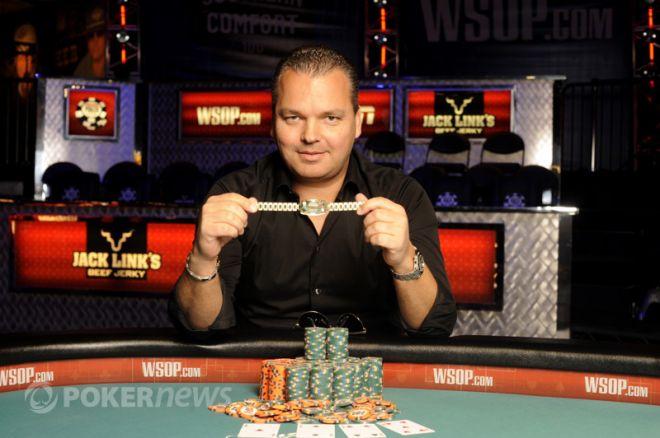 German high-stakes poker player and pot-limit Omaha specialist Jan-Peter Jachtmann recently experienced what he described as "the worst Christmas of my life," as a burglary cost him a five-figure sum and the World Series of Poker (WSOP) bracelet he won at the $10,000 Pot-Limit Omaha World Championship event in 2012.
According to police spokeswoman Sonja Kurts, professional burglars broke into Jachtmann's house in Reinbek, Germany, between 7:40 p.m. on Dec. 24 and 4 a.m. on Dec. 25 a time when they knew that the place would have been empty.
Sure to be able to act undisturbed, the burglars went inside Jachtmann's house from a window but left using the front door with Dollars and Swiss Francs in cash for an undisclosed amount, poker chips, a laptop and one golden WSOP bracelet.
A few days after the episode, Jachtmann took it to his Facebook profile, when he described what happened to him and also offered a €20,000 reward to those who will help him to get his WSOP bracelet back.
"According to the police, this was a professional and targeted burglary," Jachtmann wrote. "While they were looking for cash, the burglars have devastated my whole house. Unfortunately, they have been successful as they stole a larger five-figure sum in Dollars and Swiss Francs.
"What hurts me the most though, is that they stole also my WSOP gold bracelet from the 2012 pot-limit Omaha World Cup. For me this was the worst Christmas of my life."
Jachtmann then went on to explain that the episode left him in shock for a good couple of days - but then pushed him to reach out to his followers and friends in order to find a way to get his beloved WSOP bracelet back.
"I have been pretty down for two or three days, I felt just shocked and speechless. But now I'm feeling better, and I want to try to find those criminal b******s or at least find my bracelet. I am ready to give a €20,000 reward to those who will provide me with information useful to find the perpetrators of the crime."
Unfortunately, Jachtmann's call did not have the outcome the player wanted as the bracelet is still in the hands of the unpunished burglars. "The police is investigating, but I do not have big expectations," Jachtmann told PokerNews on Thursday.
To many, the theft reminded of another terrible episode that happened in 2012, when Danish Team PokerStars Pro Theo Jorgensen was sent to the hospital after he was shot for three times by professional burglars who broke into his home in Greve.
The PokerNews staff sends our thoughts and well wishes to Jachtmann at this traumatic time.