Director of Poker Jim Preston Leaving Crown Melbourne for Macau After Aussie Millions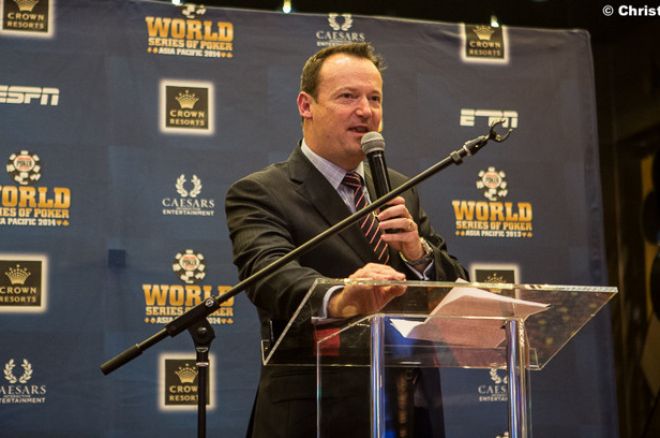 The 2015 Aussie Millions Poker Championship, which features 21 events ranging from AUD $1,150 to AUD$250,000, kicked off on Wednesday, and for the ninth year in a row the PokerNews Live Reporting Team will be on hand to capture the action from the series' most prestigious events — AUD$10,000 Main Event, $100,000 Challenge, and $250,000 Challenge.
The Aussie Millions has established itself as the Southern Hemisphere's most prestigious event, and that's due in no small part to the efforts of Jim Preston, who took up the position as Director of Poker in 2011. Preston helped usher in the $100,000 Challenge, the world's first super high roller event, and followed that up with the $250,000 Challenge. With the support of a strong team, Preston has climbed the rungs of poker success, but PokerNews has learned that the 2015 Aussie Millions will be his last.
Preston, who started with Crown Melbourne way back in 1994 as a blackjack dealer, will be relocating to Macau where his wife has been offered employment at Galaxy as Vice President of Premium Mass Gaming & Jinmen Club.
For those unfamiliar with Preston, let us give you a little more background. In 1997, not long after Crown moved from its temporary location in the World Trade Centre to the current Southbank complex, Preston was trained in roulette and poker. Preston began working in the Las Vegas Room, which opened with 21 tables and dealt mainly Manila along with both five-card draw and stud. At the time, there was only one $4/$8 limit hold'em table.
As poker grew, so did the room. Eventually it accommodated 75 tables, and by that time Preston had worked his way up from dealer to Seating Coordinator. From there he worked his way up through various positions including Supervisor, Pit Boss, Trainer and then Poker Room Manager in 2005. A year later, he moved departments and worked as VIP Tables Manager responsible for the property's most valued local customers, including those who made the trip to the Aussie Millions.
PokerNews had the opportunity to speak with Preston just prior to his last Aussie Millions.
PokerNews: This will be your last Aussie Millions. As we understand it your wife, Marg, has an exec role lined up at Galaxy in Macau. Can you tell us a little more about your wife and her background?
Preston: My wife and I met when Crown Melbourne opened in 1994 when we were both blackjack dealers. From there she worked her way through the business in various roles and was eventually appointed as General Manager of Table Games in 2009. She left Crown in 2010 to pursue other interests and to assist in the care of her parents.
She opened up a successful small business, which she ran with her good friend until late 2014 when a wonderful opportunity at Galaxy in Macau presented itself. Marg accepted the position of Vice President of Premium Mass Gaming & Jinmen Club and has started over there already. I know it's one which she will excel at and I am extremely proud of her.
How do you feel about relocating to Macau from Melbourne? I know you've been there before, but they seem like two totally different worlds.
Super excited about moving to a new country and experiencing everything the place has to offer. We have great deal of friends there whose support already has been amazing, so I can't wait.
Will you be seeking casino employment in Macau?
At this stage, I am focusing on delivering the best Aussie Millions on record and will focus on what happens next after I have a well-earned break, but I am really excited for what the future may hold.
Do you know who will be replacing you at Crown?
My role will be spread amongst the amazing team that put together the Aussie Millions.
What's been your top highlight/memory from your time working at Crown?
For non-poker, we had a "09-09-09" promotion which culminated on that day where 600 people were invited to Crown with the chance to win $999,999. To cut a long story short, two lucky people were left with the choice of two objects. One was worth $9,999 the other $99,999. The guy that chose the $99,999 now won the chance to choose one number on a roulette wheel to win $999,999.
He has a choice of a male or female dealer, so he chose the one that looked like "my son." He chose the number 17 and the dealer spun the ball. First thing we had to ensure was that it was a valid spin (i.e. ball does more than 4 rotations, ball travelling in opposite direction to wheel, and all that kind of stuff). So there I am in front of 600 people on stage commentating on a roulette ball going around the wheel, which was displayed on two big screens to the entire room. I was focusing on the number 17 and describing the ball going past 17 each time.
Then it was like it all happened in slow motion with me saying 'It's about to drop ... ' The ball bounces in 34 and jumps next door where it comes to rest in 17. The guy has just won $999,999 and the crowd goes crazy. We both jump up in the air and hug. It was truly a remarkable experience, one that changed the customer's life, and one that I will never forget.
Of course the Biggest and one I am most grateful for is meeting my wife.
The roulette story is incredible. How about your best poker highlight?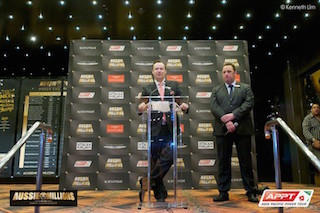 Creating the $250,000 tournament on a hunch that we might fill one table in 2011. That's something I am very proud of. The team has always had two goals with Aussie Millions and that is to focus on the customer service and continue to be innovative, and so in 2006 we were the first in the world to schedule a $100,000 Super High Roller tournament.
In 2011 we had 38 runners play the $100k so we though let's up the ante and create a $250,000. This was not scheduled so we had to get the film crew to work another day in the hope that we would get some players. As they say "If you build it, they will come," and come they did. We eventually had 20 players take their seat and this has gone from strength to strength each year and as a result started the global trend of SHR tournaments.
Obviously you've played a significant role in helping grow that event over the years. Can you speak a little more to that?
In my time in this role I have been fortunate enough to travel the globe and attend other festivals and I have seen first-hand what works and doesn't, so I have ensured we have adopted best practices and tried to be innovative at the same time.
The one legacy that I am most proud of is the partnership with Asia Pacific Poker Tour. Danny and Fiona have been great to work with and are committed to growing the event and poker in the Asia-Pacific region. Being associated with the biggest live tour in the region ensures that Aussie Millions will continue to grow in the years to come.
The WSOP Asia-Pacific finished up at Crown back in October, and now the Aussie Millions is here. Do you think having these two huge events so close together could affect attendance?
Not at all. Our local satellite campaign has been bigger than ever with a lot of new faces playing in our "Main Event Seat Guarantees." We have really focused on getting the message out to the mainstream audience that anyone can have chance at winning the Aussie Millions through our affordable satellite campaign. We also had a lot of first time visitors at WSOP APAC in October and they will be coming back.
Any final words heading into your last Aussie Millions?
I would just like to say that this has been a dream job and it has been a pleasure working for such a passionate team that share a common goal in delivering one of the best poker experiences in the world. I am looking forward to catching up with all the great friends that I have made during my time in this role and share in their successes and also drown in their sorrows as required. Finally, I wish all our team and players the best for the 2015 Aussie Millions and look forward to putting on another fantastic series.
For more on the 2015 Aussie Millions, click here.
Get all the latest PokerNews updates on your social media outlets. Follow us on Twitter and find us on both Facebook and Google+!