RotoGrinders Reveals Winner of 2014 Daily Fantasy Sports Tournament Player of the Year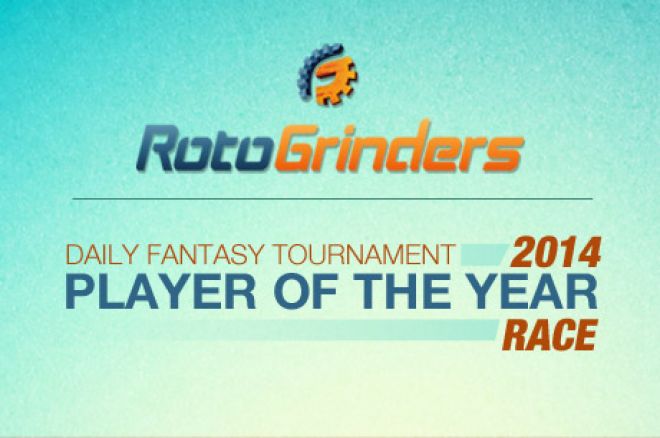 The race came down to the wire, but ultimately only one person could claim the title of 2014's "best daily fantasy sports tournament player."
Today, RotoGrinders, the hub of the daily fantasy sports community, announced that Jonathan "McJester" Zellers has won the 2014 Tournament Player of the Year (TPOY).
The TPOY is a rankings system that tracks large-field tournament finishes across daily fantasy sites. A point value is assigned for each of a player's 50 best finishes throughout the calendar year and totaled to create the TPOY leaderboard.
Zellers, a Los Angeles resident, is best known for his utter dominance of the StarStreet Playboy Mansion Basketball Championship in April, where he not only won, but took down second and third place as well for a total of $82,500 in winnings. As RotoGrinders TPOY, McJester will receive a first class flight and luxury suite for the legendary RotoGrinders NFL Kickoff Party in Las Vegas this upcoming NFL season.
"Not to sound cliché, but winning the TPOY is almost a bucket list item," said Zellers. "I know so many amazing players out there and some of these tournaments are so big with so many entries, that it's a tremendous honor to be at the top of this competition after a whole year."
McJester's 2014 tournament dominance spanned DFS sites and sports alike. His most high-profile achievements included seats at the DraftKings Baseball Championships in the Bahamas, the FanDuel Baseball Championships in Las Vegas and the FantasyAces NFL Championships in Newport Beach, Calif.
The TPOY feat was made possible due to McJester's unique strategy of attacking large-field tournaments. While many daily fantasy sports (DFS) tournament players enter multiple lineups into one contest to diversify their players and get as much exposure as they can to all of the players they like on any given day, McJester, however, approaches multi-entry GPPs in a completely different way.
While he'll often enter a large amount of entries into a tournament, McJester will pick a very small group of "core" players that he likes for that day and tries to get as many combinations of those players as possible. This setup ensures that if his core group of players hits, he'll have a much better chance at taking first place in that big tournament.
"I have a lot of different styles for different slates and sites," said Zellers. "It just depends if I have a good enough grip on the players that will be most valuable. Sometimes I get stubborn, sometimes I need to get more involved with numbers and projections, but generally I just start with who I want to play and stick to that."
While McJester is the one and only, true TPOY, the top 10 finishers make up a "who's who" list of the best minds in the DFS industry. In fact, fact 4 of the top 10 finishers had $1,000,000 wins.
Per RotoGrinders, here's a look at the top 10 runner-ups: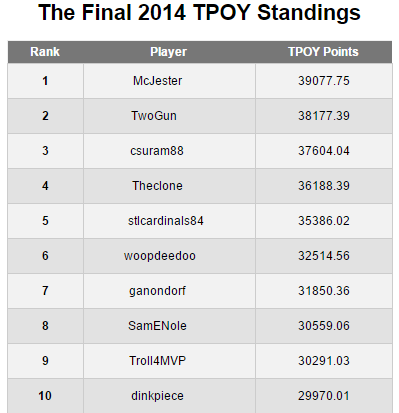 #2 – Michael "TwoGun" Cohen
Cohen was quickly climbing the ranks during the NFL season with more than 10 top-ten finishes in major NFL tournaments. His biggest jump came at the very last minute when, on Dec. 28, he bested almost 10,000 other people in a $200 buy-in GPP for 5,942 TPOY points and $500,000 in winnings. That score helped him jump over the #3 finalist, Peter "CSURam" Jennings, during the final seconds of the 2014 TPOY race.
Editor's note: Cohen is off to a scorching start in 2015 after winning the DraftKings NFL Divisional Round Millionaire Maker for $1 million.
#3 Peter "CSURam" Jennings
Jennings' most notable 2014 success was taking down a $1,000,000 first place prize in the DraftKings Fantasy Baseball Championship in the Bahamas this past August. He tallied big TPOY scores across all major DFS sports, and is hands down one of the best players in the industry. He incredibly qualified twice for FanDuel's $7,000,000 FFFC and three times for DraftKings $2,500,000 NFL King of the Beach.
#4 Mitch "TheClone" Anderson
Mitch, AKA "TheClone" is one of the less public-facing players out there, but he is an absolute force in the DFS world. His biggest jumps in the TPOY standings came from two top-2 finishes in $200 buy-in NFL tournaments in early October. He also had a finish just outside the top-10 in the FanDuel World Fantasy Baseball Championships in Las Vegas, bringing him home $12,000 and 1,407 TPOY points.
#5 Justin "StlCardinals84" Van Zuiden
Van Zuiden pulled out to an early lead in the TPOY race when he went on an epic run at the start of the 2014 baseball season, winning what seemed like every $200 GPP that was hosted in the month of April. Justin is one of the best minds in the industry, capable of finding an edge in just about every sport.
#6 Jay "woopdeedoo" Raynor
Raynor is mostly well known for his successes in MLB tournaments, as he went on an epic run this year with a number of huge scores. He had a few larger NFL wins in 2014, but the remarkable thing about this finish is that virtually every qualifying contest in his TPOY standings was from baseball. Finishing this high on a list of some of the best DFS players in the world from one sport alone is nothing short of incredible.
Raynor's biggest accomplishment of the year was qualifying three times for the exclusive DraftKings King of the Beach finals in August, where his best finish was second place for a $350,000 score.
#7 Andres "Ganondorf" Alvares
Alvares is a numbers guy through and through, and had a ton of success in all three of the major sports in 2014. His marquee placement was a fourth-place finish in the FanDuel World Fantasy Baseball Championships in August, netting him a cool $50,000.
#8 Matt "SamENole" Smith
Matt is a former poker pro who has turned to DFS and had a lot of success right off the bat. Perhaps Matt's biggest accomplishment in poker was a second-place finish in a 2005 World Series of Poker bracelet event for a $100,000 cash, and that's not even counting his more than $1.5 million in lifetime poker tournament earnings.
In the daily fantasy world, SamENole is best known for taking down the first-ever $27 buy-in DraftKings Millionaire Maker tournament for a nice seven-figure payday. After that start to the NFL season, Matt also went on to qualify for the DraftKings King of the Beach final event at the Atlantis resort in the Bahamas.
#9 Eytan "Troll4MVP" Jankowitz
Troll4MVP is actually a team of good friends that go by many different names on the various daily fantasy sites. Eytan Jankowitz partnered up with his friend Aaron Merchank to take daily fantasy head on and have certainly done very well for themselves.
For the most part, this pair labels themselves as NBA specialists, as they decided to uproot their lives and move to Vegas a few years ago with the goal of earning a living via sports betting on NBA games. Their success in that field seems to have directly translated to DFS, and they decided to use that success to play more NFL games this season. It seems that was a pretty good decision, since they qualified for, and eventually won, the DraftKings NFL King of the Beach event in December for a $1 million first-place prize.
#10 Drew "DinkPiece" Dinkmeyer
After being profiled in the Wall Street Journal in June of 2013, Drew Dinkmeyer is perhaps the Poster Boy of DFS as a skill game. Drew's biggest feats of the year include qualifying for both the DraftKings King of the Beach baseball and football finals and taking down a DraftKings Millionaire Maker tournament in the middle of December, which shot him up the leaderboard 7,620 TPOY points.
Overall, it was incredible year for the RotoGrinders Tournament Player of the Year race. The event was a reflection of the meteoric growth enjoyed by the larger daily fantasy sports industry.
If you're playing DFS, be sure to check out the 2015 TPOY. It's already shaping up to be an exciting year with plenty of massive contests each and every day. Who knows, given the success of so many former poker pros in DFS, maybe you can be the next Tournament Player of the Year!