Europe in Pills: Greece Unveils Ambitious Plan for Gambling and Winamax Leaves Italy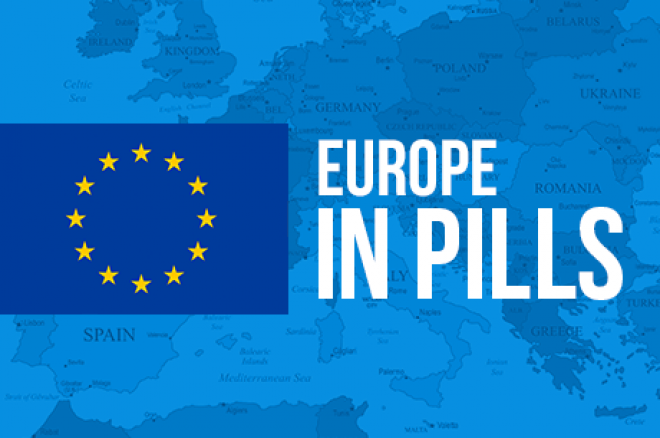 It has been another interesting week for gambling in Europe, as it opened with Greece's Finance Minister, Yanis Varoufakis, speaking about the importance of a new gambling legislation for the country's economy.
Right after that, France's Winamax decided to shut its door to Italy's poker players and officially pull out from the Italian gambling market — something it should have probably done years ago, seeing that it has never obtained a license to offer poker games in the country.
Also, Smile Expo announced that the future of Russia's online gambling and sports betting industries will be at the center of the 2015 Russian Gambling Week, the yearly industry conference that will take place in Moscow on June 3-4, 2015.
Greece Hopes to Get €500 Million a Year From Gambling
Greece's left-wing ruling party, Syriza, is ready to bet on gambling to help the country find the financial resources it needs to avoid bailout and meet the required set by the European Union to make sure that European financial aid keeps flowing to the country.
Earlier this week, Greece's Finance Minister Varoufakis sent a letter to the Eurogroup, the informal body composed by the ministers for Economic and Financial Affairs of the member states of the European area, and promised that he plans to grant his country extra revenues of €500 million a year from online gambling.
"One wonders how he came to that amount," commented the country's conservative daily Ekathimerini, stating that €500 million in yearly revenues is a simply unrealistic target.
"State revenues from online gambling in the European Union barely reach 10 percent of gaming companies' revenues, which in 2015 are expected to come to 13 billion euros," Ekathimerini's award-winning reporter and TV presenter Tasos Telloglou wrote.
Citing a report from the European Commission, Telloglou explains that the current state of the gambling market in Greece allows the Greek government to impose taxes on "€160-€240 million in gross revenues," which obviously would not generate revenues for anywhere near the €500 million mentioned by Varoufakis.
To speak in Varoufakis' defense, however, it needs to be said that the popular Finance Minister has yet to illustrate the details of his proposal and the steps that the Greek government plans to follow to boost gambling revenues for the State.
Although we will have to wait to know how online gambling is going to look like in Greece, what we can expect is the country to, finally, regulate the industry with a precise and clear legislation.
To date, the Greek gambling market is theoretically supposed to run a monopoly controlled by the Greek Organization of Football Prognostics (OPAP), but also sees 24 international operators legally offering their services thanks to the same number of so-called "temporary licenses."
Precedents, however, do not leave much room for optimism about Varoufakis' proposal. Equally busy with trying to find revenues for the country and with convincing Germany to loosen some of Europe's most rigorous economic policies, during the past weeks Varoufakis has been criticised for asking Germany to "pay war reparations to Greece," before he was filmed literally 'showing his middle finger' to Europe's first economy.
Winamax Says Adieu to Italy
The guys at Winamax, France's leading online poker operator, are a lot less optimistic than Varoufakis, and so they decided to pull out from the Italian online poker market.
Although Winamax has never applied for one of the AAMS-issued licensed necessary to offer poker games in Italy, Italian grinders used a loophole in the poker room's registration process to register and play on the dot-fr poker site.
Earlier this week, however, the poker room decided to align with Italy's legislation and immediately end all its operations in Italy.
"Because of the Italian legislation on gaming, we can not allow you to access our platform," said Winamax in a note sent to its players from Italy. "The funds in your account have been paid into your bank account. We appreciate you have chosen us as a poker room, and our hope is that you have enjoyed playing on Winamax. If the laws of your country regarding online poker will change and will allow you to play on Winamax, we will be happy to again welcome you again. We wish you good luck for the future."
2015 Russian Gaming Week to Be Held in June
All those interested to know more about the future of Russia's gambling industry can already book their tickets to Moscow, as the event organizer Smile Expo announced that the sixth edition of the Russian Gaming Week (RGW) will take place on June 3-4, 2015.
According to the organizers, the 2015 RGW "will bring together country representatives and the industry. The RGW will be an occasion to discuss the gambling business in the CIS and foreign countries, to analyse the state of Russia'a gambling zones (Sochi, Crimea, Siberian Coin, Yantarnaya, Azov-City and Primorye) and to evaluate their prospects."
As analysts expect the sports betting industry to grow significantly during the next twelve to twenty-four months, the conference will also include some sessions specifically dedicated to debating about the legalization of online betting and Russia's legislation on sports betting. For more information about the Russian Gaming Week, visit: www.rgweek.ru/en
Get all the latest PokerNews updates on your social media outlets. Follow us on Twitter and like us on Facebook now!