Europe in Pills: Online Gaming in Holland, Italy Goes Casino, and PKR's New Pro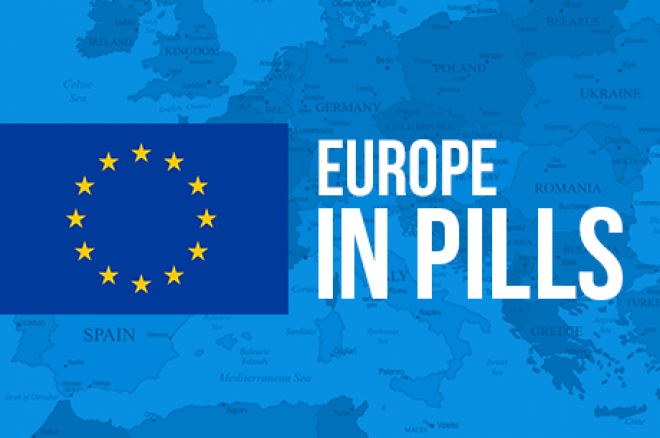 Right as the newly-appointed Dutch State Secretary for Security and Justice, Klaas Dijkhoff, spoke in favor of the online gaming regulation in the Netherlands, the annual report from the Dutch Gaming Authority (KSA) showed how illegal operators still control a relevant part of the country's gaming market.
At the same time, Italy's gambling regulator issued interesting numbers about the year that was, showing how online casino seems to have earned the hearts of Italian players.
Also, PKR Poker decided to increase the size of Team PKR Pro by welcoming in Daniel "danshreddies" O'Callaghan.
200 Companies Ready to Join the Dutch Gambling Industry
After months of talks and negotiations with all the different parties involved, the Netherlands are getting ready to regulate online gaming.
As pointed out here on PokerNews on April 8, the future of the upcoming Dutch legislation started to look brighter after Dijkhoff decided to publicly speak in favor of a regulation of the online gaming industry.
In Dijkhoff's opinion, however, the legislator will have to consider many different factors when preparing the new online gaming law, as too strict or costly requirements may damage the industry and help illegal operators to prosper.
In its 2014 report, the Dutch gaming authority released some new and interesting data about the market and explained, along the lines of what was said by Dijkhoff, that illegal operators are one of the greatest issues that the legislator will have to deal with in the coming years. According to the KSA, during 2014 the agency conducted 22 investigations into illegal online gambling and 19 investigations into illegal offering of online gambling to Dutch citizens, also closing the activities of an unspecified number of local and international illegal operators.
The reports states that "the estimated result of legal operators (including gaming machines) in 2013 was €2.2 billion," which generated tax revenues for €480 million. The KSA also estimates that the turnover of illegal operators in the Dutch market is between €250-€850 million.
Referring to the decision to ask operators to declare their interest in obtaining a license to operate in the Netherlands with a non-binding "pre-application," the KSA explained that "more than 200 operators informed KSA to be interested in a remote gambling license once [the] new legislation comes into force." At the same time, the KSA also warned all the operators that are currently breaching the Dutch law, that "they run the risk that a request for a license under the new Remote Gambling Act will be denied."
Italy: Online Casino Grows, Poker Declines
Italians spent €726 million in online gaming during 2014, the latest numbers from Italy's Observatory on Online Gaming report. The total marks a 0.1-percent increase compared to the €725 million spent by Italy's players in 2013.
According to the fifth edition of the report prepared by the Polytechnic University of Milan, casino games were the most popular choice for Italian players — with €255 million spent at the virtual casino tables, or 31-5 percent of the total. Casino games, which registered a seven-percent increase compared to the previous year, were then followed by sports betting (€214 million), poker cash games (€108 million), and tournament poker (€70 million).
Compared to 2013, Italian players spent 18 percent less on poker tournaments, with the number of active accounts moving from a total of 303,000 in 2013 to 247,000 in 2014. According to the researchers, Italian online tournament poker players spent an average of €26 each, and have played mostly at events with buy-ins between €2-€10. Things went similarly for online poker cash games, as these games suffered for a 21-percent decline compared to 2013.
PKR Signs Daniel "danshreddies" O'Callaghan
Online poker operator PKR decided to add a new face to its Team PKR Pro and signed UK poker player Daniel "danshreddies" O'Callaghan.
A PKR regular since 2008, O'Callaghan has gathered online winnings of more than €180,000 and made a name for himself on the PKR live circuit by finishing second at PKR Live London in 2014 and then winning the subsequent PKR Live London held earlier this year.
"I'm as thrilled as I am flattered to be asked to become part of the team," O'Callaghan said about the sponsorship deal. "Just as people dream of playing for their favorite football team, I wanted to be a part of Team PKR Pro when I joined PKR. I actually owe a lot to many former Team Pros who have had a huge impact on the development of my understanding of poker."
The only male member of a team that includes France's Patty "BabyTes" Beaumier and WPT500 champ Eleanor "Elz442" Gudger, O'Callahan can be followed live on Twitch, where he describes himself as "a huge optimist, sometimes annoyingly so.
Get all the latest PokerNews updates on your social media outlets. Follow us on Twitter and find us on both Facebook and Google+!