Pro Talk: The Success of Special Hold'em Events and the Need For Bigger Buy-Ins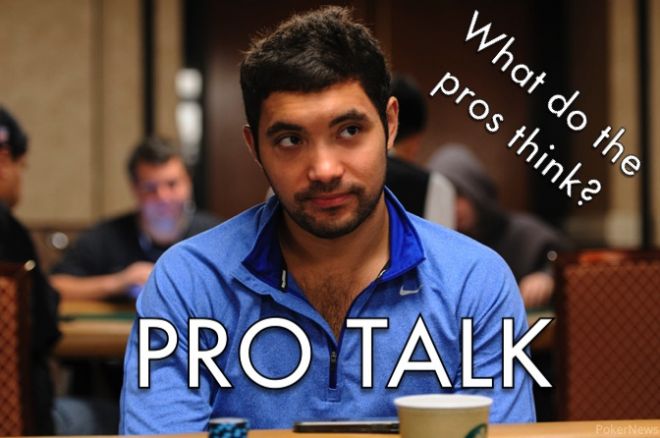 Yesterday in Part I of Pro Talk, highly-accomplished pros Andy Frankenberger, Blair Hinkle, Timothy Adams, Shannon Shorr, Giuliano Bendinelli and Matthias De Meulder gave us their thoughts on the no-limit hold'em tournament offerings at the 2015 World Series of Poker.
Today they are back for more, as we dive into the need for bigger buy-in no-limit hold'em events and analyze the low buy-in tournaments that've proved so successful this summer.
Improved Structures
The first thing Frankenberger stated when we asked him about the schedule was, "I like the deeper stacks this year at the WSOP, I'm not a big limit player but from what I've heard the structures changes were not well received by them. But for no-limit hold'em it's perfect."
Frankenberger explained how he chooses to register late for most events, as the early levels don't matter that much to him.
"I think the bigger stacks are a nice medium for amateurs that like to play a bit more poker, even though it's not in their best interest to have more play."
The better the structure, the better things are for experienced professionals, but recreational players do enjoy having more chips to play around with.
"It would be in their [recreational players] best interest to start with just 10 big blinds, because that would give them a better shot at winning. However, it's not really about having the best chance to win, it's also about getting the best experience."
Having the option to buy in later is great for pros playing a big schedule, as the bigger starting stack allows for more play later in the day.
On the other hand Jackie Glazier, a runner-up in a $3,000 no-limit hold'em event at the 2012 WSOP, is not a huge fan of the increased starting stacks, even though she likes the different hold'em variations.
"I think all the special hold'em tournaments at the WSOP are great, but I don't necessarily like the increase in starting stacks," she said. "I thought originally I would've, but it hasn't been working for me so far, so perhaps I've been playing a bit too crazy. I do like that there's some form of hold'em on every day, since I don't play any of the mixed games."
Dutchman Govert Metaal mainly plays no-limit hold'em and some pot-limit Omaha, but he also loves the fact that the WSOP looks out for players that specialize in other forms of poker.
"At the European Poker Tour for instance there are no, or not as many, big buy-in mixed games," explained Metaal. "For players that specialize in forms of poker that are not hold'em and Omaha the WSOP is the only time of the year to win big in tournaments."
Lots of Love For The Special Hold'em Events
Out of all the players we spoke to, Metaal was the only one who's not a big fan of the big special hold'em events. Metaal likes playing them, but for him the fancy names and funky buy-in levels are not necessary.
"I think they are exaggerating a little bit with all the creative names, because in a sense it's all the same," said Metaal. "It's just another way to make a lot of money, which is fine, but it is kind of ridiculous to think that a $777, $565, $1,000 or $1,111 are all different, because they are not."
Hinkle added, "I'm happy with the low buy-in big fields, and I'm all for it if they add another one of those big weekend events. In terms of no-limit hold'em every day, I think they've found a great way to do it and make sure there's something interesting every day."
Frankenberger makes an interesting point as he sees the low buy-in big field events as something that not only helps poker, but the entire city of Las Vegas.
"As far as the big weekend no-limit events go, I think that's great for the city of Las Vegas. During those big events every poker room in town has a 100-person waiting list, and from the non-pros I spoke to they told me they specifically came to town for those events."
Frankenberger made the point that The Colossus discussion about the first-place payout compared to the rake were "off base',"but he as wasn't a big fan of the entire payout structure. However, the WSOP bracelet winner is very excited to have the event back on the schedule next year.
"I think they should have the Colossus again next year, but with at least a million-dollar first prize and adjust the other part of the payouts accordingly without roughing too many feathers."
Shorr shared the same sentiments as the other pros involved on the topic of the big weekend events.
"I like the special hold'em events, because if you somehow manage to pull off a win you're basically set for a long long time. Getting people out here with the idea of winning a million dollars is great, especially considering how little you have to invest."
Lastly, Adams chimed in and brought up the idea of hosting more turbo events on the weekend, and to move away from the nine and ten-handed tournaments.
"I'm not a big fan of nine and ten-handed, so more eight-handed would be great for the $1,500 and $1,000 events. More turbo events on the weekends would be a nice thing to implement too, perhaps one turbo every Sunday. A lot of the guys that come here for the entire WSOP get burned out, and since it's basically a big group of the same people every year, it would be nice to have some one or two-day events on the weekend."
High Stakes Hold'em Tournaments
At the WSOP this year there are only a few bigger buy-in hold'em events for the true high rollers — the $10,000 six-max, the $10,000 heads-up championship and the $111,111 Big One for One Drop. Some of the high stakes pros, many that play on the EPT throughout the year, have a suggestion to host more bigger buy-in hold'em events during the World Series, and here's what they suggest.
"I like bounty tournaments, and the ante up is fine too, but in general I don't think it matters much which hold'em event they spread," said Metaal. "I'd rather see some bigger buy in no-limit hold'em events."
Adams added, "I think there should at least be a $25k hold'em tournament, and in the past that was on the schedule. Even a $50,000 six-handed tournament would be amazing, as well as a $10k. I think you would get good numbers for an event like that, and the EPT has proven that with the bigger buy-in events. I'm thinking, 'Why not at the World Series would you have events like that?'"
Adams said he looks forward to the Big One for One Drop, but he also believes that there is room for more on this buy-in level. Likewise, Shorr said that the Big One is the tournament he looks forward to the most, and in the future it might be a nice addition to have some of the suggested events on the schedule.
What are your thoughts, would you like to see bigger buy-in no-limit hold'em events on the WSOP schedule?
Want to stay atop all the latest from the 2015 WSOP? If so, make sure to get PokerNews updates on your social media outlets. Follow us on Twitter and find us on both Facebook and Google+!