Five Thoughts: Gordo Wins WSOP POY, Hastings and Depression, and an Unwelcome Face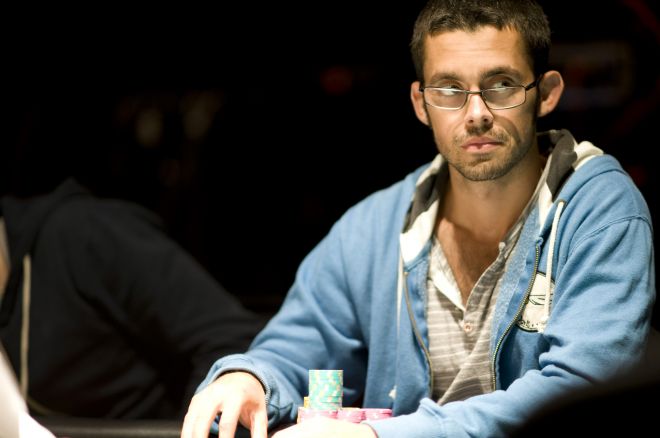 Most poker players from "my generation" first got exposed to the game through World Series of Poker broadcasts on ESPN. We watched Chris Moneymaker, Greg Raymer, and Joe Hachem ship millions in the Main Event and become poker icons.
Each successive year, at least some of the early coverage focused on those three, modern champions whose banners would hang forever. Their stardom was well deserved — they had all played some fantastic poker and conquered the biggest fields the tournament had ever seen. But as time went on, I found myself looking at the game differently. Who won a given tournament, I realized, was more a function of luck than anything else.
My views continued to shift as I focused more time and effort on cash games, as well as learning and studying different poker variants. Rather than the Main Event champion, I realized perhaps the most respect should go to the player who got a different banner: WSOP Player of the Year.
1. Gorodinsky Locks Up WSOP POY
There are many reasons American players trek out for the yearly WSOP on foreign soil, and one of them is that it's the last chance to accrue points in the POY race.
One of my favorite sayings in sports is "flags fly forever." Referring to the banners and pennants hung by teams who win championships in their home stadiums, it's used to justify moves giving up assets with future value-like draft picks for assets with more present value like veterans at the tail end of their primes. Similarly, it can be good for players in the WSOP POY hunt to fire away in any and all WSOP events as things wind down, even if he or she might not be a favorite in a given tournament or has lukewarm desire to make a big trip.
Brian Hastings, Shaun Deeb, and Anthony Zinno were among those within striking distance who traveled to Germany for WSOP Europe in hopes of unseating Mike Gorodinsky atop the GPI WSOP Player of the Year standings, but none managed to catch the pot-limit Omaha and mixed game wizard.
"Gordo" didn't do much to help himself in Berlin, notching just one 42nd-place cash according to the GPI standings. That proved enough, because as Hastings tweeted, it was a less than stellar showing by those trailing, with Deeb tallying the highest-scoring finish for fifth in a 113-player field. Gorodinsky sealed immortality when fifth-place Ismael Bojang busted out of the money in the High Roller.
"It feels great,"he told our own Marty Derbyshire after victory was assured. "But mostly I feel relieved, honestly. I feel like being in front after the WSOP in Vegas ended added some sort of strange pressure that I had to put up more results to maintain the lead rather than just go out there and grind as usual."
It's hard to recall since it's been so long — did I really just turn 29? — but I'm pretty sure Gorodinsky was at or near the pinnacle of the PLO food chain when I first started dabbling. Now, it's probably my favorite poker game, and I remember sweating Gorodinsky at the high-stakes tables on PokerStars trying to glean what tidbits I could from watching him.
Gordo has had an incredible 2015. Hell, taking down the Poker Players Championship on its own would make for an amazing year. Flags fly forever, and Gorodinsky has now earned one.
2. Hastings and Depression
Speaking of Brian Hastings, after some cajoling, he recently opened up for an interview with Derbyshire at WSOP Europe. The man once known online as "Stinger88" became a lightning rod at the 2015 WSOP after it broke that Hastings had played under someone else's account at high stakes online.
He was in the midst of one of the most successful summers in recent memory, taking down two bracelets and cleaning up in a variety of side bets and bracelet bets. Hastings should have been the toast of the poker world, but he instead became a pariah and many felt cheated out of their bets.
I understand why many are disgusted with Hastings' actions. Is what he did wrong? Absolutely. I think it was particularly reprehensible that he booked all of this side action against friends, acquaintances, and rivals who had no knowledge that Hastings had been sharpening his mixed-game skills in the highest-stakes games online.
But at the same time, try to put yourself in his shoes. I've never been to Vancouver, but I've heard nothing but awesome things about the city. Move to one of the greatest North American cities, play cards for a living, and make staggering sums of money? Easy life, right?
Well, maybe for a lot of people it would be. But not everyone is wired the same. For some people, being away from friends and family is really hard. I count myself in that boat. I went to college 45 minutes from my hometown my freshman year. Though I made some friends there and found things to do, I still found myself trekking home almost every weekend because I missed the people in Omaha so much. I imagine that feeling would be magnified a hundred times over living in a foreign country thousands of miles away. So, if Hastings says he was depressed, I believe him.
Anxiety and depression are real and serious problems, people. According to the Anxiety and Depression Association of America, anxiety disorders are the most common mental illness in the U.S., affecting 40 million adults. At any time, three to five percent of people suffer from major depression.
Again, I'm not OK with what Hastings did. But it's not hard to understand why he went that route after the government ripped his livelihood from him and he found himself affected by depression when he tried moving out of the country. I know it's not a popular opinion, but instead of dumping on Hastings non-stop, let's try to have a little empathy for a human who made some poor choices at a time when his mind was in a dark place.
3. Bharara Targeting DFS
The man who brought down the online poker industry as we knew it in 2011 reportedly has a new target: daily fantasy sports (DFS).
Preet Bharara, whom LegalSportsReport.com called "the U.S. attorney behind the Black Friday indictments that permanently altered the landscape of the global online gambling industry," has set his office on an investigation into the legality of DFS, per a Wall Street Journal report cited by LSR.
Many poker players have taken up DFS as either a hobby or in some cases, a new profession. Guys like Brandon Adams, November Niner Max Steinberg, and Matt "SamENole" Smith have used their poker skills and game theory knowledge to score big in the DFS world.
I've played a good amount of DFS myself and enjoy contributing articles to PokerNews' sister site FantasyWired. While there are definitely some things about the industry that stink, DFS is still generally a fun thing to do.
Bharara has already ruined one game I love, hopefully he doesn't make it two.
4. Lusardi Sentenced to Five Years
As reported yesterday by the Associated Press, Borgata chip counterfeiter Christian Lusardi was handed a five-year prison sentence for his despicable attempt to cheat his way to victory in the $2 million guaranteed opening event of the 2014 Borgata Winter Poker Open.
As it happened, I was covering that tournament. It was my first assignment for PokerNews after the previous summer's WSOP. As a green reporter, I was excited and eager to prove myself worthy of more assignments. I still remember waking up to a slew of missed calls and rushing down to the tournament room to see the strange sight of 27 poker players milling around, whispering among themselves while tournament officials huddled in tense conversation.
I still feel for those 27, many of whom were vying for the score of a lifetime - the tournament was a $500 reentry and final table prizes started at $26,747 and progressed to $372,123 for the winner. They likely take little solace in the five years Lusardi is about to spend behind bars, so hopefully the poker cosmos see fit to ship them some restitution equity in a big spot down the road.
5. Run It Up Reno Underway
The health of the game is always a hot topic in the poker industry. Well, not many are doing more to promote the long-term health of the game than Jason Somerville, who has taken his popular Twitch show Run It Up to another level with a live poker festival at Peppermill Reno.
Making poker fun again seems to be what Somerville is all about. That's the way it should be. That's why we all fell for this game in the first place right? When you boil it all down, it's just a really fun strategy game with a thousand different nuances.
Check out the schedule for the tournament series: $125 Turbo, $85 All-In-or-Fold, $125 Survivor, $125 Bounty, $125 Six-Max Five-Card Pot-Limit Omaha, and a $565 Main Event. If that doesn't look like fun on the felt, I don't know what does.
No doubt, there's a place for serious, gritty poker. But this type of stuff is great for the poker community, so hopefully we see more of this stuff in the future. For live coverage of Run It Up Reno, go here.
Want to stay atop all the latest in the poker world? If so, make sure to get PokerNews updates on your social media outlets. Follow us on Twitter and find us on both Facebook and Google+!