Inside Gaming: Melco Opens New Casino in Macau, Nevada Revenue Up, More DFS Drama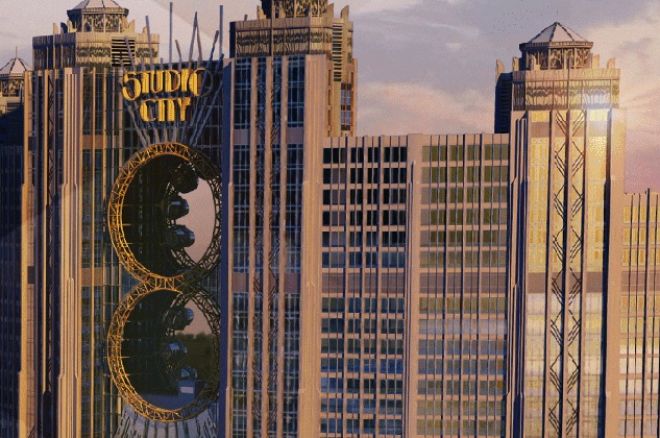 This week's installment of Inside Gaming looks at the newest casino to open in Macau, Nevada casinos bucking a downward trend to enjoy a positive month, the latest on daily fantasy sports and regulation, and how the new Speaker of the House's chief of staff previously lobbied on behalf of Sheldon Adelson.
Melco opens Hollywood-themed Studio City casino in Macau
On Tuesday Melco Crown Entertainment Ltd., one of the six main casino operators in Macau, opened its newest casino, the $3.2 billion Hollywood-themed Studio City resort on the Cotai Strip. It's the third casino in Macau for Melco which also operates the Altria Macau in Tapai (opened May 2007) and another Cotai Strip casino, the City of Dreams (opened June 2009).
As Reuters reports, the opening ceremony was marked by the attendance of government officials, a performance by Mariah Carey, other acrobatic acts and jazz performances, and a screening of The Audition, a 16-minute "mutimillion-dollar advertorial" produced by Martin Scorcese and starring Leonardo DiCaprio and Robert DeNiro.
The opening comes amid what has become a protracted decline in gaming revenue in Macau stretching back nearly a year-and-a-half. Partly in response to that trend, Studio City features a number of non-gaming activities for patrons. Additionally, unlike other casinos in Macau, "it has no VIP baccarat lounges and will focus instead on mass-market casual gamblers."
That concentration on non-VIP revenue directly reflects an ongoing problem for many of Macau's casinos. Chinese government reforms designed to eliminate corruption and money laundering have negatively affected many casino junket operators who previously helped facilitate the movement of funds, the settling of debts, and the management of loans for high-stakes gamblers traveling to the Special Administrative Region to gamble.
Melco had requested an allocation for 400 gaming tables in the new casino, ultimately receiving permission to operate 250 of them. That was more than some industry observers thought they would be allowed to have.
For more on the big Studio City opening and its prospects going forward, see Reuters' report.
After Three Down Months, Nevada Gaming Revenue Up in September
After three months' worth of declines in gaming revenue in the Silver State, the Nevada Gaming Control Board reported an increase in September. The $916.35 million collected by casinos in the state represented a 1.52% increase year-over-year. Meanwhile casinos on the Strip enjoyed a revenue increase of 2.01% for the month after taking in $504,801,000.
Analysts have been watching in particular figures associated with baccarat which has endured significant decline in revenue this year in Nevada. We were discussing here a month ago how the precipitous downturn in Macau has in fact affected revenue in Nevada, with there often being a direct correspondence between what is happening in Macau and baccarat numbers on the Strip, which in turn significantly affects overall revenue totals.
In August there was a greater than 24% decline in baccarat revenue on the Strip, but things turned around in September with an increase of 23.29% and win amount of just over $100 million. As the Las Vegas Review-Journal points out, that marks only the third month this year that baccarat revenue on the Strip has enjoyed an increase.
Michael Lawton, Gaming Control Board Senior Research Analyst, explained to the LVRJ that a "strong events calendar" in Las Vegas in September that included the MGM Grand hosting both a UFC fight card and Floyd Mayweather Jr.'s purported final bout helped contribute to the positive turn.
For more on the September numbers, check out the LVRJ.
More on Daily Fantasy Sports and Regulation
The daily fantasy sports talk continued this week in a variety of contexts.
On Tuesday the Fantasy Sports Trade Association announced the creation of the Fantasy Sports Control Agency, "independent agency charged with creating a strict, transparent and effective system of self-regulation for the businesses that comprise the fantasy sports industry." Seth Harris, former U.S. Deputy Secretary of Labor and Acting U.S. Secretary of Labor in the Obama administration, has been appointed to chair the agency.
Speaking of regulation and DFS, the Massachusets Gaming Commission met on Thursday to discuss that very topic, concluding that the industry is in need of some form of regulation. The Boston Globe reports that the MGC's legal team determined "there are gaps in current Massachusetts gamblign laws that seem to leave a space for fantasy sports contests with cash prizes."
That said, the MGC appears ready to proceed with caution, not ready as yet to make the step the Nevada Gaming Commission did two weeks ago when ruling daily fantasy sports to be gambling and thus subject to licensing procedures in order to operate within the state, a move that prompted DFS sites to stop serving Nevada players until such licenses could be secured. That ruling in turn led to the decision by DraftKings to request of the World Series of Poker that the site cease its sponsorship activities, which meanswe won't be seeing the site's familiar logo at the November Nine when it starts November 8.
The topic of daily fantasy sports even came up briefly during Wednesday night's Republican primary debate when a CNBC moderator asked presidential candidate and former Florida governor Jeb Bush if he considered daily fantasy sports to be gambling. After joking about his own fantasy football team, Bush characterized DFS as "day trading without any regulation at all," adding that if the industry cannot regulate itself, there should be some form of regulation although he was reluctant to suggest the federal government should be the ones to handle such a task.
At that Chris Christie, who as governor of New Jersey signed into law an online gambling bill in early 2013, expressed dismay at the subject of DFS even being raised in the context of a presidential debate.
"Enough about fantasy football," said Christie. "Let people play… who cares?"
New Speaker Ryan's Chief of Staff Former Adelson Lobbyist
Finally, we'll round out this week's look at the industry with another political note, this having to do with former vice-presidential candidate Paul Ryan, the Republican congressman from Wisconsin who yesterday was officially elected as the new Speaker of the House. Ryan begins his tenure today, succeeding John Boehner who served in the role since January 2011.
The Washington Post reported earlier this week that Ryan had appointed David Hoppe, "a former adviser to Republican congressional leaders and a longtime Washington lobbyist," to serve as his chief of staff as he takes over the Speaker position.
After delving into Hoppe's lengthy background, ThinkProgress reported on Hoppe's extensive lobbying career, noting how among the groups he's represented is the Coalition to Stop Internet Gambling launched by Las Vegas Sands Corporation CEO Sheldon Adelson. Whether the new Speaker's chief of staff's previous work for Adelson and the anti-online gambling cause portends anything with regard the future of federal legislation remains to be seen.
Read more about Hoppe's lobbying and the possible significance of his appointment at ThinkProgress.
Want to stay atop all the latest in the poker world? If so, make sure to get PokerNews updates on your social media outlets. Follow us on Twitter and find us on both Facebook and Google+!