Inside Gaming: Face-Off in New York Over Daily Fantasy Sports; AGA Takes on Illegal Gambling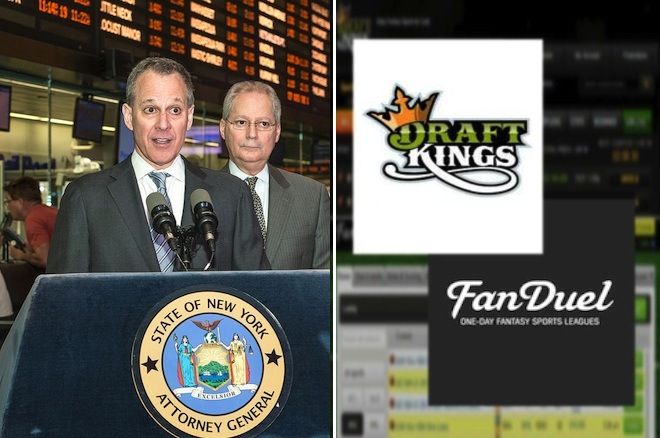 This week Inside Gaming shares the latest daily fantasy sports drama with New York's Attorney General ordering the two largest DFS sites to leave the state and the sites responding with lawsuits. Also covered this week are the American Gaming Association's latest efforts to combat illegal gambling of all varieties, including online.
New York AG Orders DFS Sites' Shutdown in State, Sites Fire Back with Lawsuits
Ever since the start of this year's National Football League season in September, the daily fantasy sports industry has been front-and-center in gaming-related headlines.
At first the stories were mostly positive and forward-looking, with attention drawn especially to the advertising blitz by DFS leaders DraftKings and FanDuel during the football season's first weeks as well as speculation regarding possible IPOs and/or a merger between the two sites.
Soon, however, came less enthusiastic reports including the news of one legislator, Rep. Frank Pallone (D-NJ) calling for a House committee hearing to inquire into the relationship between fantasy sports and gambling. Then in early October came even more scrutiny of DFS following a data leak and big win by a DraftKings employee playing on FanDuel during the NFL's Week 3. More calls for regulation and for revisiting the Unlawful Internet Gaming Enforcement Act of 2006 followed thereafter, with the Nevada Gaming Commission most notably ruling DFS to be gambling and thus subject to licensing procedures in the state.
This week the DFS focus was suddenly directed toward the state of New York following the delivery of cease-and-desist letters on Tuesday from New York State Attorney Genernal Eric Schneiderman to both DraftKings and FanDuel demanding the companies stop accepting bets from NY residents. "The AG's action follow[ed] an investigation by his office that found DraftKings and FanDuel to be in violation of New York State law against illegal gambling" was the explanation provided by Schneiderman's office.
While the letters to the two sites contained some differences, the directive to both DraftKings and FanDuel was the same — stop serving DFS players in New York immediately. However, unlike in Nevada where both sites (and other DFS sites) swiftly ceased operations in the Silver State in order to secure necessary licensing, neither DraftKings nor FanDuel have complied with the New York AG's order, instead responding by filing lawsuits against the NY AG to halt the attempted shutdown. Copies of both filings can be read here via The Boston Globe.
DraftKings' filing describes Schneiderman as "misreading New York's gambling laws" and using "strong-arm tactics and defying the rule of law" as it requests relief "to bar the Attorney General from continuing to abuse his power and to prevent the irreparable harm that will result from it." Meanwhile FanDuel's filing opens by similarly maintaining the AG "has taken the legally incorrect position that the presence of prize money in these contests transforms FanDuel's activities into an illegal sponsorship of gambling." Both sites also take issue with the complaints in the AG's letters regarding the sites' advertising being misleading.
Adam Krejcik, Managing Director of Digital and Interactive Gaming at Eilers Research, LLC (an industry research firm), has estimated that 13% of all active DFS players in North America are located in New York, more than any other state.
Check out The Boston Globe for the latest on this fast-developing story.
AGA Renews Efforts to Curb Illegal Gambling in the U.S.
While we're on the subject of legal definitions of gambling, a couple of items appeared this week involving the American Gaming Association and its efforts to stop illegal gambling of all kinds in the United States.
First on Tuesday the casino industry's lobbying group announced its plan to cooperate with the Federal Bureau of Investigation by encouraging the use of the FBI's Internet Crime Complaint Center, a.k.a. "IC3", an online tool enabling the reporting of tips and complaints of criminal activity online.
"Our effort with the FBI will help us make significant headway in the fight against illegal gambling," AGA president and CEO Geoff Freeman was quoted as saying in a press release from the AGA. "In particular, the Internet Crime Complaint Center will be an invaluable tool for people in every state to report tips about the multi-billion dollar illegal gambling sector that preys on consumers, steals jobs and deprives state and local governments of revenues generated by the legal, regulated casino gaming industry."
The IC3 site can be used either by victims of cyber-affiliated crime or third parties to report such activities. The AGA is promoting IC3 as part of a larger "Stop Illegal Gambling — Play It Safe" initiative launched earlier this year. "The initiative seeks to distinguish the highly regulated, $240 billion legal gaming industry — which supports 1.7 million jobs and generates $38 billion in taxes across 40 states — from the criminal networks that rely on illegal gambling," explains the AGA.
Last month a multi-part series of features from The New York Times brought renewed attention both to the pervasiveness and ease with which Americans can engage in online-based sports betting and other forms of gambling via offshore sites. Estimates from various observers of the global gaming industry have put the U.S. online gambling market with offshore sites as high as $4 billion to $6 billion per year.
Then on Wednesday the AGA followed that announcement with another one focusing upon the enormous illegal sports betting industry within the U.S., with the group issuing a "set of recommendations that mark a major shift in the industry's approach to sports betting, which is currently illegal in all but four states." The recommendations focus on encouraging inquiry into the question of "whether a rational alternative to current sports betting law exists."
The recommendations involve engaging with lawmakers, regulators, gaming industry leaders, and professional sports leagues. Noting that while most legal sports betting in the U.S. takes place in Nevada with some forms of sports betting also allowed in Delaware, Oregon, and Montana, the amount legally wagered "pales in comparison to the amount spent illegally on sports wagering." The "AGA estimates that Americans will spend $138.9 billion on illegal sports betting this year alone."
Visit the AGA's site for more on both its cooperation with the FBI and its recommendations to curb illegal sports betting.
Photo: "MTA PD Join AG's COP Program," MTA. Creative Commons Attribution 2.0 Generic.
Want to stay atop all the latest in the poker world? If so, make sure to get PokerNews updates on your social media outlets. Follow us on Twitter and find us on both Facebook and Google+!