Eric Sfez On Stu Ungar: "He Was the Best Gin Rummy Player In the World"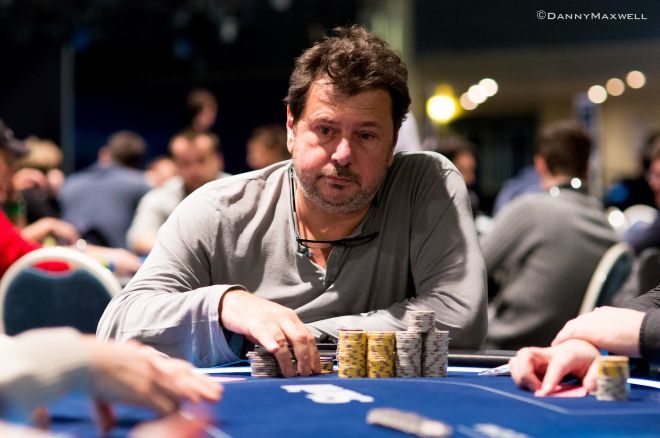 On Nov. 26, France's Eric Sfez concluded his deep run at the World Poker Tour National Paris Main Event with a third-place finish worth €66,000 and what he called "one, big regret."
"It's all about the last hand I played in the tournament," Sfez told PokerNews.fr's Julien Tissot. "I had
, and I made a mistake. After a limp from the button by Guillaume Diaz that I took for a raise, I made a mistake in sizing my reraise. Unfortunately, China's Yingui Li decided to three-bet all in and I didn't feel like I could fold my hand anymore since I already committed a big part of my stack. Yet, he had
and that sent me out of the tournament."
I think the skill level of the players increased in a phenomenal way.
To make the hand even more painful for Sfez was the fact that the Main Event was not the only time when the player from China sent him to the rail.
"Had Li stayed in China, my WPTN would have been much better," Sfez said jokingly. "Just think about this: during the High Roller, Li eliminated me from the tournament with the very same hand."
"The Poker Pros Do Not Leave Anything To Chance"
Although he may not be one of France's most known poker players, Sfez is an interesting character who has been in poker long enough to have seen the game and the players evolve.
"I think the skill level of the players increased in a phenomenal way," he shared. "I think it has probably never been as high as it is today and this makes much harder to earn money through the game. Today, people can make a real job out of poker, and this is something that was much less common when I started to play more than 10 years ago.
"Also, the way the poker players get ready for the events is something that I find totally new. Just think about the physical and mental coaching, the alimentation, and the way they care about their sleep. The preparation to the events became a lot sharper. Today, the pros do not leave anything to chance."
Although he is France's 12th biggest winner in 2015, with live tournament cashes for $309,633 according to the Hendon Mob, and he sits on the 11th spot in the country's Global Poker Index rankings, Sfez doesn't consider himself as a professional poker player. He likes to think of himself as an amateur.
My biggest skill is to be able to profile the players who sit at the table with me and choose the right targets.
Despite the $1,132,955 in live tournament winnings that he put together between 2005 and today, Sfez explained that he considers himself nothing more than an amateur.
"Poker is not my job and there's no reason for me to be under the spotlight," he said. "My philosophy of life is very much connected to the game. With my job, I earn the money that allows me to play. I don't play to earn money."
However, as the player admitted, his attitude and low profile are a part of his character at least as much as of his poker strategy, especially when he sits at events with premium buy-ins.
"The fields of the high roller events motivate me a lot, and the fact that I am an amateur and that not many people know me gives me the opportunity to play with my image at the table," Sfez went on to say. "Whatever the field is, I think my biggest skill is to be able to profile the players who sit at the table with me and choose the right targets. Usually, I adjust my in-game strategy to the context."
From Backgammon To Poker, Passing Through Stu Ungar
With significant results like a fourth-place finish in the 2015 World Series of Poker Event #56 for $149,814, a sixth-place finish in the 2015 European Poker Tour Deauville €10,300 High Roller event for €71,520 , and a first-place finish in the 2012 EPT Deauville €10,300 No-Limit Hold'em for €242,000, Sfez is one of those players who transitioned to poker after collecting successes in other games.
"Playing is in my soul, and I have been one of the best backgammon and gin rummy players in France," Sfez said. "Back in the days, I had also the chance to play a game of gin rummy with Stu Ungar. He really was the best player in the world."
In love with Las Vegas, Sfez said, "It's the only place where I can really disconnect. Once there, I play, eat, and play again."
He then shared that one of the biggest regrets in his career sends him back to an episode that took place during the last edition of the WSOP.
"My biggest regret comes from the Event #56," he explained. "When we went down to four players, I had 60 percent of the chips in play, and it's terrible to think that I finished that tournament in the fourth place."
However, the "bad" experience in the Event #56 did not discourage him enough to keep him away from Sin City and push him to try to best his personal record.
"I will definitely go back to Las Vegas to play the WSOP next year too," Sfez concluded. "To be honest, I am going to keep going back until I will have finally won my first bracelet."
Want to stay atop all the latest in the poker world? If so, make sure to get PokerNews updates on your social media outlets. Follow us on Twitter and find us on both Facebook and Google+!